If you encounter error codes 0x8007012a or 0x80070057 when changing the keyboard layout in Windows 11/10 RE, then this post is intended to help you. In this post, we will offer a workaround to this issue.
The principle of Windows RE (Recovery Environment) is similar to the Windows Preinstallation Environment – both are often able to fix common disk problems and restore OS files damaged by disk failures, malware activity, or user errors. When the recovery environment is invoked, a series of recovery tools can help to diagnose and repair problems with the operating system (OS). For example, automatic repair and troubleshooting tools can test disk and file integrity.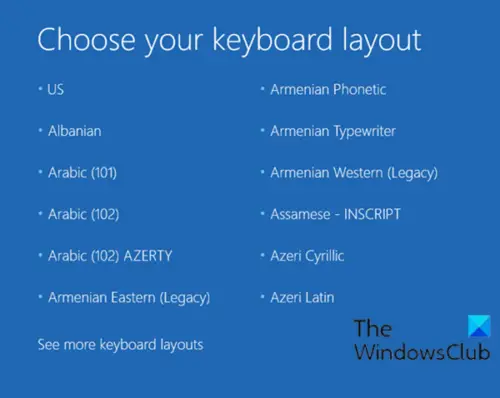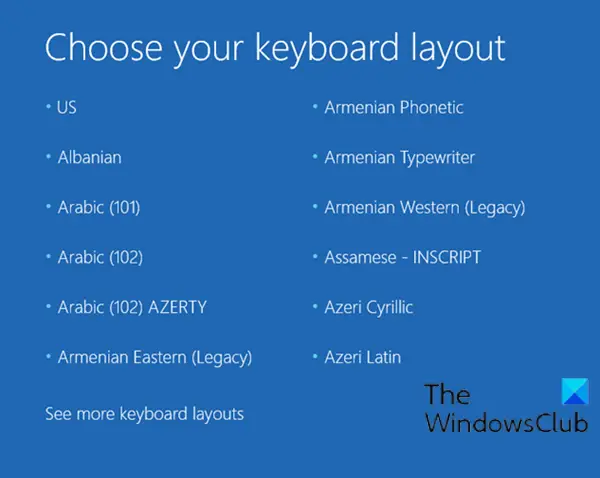 Keyboard layout error 0x8007012a or 0x80070057
Let's take a look at a typical scenario where you can encounter this error.
When booting to the Windows Recovery Environment, you may encounter the following problems:
The default keyboard layout is set to English, even though the Windows Recovery Environment was customized by the original equipment manufacturer (OEM) to Japanese, Korean, or Chinese for all language, timezone, and keyboard settings.
If you attempt to change the keyboard layout within the Windows Recovery Environment, you receive error 8007012a or 0x80070057 and a message to restart Windows.
When prompted for your password in the Windows Recovery Environment, you are unable to input non-alphanumeric characters due to the English keyboard layout.
This keyboard layout error that you might encounter in Windows RE, may occur on devices that were preinstalled with an English version of Windows 10 and a Japanese, Korean, or Chinese language pack by the OEM.
Workaround
To work around this issue, exit the Windows Recovery Environment, launch Windows 10, and change your account password in advance to a password that includes only alphanumeric characters.  If you are in the Windows Recovery Environment because you are not able to successfully boot Windows 10, it may be necessary to reset your PC.
Windows RE is customizable. Organizations with specific recovery requirements can add different languages, device drivers, and new diagnostic tools to the recovery environment using the Windows Imaging application programming interface (API) or the Deployment Image Servicing and Management (DISM) API. However, each customization increases the memory demands for Windows RE – making the recovery environment more demanding on the host computer.
Related read: Windows Upgrade stuck at Choose your keyboard layout screen.