If you receive error 0x80070057 on Windows 10 when using Windows Update, Installing or Upgrading Windows 10, running Windows Backup, etc., then you will see this error code when one or more arguments are not valid. You will see this error code in the following scenarios, and the troubleshooting will depend on when you see it:
Windows Backup, The parameter is incorrect
Partitioning a Disk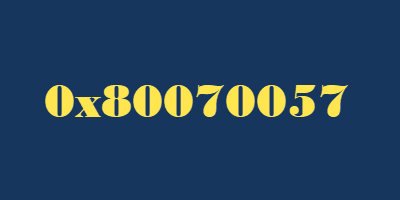 Fix error 0x80070057 on Windows
I suggest you download our portable freeware FixWin as it will make it easy for you to carry out the fixes. You could take the manual road as well, by following the links given below.
The fix you use will depend on when you received the error. So go through the entire lists and then see which applies in your scenario. And before you begin, you might want to create a system restore point first.
1] Run System File Checker to repair corrupted system files. In FixWin you can do so with a click from its homepage.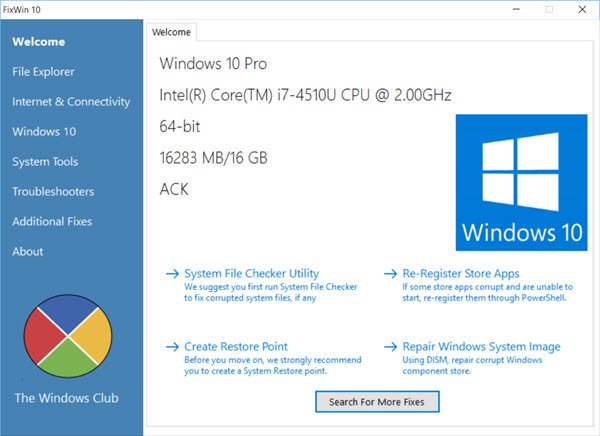 2] Re-register Store apps. You will see the button on FixWin's homepage.
3] Flush the contents of the SoftwareDistribution folder. Using FixWin, you can do so with a click from the Windows 10 tab's Windows update stuck downloading update fix.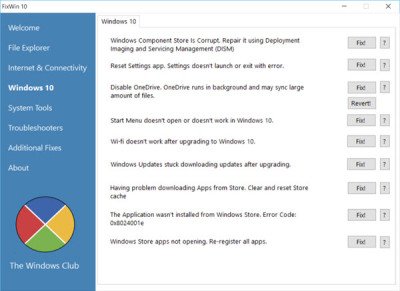 4] Run Windows Update Troubleshooter. Use FixWin to bring it up with a click from the Troubleshooters section.
5] Reset Windows Update components manually. You can also reset Windows Update to default using the Reset Windows Update Components Tool. Our Fix WU Utility re-registers all Windows Update related dll files and resets other settings to default.
6] If you receive it while using Windows Updates, then if you are using Windows 7, run the System Update Readiness Tool. Windows 10, Windows 8.1 and Windows 8 users may follow these steps to run the built-in Deployment Imaging and Servicing Management. In Windows 10/8.1/8, the Inbox Corruption Repair brings the functionality of CheckSUR into Windows. You do not require a separate download to get the tool. You may simply Run DISM Tool.
7] Reset Windows Store cache. Do this if you receive the error when downloading UWP apps.
8] If you receive it during Windows Backup, the Run regedit and navigate to the following key:
HKEY_LOCAL_MACHINE\SOFTWARE\Policies\Microsoft\System
Create a new DWORD value, name it CopyFileBufferedSynchronousIo, and give it a value of 1.
Hope something here helps you!