Task Scheduler, the in-built utility in Windows 11/10 is used to schedule tasks and it can be helpful in triggering various instances of a task like an executable file or a script. However, if the Task Scheduler utility has been facing trouble in starting and throwing error 0x80070057, then it could be because of:
Corruption in the System Files
Required Task Scheduler Service is not working as expected
Lack of privileges, etc.

For the curious minds, this error is visible under the column of Last Run Result in the Task Scheduler Library.
Error code 0x80070057 for Task Scheduler
If you observe the causes of this issue, then you will realize that the following fixes could prove to be useful to fix the Task Scheduler error 0x80070057 on Windows 11/10:
Check the Task Scheduler Service status.
Give Administrator level privileges.
Run System File Checker.
1] Check the Task Scheduler Service status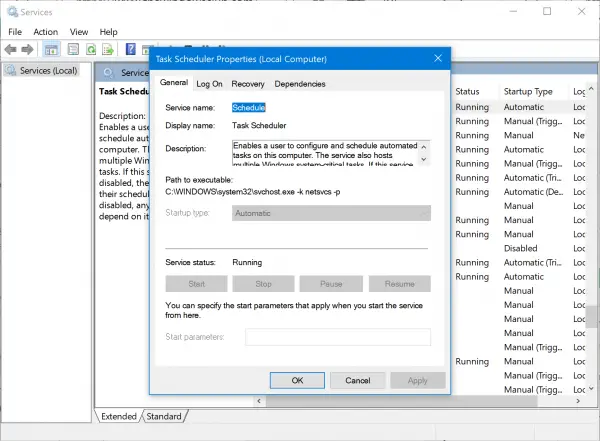 Type, services.msc in the Start search box and hit Enter to open the Windows Services Manager.
Locate Task Scheduler, and then double-click on it to open its Properties box.
If its Startup Type is set to Disabled, change it to Automatic. This Service is required.
Next, navigate to the Recovery tab.
And make sure the configuration in the drop-down boxes is given as-
First failure: Restart the Service.
Second failure: Restart the Service.
Subsequent failure: Restart the Service.
Click Apply and then reboot your computer for the changes to take effect. Check if this has helped make the error go away.
2] Give Administrator level privileges
Log in with a User Account that has Administrator-level privileges. Open the Task Scheduler. Stop the task and then restart it and see.
If this resolves your issue, we recommend running the service with that user's permission. In the Task Scheduler Properties, switch to Log On tab. Here, configure username and password, and save. Restart the service.
Now the next time the scheduler runs, it will have the error code 0x80070057 resolved.
2] Use System File Checker
Open Command Prompt as Administrator and then execute the following command to run System File Checker:
sfc /scannow
Restart your system after the scan is completed. You can also use our freeware FixWin to Run the System File Checker utility with a click.
Is the Task Scheduler working fine now?