For users that require it, Windows PCs' Sticky keys feature is excellent since it enables modifier keys like Ctrl, Alt, and Shift to stay active after being pressed so that you may quickly hit other key combinations with them. However, because it affects the functions on their PC, some users don't prefer this option. There are various ways to disable sticky keys on a Windows computer, so that isn't a problem; however, several users have complained that they are unable to do so. This problem might be brought on by a software or hardware problem with your keyboard or both. Hence, we will see what to do if you can't Turn off Sticky Keys on Windows 11/10.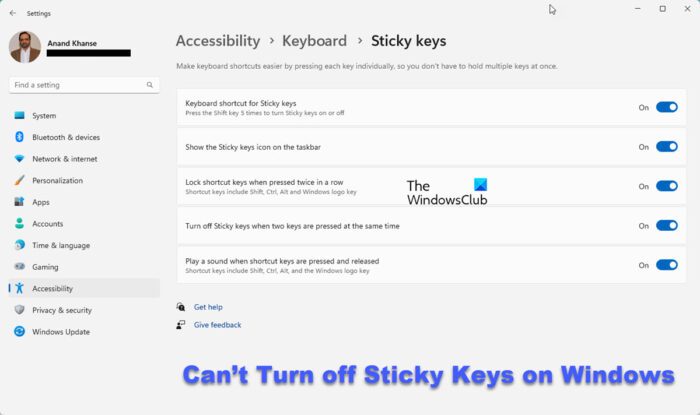 Fix Can't Turn off Sticky Keys on Windows 11/10
If you can turn off Sticky keys on your Windows 11/10 computer, try the solutions below. However, before doing anything, first, restart your computer and try turning off the sticky keys. If the issue persists, try these solutions:
Turn off Sticky Keys via Windows Settings
Try using another keyboard
Press Num Lock key
Check Keyboard Power Management
Uninstall and reinstall keyboard driver
Reset keyboard settings on your computer
1] Turn off Sticky Keys via Windows Settings
It's possible that you are not turning off sticky keys properly and believe the feature is simply not turning off. Hence, you can disable sticky keys on a Windows computer in two different ways.
Press Windows + I on your computer to open Settings.
Click on Accessibility on the left pane.
Then navigate to the Keyboard option and click on it.
Toggle off the switch in front of Sticky keys.
You can also use the Control Panel to turn on or off Sticky Keys in Windows.
2] Try using another keyboard
You can try using another keyboard and see if you are able to turn off sticky keys with it. If the new keyboard works, then the previous keyboard is faulty. In this case, you can either repair the faulty keyboard or replace it with a new one. However, you should make sure that you consult a professional technician for the fixing or replacement of the keyboard.
3] Press Num Lock key
That is a very different situation for people who only have the Fn key on all the time, even after turning off sticky keys. We'll advise you to hit the button to disable the Num lock in the hopes that this will resolve your problem.
4] Check Keyboard Power Management
Some users said they've been able to resolve this sticky keys issue by tweaking the keyboard power management settings.
5] Uninstall and reinstall keyboard driver
Your keyboard's function is controlled by the keyboard drivers, so if these become corrupt, you can start experiencing problems with your keyboard. This could be the reason why you can't turn off sticky keys on your computer. In situations like this, you should uninstall and reinstall your keyboard driver to fix the keyboard problem you are experiencing.
Besides, uninstalling and reinstalling the keyboard driver can also help reset the keyboard settings. Here is how to uninstall the keyboard driver:
Right-click the Start Menu and select Device Manager.
Navigate to Keyboards and double-click it.
Then right-click on the keyboard driver and tap on Uninstall device.
This will remove the current keyboard driver and on restarting your computer, a new driver will be installed.
6] Reset keyboard settings on your computer
Resetting your keyboard settings will take your keyboard back to its default settings which will help fix can't turn off sticky keys issue, as this operation will automatically disable sticky keys.
Read: How to turn on or off Filter Keys in Windows 11
Why is my Sticky Keys not turning off?
If you cannot turn off sticky keys on Windows computers, it could be because of corrupt keyboard drivers, viruses and wrong configuration on the affected PCs. Besides, some users don't even know how to turn off this feature. Thus, we've covered several approaches to help you out.
How do I reset my keyboard settings on Windows PC?
If you want to reset your Windows PC keyboard settings the best way is to change the language settings on your computer. Here is how to go about it:
Press Windows + I to open Settings on your computer.
Select Time & Language, then tap on Region and Language.
 Now, navigate Preferred language and click on Add a language.
Select any language of your choice.
After adding the language, tap on it to see the options under it. Click on the arrow-up menu, which will set the language you added as your primary language.
This process will move the new language above and take the previous one (most probably English – United States) below.
Click on the previous language and tap the arrow-up menu to set it as the preferred language. This whole process with reset your keyboard setting as help fix any keyboard issue you are facing.
Why is my keyboard stuck on Sticky Keys?
There are a few things you need to check when your keyboard is stuck on the Sticky Keys. For example, if the Windows Settings has been set up incorrectly, you could get this problem. On the other hand, it could be a driver issue as well. On the other hand, you must check the Power Management setting for your keyboard as well.
I hope this helps.