On-Screen keyboards make a sound for every keypress. This is handy especially for those who need assistance but can be annoying because the sound can interrupt your work and others who may be near you. So you have two options. One, you plug in your earphone and type, or you can choose to turn off keyboard sounds on your Windows 11/10 PC.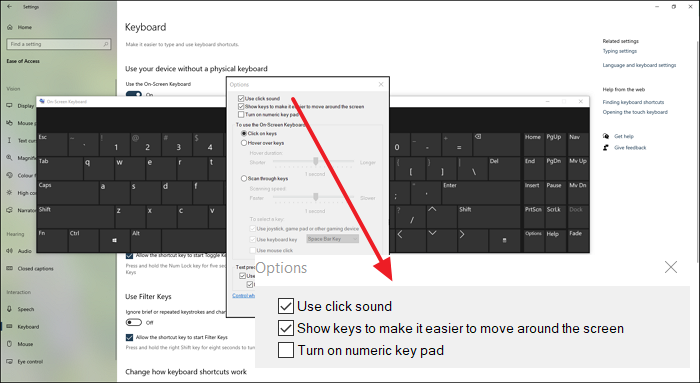 How to Turn Off Keyboard Sound in Windows 11/10
Follow these steps to turn off the keyboard sounds of your on-screen keyboard in Windows 11/10.
Open Start Menu by typing the Windows key.
Type On-Screen keyboard and click to open when it appears in the list.
Click on the Options key on the keyboard.
Uncheck the box next to the option— Use click sound.
Click on the OK button to save the changes.
Once done, you should not hear any sound when using the On-Screen keyboard on your PC. Make sure to test it over the speaker at a volume you usually play music. If you still hear the sound, run the Keyboard Troubleshooter or the  Windows Touch Keyboard Troubleshooter from Microsoft and see.
The On-Screen keyboard is useful in many cases, like accessing your laptop when your laptop keyboard is not working. It is not connected to an external keyboard or does not have access to your external keyboard.
It also comes in handy if there is a key on the keyboard that is misbehaving. Simply type the key into the On-Screen keyboard, and the characters will appear as normal. This is a great way to figure out the exact key causing the problem.
Read: How to Turn On or Off Touch keyboard typing sound in Windows 11
I hope the post was easy to follow, and you were able to turn off the on-screen keyboard sound on your Windows 10 PC. However, you should only turn off the on-screen keyboard sound when you do not need any special assistance. Otherwise, it will become impossible to understand if you pressed a key.