If you are experiencing a beeping sound when typing on the keyboard on your Windows 11/10 computer or laptop, and you have been scouring the internet for solutions to deal with this seemingly frustrating and irritating issue, then you're at the right place! This post offers the most suitable solutions to this issue.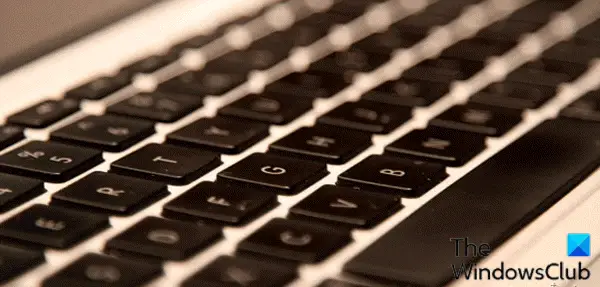 Keyboard making beeping sound when typing in Windows 11/0
There are several reasons why you may be getting the beeping sound on your keyboard. Here are some of the main causes:
Active Filter, Toggle or Sticky keys.
Keyboard hardware settings.
Memory issues.
Battery going bad.
Date and time settings under BIOS.
So, if you're faced with this issue, you can try our recommended solutions below in no particular order and see if that helps to resolve the issue.
Check date and time on BIOS settings
Update keyboard drivers
Check keyboard Power Management
Turn off Filter Keys, Sticky Keys and Toggle Keys
Let's take a look at the description of the process involved concerning each of the listed solutions.
1] Check date and time on BIOS settings
Incorrect date and time on BIOS can cause the keyboard beeping sound when typing on your Windows 10 device. In this case, you can boot into BIOS and make sure the time and date is correct. Here's how:
In the system setup menu, locate the date and time.
Using the arrow keys, navigate to the date or time, adjust them accordingly.
When done, select Save and Exit.
2] Update keyboard drivers
Outdated or corrupted keyboard drivers is a potential culprit to this issue. In this case, you can either update your drivers manually via the Device Manager, or you can get the driver updates on the Optional Updates section under Windows Update.
Read: How to Disable Laptop Keyboard.
3] Check keyboard Power Management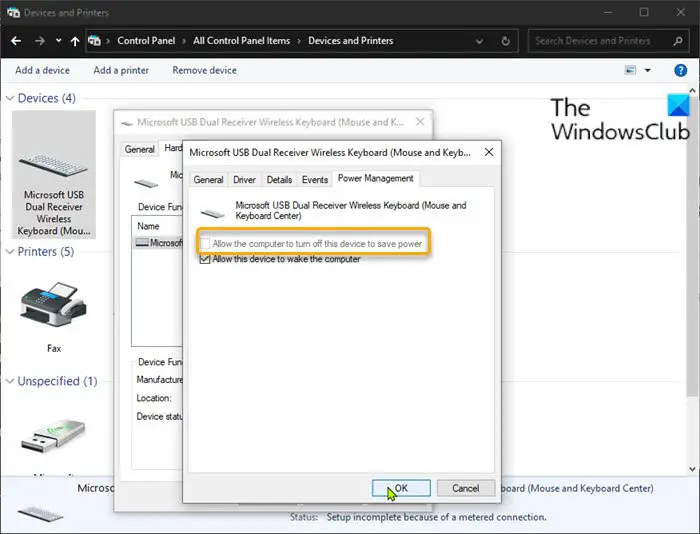 Windows 11/10 has a different sound effect for device disconnections. Sometimes the keyboard disconnects itself to save on power, when this happens, you may hear the beeping sounds when typing on the keyboard. In this case, you need to check the keyboard power management setting in Control Panel.
Do the following:
Press Windows key + R to invoke the Run dialog.
In the Run dialog box, type control and hit Enter to open Control Panel.
Click Devices and Printers.
Right click on your keyboard and select Properties.
Click the Hardware tab.
Click the Properties button.
Click Change settings button.
Click the Power Management tab.
Uncheck the Allow computer to turn off this device to save power option.
Click OK to save changes.
Exit Control Panel.
If the beeping sound issue persists, try the next solution.
4] Turn off Filter Keys, Sticky Keys and Toggle Keys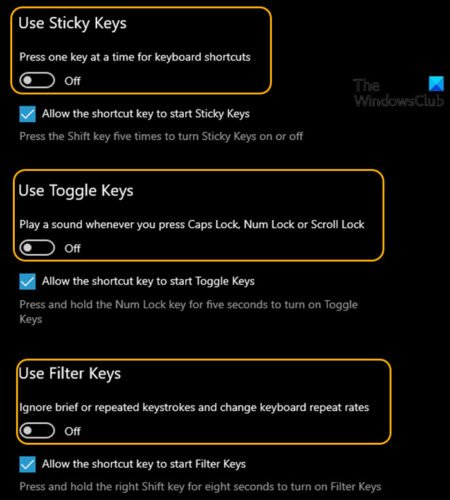 Filter keys allows Windows 10 to suppress or discard keystrokes sent too fast, or keystrokes sent simultaneously. Sticky keys, on the other hand, cause modifier keys such as SHIFT and CTRL to stick until released, or till the specific keystroke combination is entered and Toggle keys causes Windows 10 to emit a beep or audible indicator when any lock keys are pressed. So, if these keys are turned on, you will hear beeping sounds when typing. In this case, you can turn these keys off. Here's how:
Press the Windows key + I to open Settings.
Tap or click Ease of Access.
On the left pane, scroll down and click 

Keyboard.

On the right pane, toggle the button to Off for Filter Keys, Sticky Keys and Toggle Keys.
When done, exit Settings app.
That's it!