There have been cases reported where for some users, Settings app in Windows 11 or Windows 10. Here are a few troubleshooting steps you may want to try and see if something helps you.
Windows 11/10 Settings app not opening
If the Windows Settings app is not opening, not working, crashes or freezes, or does not launch, then one of these suggestions is sure to help you:
Reset the Settings app
Run System File Checker
Create a new User Account
Run

System Restore

Troubleshoot in Clean Boot State
Reinstall the Settings app
Reset Windows 11/10 via Windows Recovery Menu
Reset Windows 11/10 in Safe Mode
Run Troubleshooter from Microsoft
Perform Windows in-place upgrade.
Let us see this in detail.
1] Reset the Settings app
If your Windows Settings app is not working properly, then you can Reset the Settings app. If it just does not open at all, then follow the next suggestions.
2] Run System File Checker

Take your mouse pointer to the bottom left corner, right-click to open the WinX menu and select Command Prompt (Admin).
Type sfc /scannow to run the System File Checker. The System File Checker will check for corrupted files and replace them if any corruptions are found. You may be required to reboot your PC.
3] Create a new User Account
Create a new User Account and see if you are able to access Settings.
Create a new local administrator account as follows. Add it through the Control Panel or Run or search for lusrmgr.msc and open the Microsoft Common Console Document.  Select and right-click 'Users', choose 'Add new user' to do the needful. Now using Ctrl+Alt+Del, sign out of your account and then sign in to your newly created account.  If you can now open Settings, move your personal data and files to the new account and make the new account an Administrator account.
4] Run System Restore
See if you can access your System Restore Points. Open the WinX Menu, click on Run, type rstrui.exe and hit Enter to open the System Restore Manager. If you can, then try to revert your PC to a good old restore point.
5] Troubleshoot in Clean Boot State
Sometimes some third-party software has also been found to be the cause of the problem. You may want to uninstall such software and see if that helps. Troubleshooting in Clean Boot State may help.
6] Reinstall the Settings app
Open CMD and copy-paste the following:
powershell

 -ExecutionPolicy Unrestricted Add-AppxPackage -DisableDevelopmentMode -Register $Env:SystemRoot\ImmersiveControlPanel\AppxManifest.xml
Hit Enter. Restart your computer.
7] Reset Windows via Windows Recovery Menu
Since you cannot open Settings, you will have to follow this procedure to Reset PC. Press F8 while booting the system to go into Windows Recovery Menu. Click on Troubleshoot.
Click on Refresh your PC or Reset your PC to start the process. Make sure that you have backed up your data and files before starting this repair process. Windows 10 users should boot into Advanced Startup Options, and select the Refresh or Reset options.
Related error: SystemSettings.exe System Error, The system detected an overrun of a stack-based buffer in this application. This overrun could potentially allow a malicious user to gain control of this application.
8]  Reset Windows in Safe Mode
Boot Windows in Safe Mode and see if you can access Settings. If so great, use this opportunity to Reset in Windows.
Related: Windows Settings keeps crashing.
9] Run Troubleshooter from Microsoft
If you find that the Settings app in Windows 10 does not launch or open, or it launches the Store app instead, then this Troubleshooter from Microsoft will fix the problem for you. Microsoft is aware of this issue. Some Windows 10 users have reported that after they installed or upgraded to Windows 10 when the click to open the settings app if just does not open. Others have reported that it opens the Store app instead.
Microsoft has classified this as Emerging Issue 67758, and till such a time that a solution is found, it has released this troubleshooter, which you can safely use to fix the problem. Once you have downloaded it, click on the file to run it. Once it opens, click on Next.

It will take you to a screen that will say Fix or workaround emerging issue 67758. Click Next again.
The tool will scan your system and identify if this applies to your system and if any issues are found, it will report so and will offer to fix them.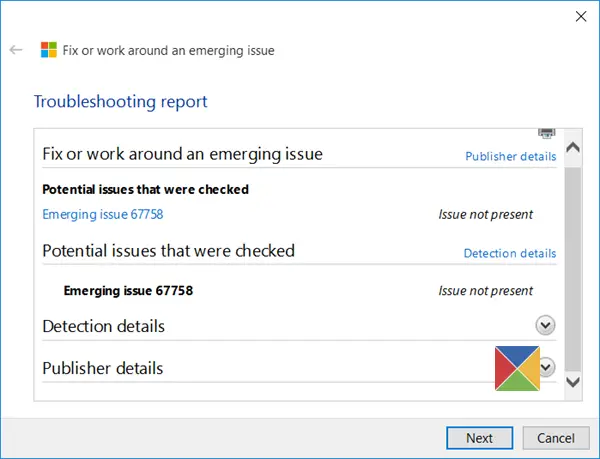 If none are found, it will report, Issue not present.
10] Perform Windows in-place upgrade
If nothing helps, you may need to download the Windows 11 or Windows 10 ISO from Microsoft and perform a Windows in-place upgrade.
Related: Windows Settings reset to default after a reboot.
UPDATE: This troubleshooter is no longer available. Microsoft has released Cumulative Update for Windows 10 KB3081424 includes a fix that will prevent this issue from occurring. So the download has been removed from the Microsoft website.
If you are still facing this problem, try the following:
You may use WinKey+I and see if it opens Settings.
Confirm that your system administrator has not enabled the Prohibit access to Control Panel and PC Settings policy.
TIP: See this if Control Panel will not open.