In this post, we will show you what you can do if your keyboard does not work in the Recovery Mode of Windows 11/10. A few users have reported that their keyboard is not working in Recovery Mode. It works fine in Safe mode or during the normal boot, but in WinRE, it simply doesn't work.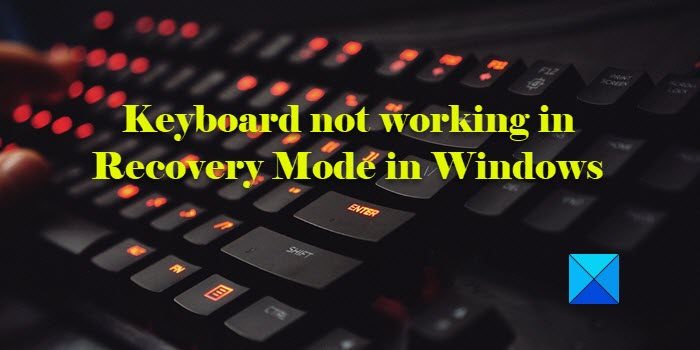 Windows Recovery Environment (WinRE) gives you access to a set of tools (Advanced Startup Options) that lets you troubleshoot system errors and repair Windows. WinRE starts automatically on the third boot when a system fails to boot normally twice in a row. However, users may also manually enter the recovery mode to fix system issues.
If your system ccannot detect the keystrokes while in the recovery mode but works fine otherwise, there may be an issue with your BIOS settings. Other possible causes include a faulty USB port, a damaged keyboard, unsupported keyboard drivers, or a faulty Windows update.
Keyboard not working in Windows Recovery Mode
Before making any changes to your computer, start with basic troubleshooting. Try plugging the keyboard into other USB ports and see if it works. Or try an alternate keyboard (preferably a PS/2 style keyboard) if available. If you're using a wireless keyboard, make sure the batteries are not dead. If the issue persists, use the following solutions to fix the issue:
Enable USB support in BIOS.
Disable USB 3.0 Support in BIOS.
Disable Fast Boot in BIOS.
Clear CMOS.
Reinstall Keyboard Drivers.
Use a USB boot media to access the Recovery Environment.
Let us see these in detail.
1] Enable USB support in BIOS
You cannot use a USB keyboard in a 16-bit environment such as MS-DOS or Windows Recovery if USB support is disabled in the BIOS. This is because the OS uses BIOS for device input, and if this setting is disabled, the USB keyboard will stop working.
To fix the issue, boot into BIOS and enable the USB Keyboard Support/USB Legacy Support/Legacy USB Support setting. If your USB keyboard is not working in BIOS, you may try using your mouse. Else, you need another keyboard that works in BIOS. Use an old PS/2 keyboard that works by default on most motherboards or plugin your existing keyboard in a USB 2.0 port (the leftmost or primary USB port). Then follow these steps to enable USB support:
Note: The steps may vary slightly depending on the BIOS version installed on your system:
Navigate to the Advanced tab.
Navigate to USB Configuration.
Set  Legacy USB Support to Enabled.
Press F10 to save changes and exit BIOS.
2] Disable USB 3.0 Support in BIOS
Next, disable USB 3.0 Support in BIOS. USB 3.0 is suitable for newer motherboards, so if you have an old keyboard, the USB 3.0 support may conflict with its working.
Navigate to the Advanced tab in BIOS.
Navigate to USB Configuration.
Set USB 3.0 Support to Disabled.
Press F10 to save changes and exit BIOS.
3] Disable Fast Boot in BIOS
Fast Boot is a BIOS feature in which USB devices load after the OS boot. So if Fast Boot is enabled, your keyboard driver may not be initialized (or recognized) while you boot into Windows RE through BIOS.
To fix the issue, disable Fast Boot in BIOS and see if it helps.
4] Clear CMOS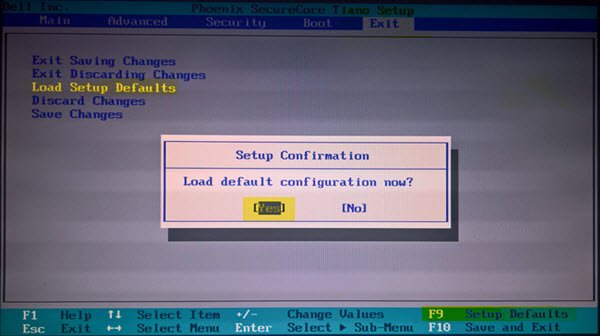 CMOS is a motherboard component that stores the BIOS settings. Clearing the CMOS removes all configuration settings and restores defaults in the BIOS. Reset or clear CMOS and see if it helps in fixing the keyboard issue in recovery mode.
5] Reinstall Keyboard Drivers
As stated in the beginning, you may face this issue if there's something wrong with your keyboard drivers. So uninstall and then reinstall the keyboard drivers to see if it works for you.
Right-click on the Start button icon in the taskbar area and select Device Manager from the WinX menu.
Click on the right arrow to expand the Keyboards section.
Right-click on your keyboard driver and select Uninstall Device.
Click on Uninstall in the confirmation window that appears.
Reboot your system.
This will automatically reinstall the generic drivers for your keyboard. You may also manually install the latest drivers by visiting your device manufacturer's support page.
Once the keyboard drivers are reinstalled, try using the keyboard in Win RE.
A few users have also resolved the issue by updating all Universal Serial Bus controllers drivers.
6] Use a USB boot media to access the Recovery Environment
If none of the above solutions help, we recommend this workaround where you can enter the Windows Recovery Environment using a bootable Windows 11/10 USB.
For this, you need another PC to create the bootable USB. Once you have access to a working PC and an empty USB drive with at least 8 GB of space, download the Windows ISO from Microsoft's official website and then create a bootable USB from the downloaded ISO. Then plugin the Windows repair USB drive to your main computer and press the hotkey to enter BIOS (Delete/F2/ESC). Change the boot order to reposition the USB drive in the first place. Press F10 to save boot order changes and Exit BIOS.
On the subsequent restart, Windows will boot from the USB drive. Click Next on the Windows Setup screen and then click on the Repair your computer link in the bottom left corner to bring up the Windows Recovery Environment. Your keyboard should be working now.
I hope this helps.
How do I fix my keyboard not typing Windows 11?
If you're using an external keyboard, check the connection first. For a wired keyboard, unplug and plug back the keyboard or use a different USB port. For a wireless keyboard, ensure the device is paired and the Bluetooth feature is turned on. Also, update keyboard drivers and run the built-in Keyboard Troubleshooter in Windows to troubleshoot keyboard issues.
How do I fix my keyboard not working on startup?
Start your PC in Safe Mode and disable Fast Boot. To disable the Fast Boot option, open Control Panel and click on the Hardware and Sound option. Then click on Power Options. Now from the left panel, select Choose what the power buttons do and click on Change settings that are currently unavailable. Finally, unselect Turn on fast startup under Shutdown settings and click on Save Changes.
Read Next: Could not find the Recovery Environment in Windows 11/10.