If you are facing problems and wondering how to get help in Windows 11/10, then this post lists some built-in support options, as well as Help Desk, Support or Community forums, and website options, where you can get help. Take a look at these options & resources.
How to Get Help in Windows 11/10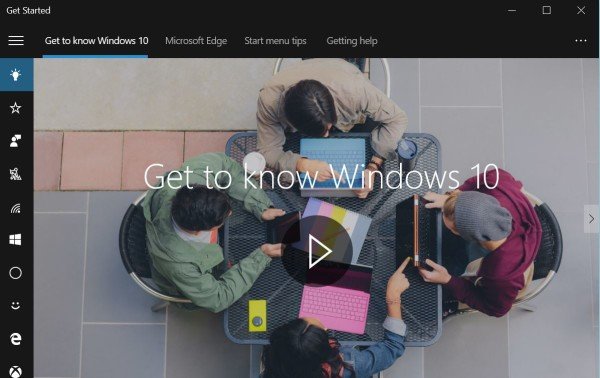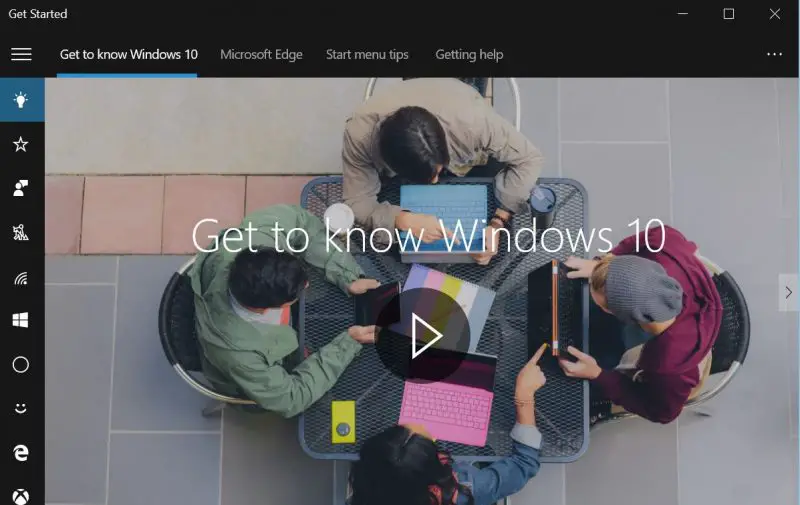 While you could download Windows Help Program WinHlp32.exe for Windows 8.1, Microsoft has decided to move most of Windows 10 Help online. So if you have any application open and you press F1 or Fn+F1, the local help may not be available. Here are the help options available to you in Windows 10:
Use the F1 key
Use the Get Started app
Enable Tips via Windows Settings
Use the Search bar or Cortana
Use the Contact Support app
Use Microsoft Answer Desk
Request Email or Chat support
Contact Microsoft Customer Support by Phone
Follow Twitter account
Via Microsoft Store
Other ways
Use TWC Search bar
Use Quick Assist.
Other useful links.
1] Use the F1 key
Clicking on the F1 key will normally fire up your browser, which will offer you Bing results about Windows 10 Help.
2] Use the Get Started app
Typing help in taskbar search will display the Get Started app in the results. This has a lot of help topics to get you started.
3] Enable Tips via Windows Settings
Make sure that you have opened Settings > System > Notifications & actions and ensured that the Show me tips about Windows is set to On.
Read: Best Windows Help & Tech Support websites
4] Use the Search bar or Cortana
You could use the taskbar search bar or ask Cortana to search online for help.
5] Use the Contact Support app – now called Get Help app
Use the built-in Get Help app to chat with Microsoft. Using it, you will be able to chat online with a Microsoft Answer Tech support staff. Using the app, you can also arrange a call-back.
6] Use Microsoft Answer Desk
You could use the services of Microsoft Answer Desk, a live paid Tech Support site, to chat with a Microsoft support executive.
7] Request Email or Chat support
You can also contact Microsoft Support by email and chat. If a Customer Service Agent is online and available for chat here, you will see a message to this effect. If not, you will see Instant Chat: Customer Service Agents are OFFLINE message, on the right side. You may then try and visit this page for Chat support. Use this form to email Microsoft. They will contact you back via email.
8] Contact Microsoft Customer Support by Phone
You can contact Microsoft Customer Support at Phone Number 1 800-642-7676 or at microsoft.com/contactus.
9] Follow Twitter account
The Microsoft Support Official Twitter Account is @MicrosoftHelps.
10] Other ways
There are more ways to contact Microsoft Support via phone, etc., including for OEM support.
11] Via Microsoft Store
You can also get Windows Help & Support from a Microsoft Store. This post also lists some paid options.
12] Use TWC Search bar
Search for your problem citing the specific problem you get or the error you receive using our TWC Search. Chances are high; you will see something helpful. If not, you may request us to develop a tutorial. If we can, we will do it.
13] Use Quick Assist
You can now also give or take Tech Support remotely using Quick Assist in Windows 11/10.
14] Other useful links
Here are some links that will help you take the first step in resolving your Windows 10 problems:
You may want to read these links which may help you when seeking help and support from Microsoft:
Microsoft Support Diagnostic Tool in Windows is used by Microsoft Support to help diagnose Windows problems. When you contact Microsoft Support for any help, the support professional will give you a Passkey. You are required to open the Microsoft Support Diagnostic Tool and enter the Passkey. You should know this beforehand.
The Microsoft Product Support Reporting Tool facilitates the gathering of critical system and logging information used in troubleshooting support issues. This information helps diagnose problems in the software quicker and provide solutions.
Microsoft Easy Assist allows a Microsoft support professional to remotely connect to your computer and help you solve a problem. Using a secure connection, the support professional can view your desktop and perform diagnostics and troubleshooting steps.
How do I fix Get Help in Windows 11/10 keeps opening?
If Get Help is continuously popping up in Windows 11/10, then check if the F1 key is stuck or defective. You can also disable the F1 key for the examination. Also, rename the Helppane.exe process (associated with Microsoft Help and Support process), and perform an antivirus scan on your system.
How do I get assistance on Windows 11?
If you need any assistance with Windows 11, then you should use the native Get Help app. It helps to get answers for some common to complex problems. You just need to sign in with your Microsoft account and type your question in the text field. The app will provide the relevant answers from the answers.microsoft.com database. You can also open an answer for detailed information.
All the best!
Related read: How to uninstall Tips App in Windows PC.