Whether you have opted for the free upgrade or not, Microsoft is downloading Windows 10 to your computer. It will do so if you have the automatic updates enabled on your machine. Sure, it will ask you first, if you would like to install it, once the download is completed. But if you would like to, you can stop Windows 8.1/7 from automatically downloading Windows 10 upgrade files to your computer, by modifying the Registry or Group Policy settings.
UPDATE: You can now decline the free Windows 10 Upgrade offer from the Get Windows 10 prompt itself.
Stop automatic downloading of Windows 10 upgrade files
If you are a system administrators who wants to prevent Windows 7, Windows 7 for Embedded Systems, Windows 8.1, and Windows Embedded 8.1 Pro clients from downloading Windows 10 and upgrading to it, you can do the following.
Using Group Policy
You will first have to make sure that the Windows Update client mentioned on KB3080351 is installed on your computer.
To suppress the downloading of the Windows 10 Upgrade, press Win+R to open the Run box. Type gpedit.msc and hit Enter to open the Local Group Policy Editor.
Navigate to the following setting:
Computer Configuration/Administrative Templates/Windows Components/Windows Update Policy
Double-click on Turn off the upgrade to the latest version of Windows through Windows Update and Enable this policy setting.
Click Apply and exit.
Using Windows Registry
To suppress the downloading of the Windows 10 Upgrade, press Win+R to open the Run box. Type regedit and hit Enter to open the Registry Editor.
Now navigate to the following registry subkey:
HKEY_LOCAL_MACHINE\SOFTWARE\Policies\Microsoft\Windows\WindowsUpdate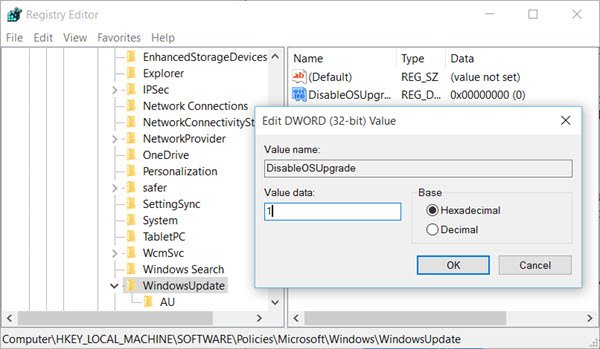 Give the DWORD DisableOSUpgrade a value of 1. If it does not exist, create it.
If you wish to re-enable the upgrade anytime in future, change its value from 1 to 2.
This post shows how to completely block Windows 10 upgrade in Windows 8.1/7 using Group Policy or Registry.
See how you can Stop Windows 10 from upgrading your computer automatically. These free tools will help you block Windows 10 Upgrade easily.