While not everyone wants to upgrade their Windows Operating System, Microsoft is still looking out for ways to push the free Windows 10 Upgrade to users. There are many different reasons users may have for not wanting to upgrade their Windows 8.1 or Windows 7 installation to Windows 10, and it is their personal decision.
In our opinion, Windows 10 is comprehensible, intelligible, and a pleasure to use, but several users still face several Windows 10 problems. If you are one of the many users who don't really want to upgrade to Windows 10 and want to remove the Windows 10 app icon from the taskbar, you better use a third-party tool to block the Windows 10 upgrade easily.
UPDATE: You can now decline the free Windows 10 Upgrade offer from the Get Windows 10 prompt itself.
Free tools to block Windows 10 Upgrade
We have already seen how to block Windows 10 upgrade using Group Policy or Registry and stop automatic downloading of Windows 10 to your computer so as to stop Windows 10 from upgrading your computer automatically. Today, in this post, we will learn about 3 Tools to block Windows 10 Upgrade, tools that you can use to avoid the annoyance caused by the never-ending and, more or less the Windows 10 upgrade notifications.
Never10, I Don't Want Windows 10 & GWX Control Panel are 3 free tools that will prevent, disable & block Windows 10 Upgrade on your Windows 8.1/7 PC.
1] Never10

Never10 is a free tool that gives you the total control over whether or not you want to upgrade your Windows 7/8.1 PC to Windows 10. It lets you disable the automatic Windows 10 upgrade and also gives you an option to re-enable it when you want.
Never10 provides users a choice on when they want to upgrade their Windows PC. However, Microsoft also allows you to change the settings and disable the automatic upgrade but it is tricky for the non-techy users. This is where Never10 can help you. Unlike the other such tools, Never10 does not install any particular software on your PC. It just makes a few required changes in your system so as to configure your existing version of Windows not to upgrade itself to Windows 10. It is a simple tool and can be easily used by new PC users. Go get it from GRC.com.
2] GWX Control Panel
GWX Control Panel is another free tool in the list. It can remove and disable the automatic Windows 10 upgrade on your Windows 7 or Windows 8.1 PC and also prevent your PC from downloading the Windows 10 installation files silently. Just a few clicks and you can get rid of the "Get Windows 10" icon appearing consistently in your notification area. Once downloaded and installed, the GWX Control Panel scans your PC and detects and removes the hidden Windows 10 installation files if any.
Optionally, the tool also monitors your PC for any unwanted Windows 10 files and settings that may cause Windows 10 upgrading annoyances. Just like Never 10, this tool also allows you to re-enable the icon anytime and get the upgrade notifications.
3] I Don't Want Windows 10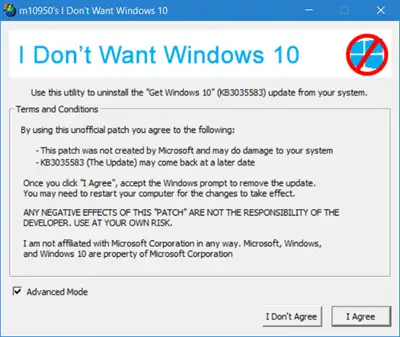 I Don't Want Windows 10 as the name itself signifies, lets you avoid the Windows 10 upgrade. It basically removes the Windows system update (KB3035583) responsible for the recurring upgrade notification. It is a free tool and lets you remove the bothersome upgrade notifications in just a few mouse clicks.
Developed by GitHub member, this tool comes in a zip file and takes less than a minute to land on your PC. Agree to terms and install the tool and it removes the update instantly. It may ask to reboot the PC to apply the changes. Download and install this tool on your Windows 7 or Windows 8.1 PC and get rid of the upgrade notifications.
While you can anytime edit your PC settings and stop the automatic downloading of Windows 10, these free tools let you disable Get Windows 10 app, Upgrade to Windows 10 notification, and prevent the silent & automatic download of Windows 10 upgrade files on your PC – easily, with a click!
While Microsoft keeps fixing the reported bugs and adding new features to the Windows 10 OS, it is always your choice to upgrade to the latest version of Windows or to stick with your existing one with your own settings.