Are you using an old Windows computer? Or is your Windows computer out of warranty? If so, you need genuine websites that will help you if you face any issues with your computer. The chances of errors and issues on a new computer are less. But as your computer becomes old, you may start experiencing different types of issues with it. In such a case, you need authentic advice to help you troubleshoot and fix the problem. In this article, we will list some of the best Windows Help & Tech Support websites for Computer Troubleshooting.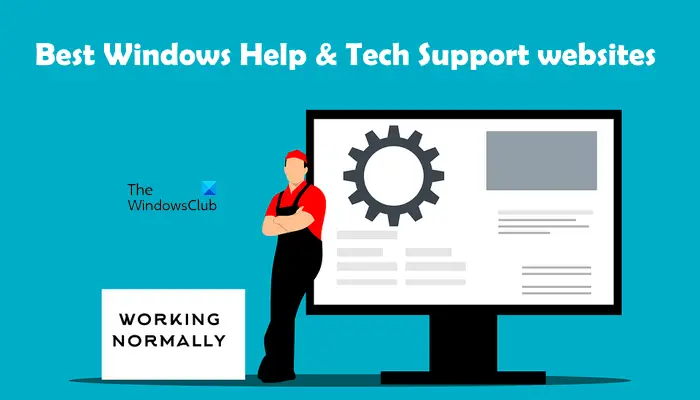 Best Windows Help & Tech Support websites for Computer Troubleshooting
Tech support websites are one of the great resources to get tech support. If you search for your problem on Google or another search engine, you will get links to several websites and forums. Out of these support websites, it is necessary to visit the genuine ones because the wrong advice can worsen your problem and may break your computer. We have listed some best Windows Help & Tech Support websites for Computer Troubleshooting along with their links.
Microsoft Answers
Developer's or Manufacturer's official websites and forums
Reddit
YouTube Windows Channels
Social Media accounts
StackExchange
ChatGPT
TheWindowsClub.
Let's start.
1] Microsoft Answers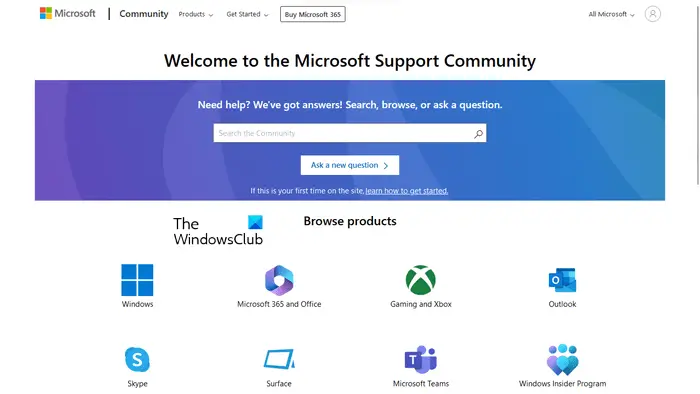 Microsoft Answers is the official Microsoft Support Community, where you can type your query and get relevant answers. Visit the website, type your query, and hit Enter. You will get a lot of answers related to your issue. The answers are provided here by Microsoft Windows users, MVPs, Support Enginners and Microsoft Moderators. Support Enginners are the Microsoft employees who are part of the Microsoft Support team.
Here, you can also select a particular Microsoft product to view the Featured and other queries asked by the users. If you do not find any relevant answer to your issue, you can create a thread by asking that question. But for this, you have to log in with your Microsoft account. If you do not have a Microsoft account, you can create a new one. While asking your question, you can insert images as your supported documents. If you have uploaded images on another website, you can paste the link to that website here. After creating a thread, your question will be circulated on Microsoft Community and you will get troubleshooting information soon.
To get technical help from Microsoft Community, visit answers.microsoft.com.
Read: Microsoft Support: Phone Number, Live Chat, Email ID, Useful Links
2] Developer's or Manufacturer's official websites and forums
Apart from the Microsoft Community, we suggest you use the software developer's or the hardware manufacturer's official websites and forums where you can ask for help related to your issue and get genuine replies. Almost all computer manufacturers have their Community or Support Forums. We have provided the links to the Support Forums or Communities of some popular computer manufacturers below:
Are you a gamer? If yes, you definitely like to play different games. If you experience game issues, you can ask these questions on specific official websites or support forums. For example, if you are a Steam user, you can ask for help on SteamCommunity, Electronic Arts gamers can get help at EAForums, etc.
So locate the official forums for your software. E.g. if you use Avast antivirus, go to the Avast forums for best advice.
3] Reddit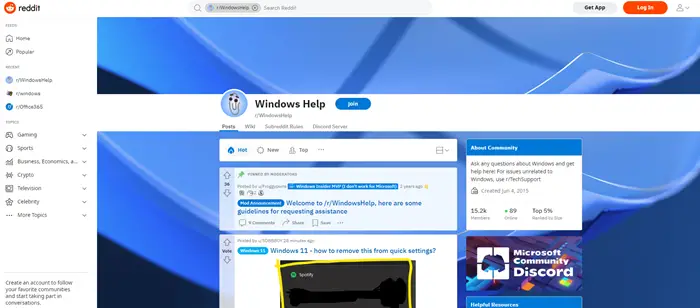 Reddit is the most popular support website. Here, the questions and answers are posted by Reddit users. After visiting  Reddit.com, you can either type your question in the Reddit Search bar or create a new post for your question. But for creating a new post, you should have a Reddit account. If you have not created a Reddit account yet, you can create a new one now.
There are several Windows 11, and Windows 10 forums on Reddit. Here's one. You can search for and post your queries in the one you think is most suitable for you.
In addition to this, you can also join the Reddit Community related to your issue. There are a lot of Communities created on Reddit. Reddit also has communities for different games, like Forza Horizon 5, Battlefield, SIMS, etc. To join a particular community, type a related keyword in the search bar, like the name of your game. After that, you will see the Reddit Communities.
4] YouTube Windows Channels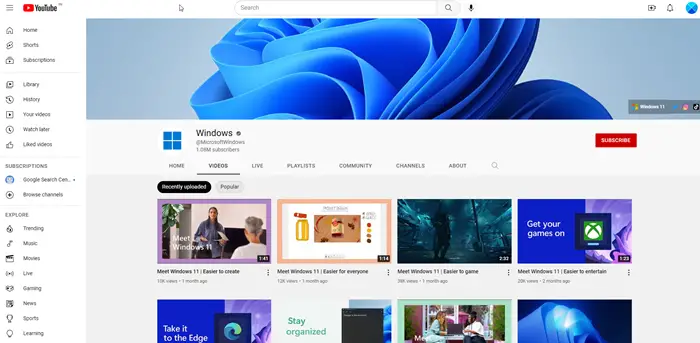 Today, YouTube has become a popular platform among users. On YouTube, you will find many channels that create tech support content. Visit YouTube, type your query, and hit Enter. After that, YouTube will show you a lot of videos according to your search query. You can view the official YouTube channel of Microsoft Windows, PC manufacturers, etc. If you like the videos of a particular YouTube channel, say TheWindowsClub, you can subscribe to that channel to get updates whenever a video is uploaded to that channel.
5] Social Media accounts
Follow the official Twitter accounts of @Windows, @MicrosoftHelp, and other tech support websites. Microsoft keeps sharing updates and other information related to the Windows operating system on its official Twitter handles. This will keep you updated. You can also tag or DM them. You could also follow the official Microsoft Windows Facebook page or TheWindowsClub.
6] StackExchange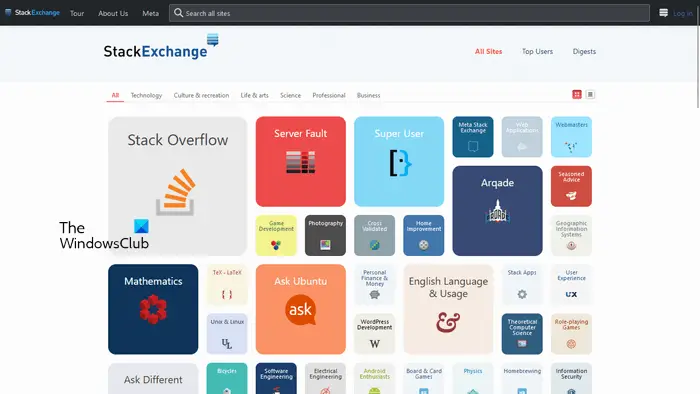 StackExchange is a group of different Q&A communities. You will find many communities in StackExchange category-wise. For technical help, explore the Technology section on StackExchange. According to your query, you can select the type of community on StackExchange for help. For example, you will find the answers for the issues related to the Windows operating system on Super User, Server Fault, Stack Overflow, etc. In addition to this, questions related to networking, programming, hardware issues, etc., are also discussed on these forums.
7] ChatGPT
ChatGPT is a chatbot by OpenAI launched in November 2022. After its launch, it has become popular among users due to the features it provides. It is powered by Artificial Intelligence and gives you the answers to your questions in written format just like a human-to-human interaction. Just type your question and hit Enter. People are using ChatGPT to get help in different topics, like Science, Mathematics, etc. You can also use it to get help on your queries related to Windows.
8] TheWindowsClub
TheWindowsClub.com is created and operated by Anand Khanse, who is a Microsoft MVP Awardee (2006-2016), a Windows Insider MVP (2016-2022), and an end-user Windows enthusiast. Its team of qualified authors have relevant education & experience in the field of computing. The website targets mainly Windows 11/10 operating systems. However, you will also find support articles for old Windows operating systems, including Windows 8, Windows 7, and Windows Vista too.
TheWindowsClub.com covers articles on various topics, including Windows operating systems errors, gaming errors, Office software, free Windows software, Microsoft Office tutorials, and more. It offers authentic advice and hence, you will find this website useful in many ways.
What is online technical support?
Technical support is the process of getting technical help online. When we say online, we mean different tech support websites and online Chatbots. You can visit the official manufacturer's websites to get online help. In addition to this, there are many support forums on which you can post your question. You will get answers to your question from experts in the technical field.
Read next: Best Sites to Sell or Trade used Electronics.