If you are facing problems and wondering how to get Help with File Explorer in Windows 11/10, then this post lists some helpful How-To links as well as built-in support options, as well as Help Desk, Support or Community forums, and website options, where you can get help.
Get Help with File Explorer in Windows 11/10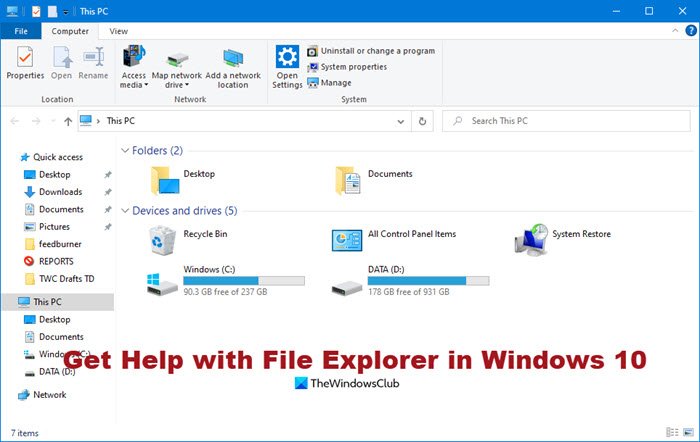 Useful links to help you get started:
This post will show you how to Open & Use File Explorer.
Once you feel comfortable, you may want to go a step further using these Explorer Tips and Tricks.
Be a keyboard ninja with the help of these Explorer keyboard shortcuts and use them to work faster and better in Explorer!
Once you have got the hang of it, feel free to customize Explorer and make changes to the layout, view, navigation pane, and the size of the files and folders, etc. Using Ultimate Windows Tweaker will make things easy.
These posts will help you if your Explorer crashes or freezes – maybe when you right-click to open Context Menu, resize or snap a window, crashes in a Video folder or simply won't open! Apart from troubleshooting these issues individually, using the Windows File and Folder Troubleshooter is likely to help you too.
If you still need Support, then the Help options available to you for Explorer are:
1] Use TWC Search bar
Search for your problem citing the specific problem you get or the error you receive using our TWC Search. Chances are high; you will see something helpful. If not, you may request us to develop a tutorial. If we can, we will do it.
2] Use the Contact Support app
Use the built-in Contact Support app to chat with Microsoft. Using it, you will be able to chat online with a Microsoft Answer Tech support staff. Using the app, you can also arrange a call-back.
3] Use Microsoft Answers Forum
You could use the Microsoft Answers Forums, where Microsoft Support staff and MVPs will try and help you.
You could also check out the services of Microsoft Answer Desk, a live paid Tech Support site, to chat with a Microsoft support executive.
4] Request Email, Chat or Phone support
You can also contact Microsoft Support by email and chat. If a Customer Service Agent is online and available for chat here, you will see a message to this effect. If not, you will see Instant Chat: Customer Service Agents are OFFLINE message, on the right side. You may then try and visit this page for Chat support. Use this form to email Microsoft. They will contact you back via email.
You can contact Microsoft Customer Support at Phone Number 1 800-642-7676 or at microsoft.com/contactus.
5] Other ways
There are more ways to contact Microsoft Support via phone, etc., including for OEM support.
Read next: How to Get Help in Windows 11/10.