When File Explorer crashes or freezes, in Windows 11/10, it is a major issue – mainly because the File Explorer has almost all the usable data. At times, it doesn't display the option, when the user tries to launch explorer.exe to open some files. Some users have experienced the issue that Windows File Explorer just will not open when they click on its icon.
Why is my File Explorer not opening in Windows 11?
There could be many reasons why your File Explorer is not opening in Windows 11. For example, a conflicting third-party app or Service. In such a case, you can identify the culprit by troubleshooting your system in the Clean Boot state. Sometimes, it may be the result of corrupted system files.
Windows File Explorer will not open
If you face this issue here are a few things you could try.
1] Restart File Explorer

Select Ctrl + Shift + Esc and then select Task Manager from the menu. Find Windows Explorer and right-click on it, select End task.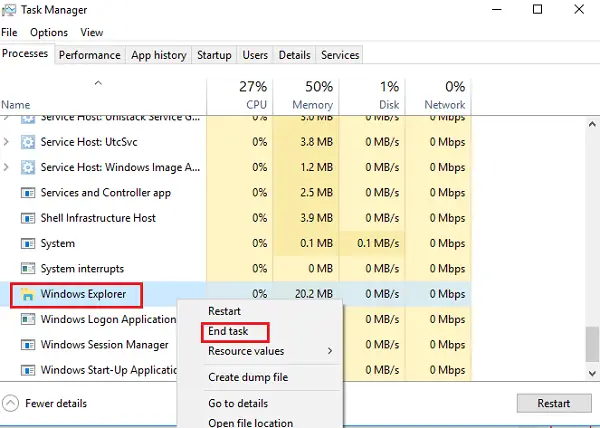 Right at the top of the Task Manager window, you'll find the File option. Click on it and select Run new task. You'll then need to type in explorer.exe in the box. Click Enter.
Does this help?
Read: File Explorer is slow to open in Windows
2] Set File Explorer defaults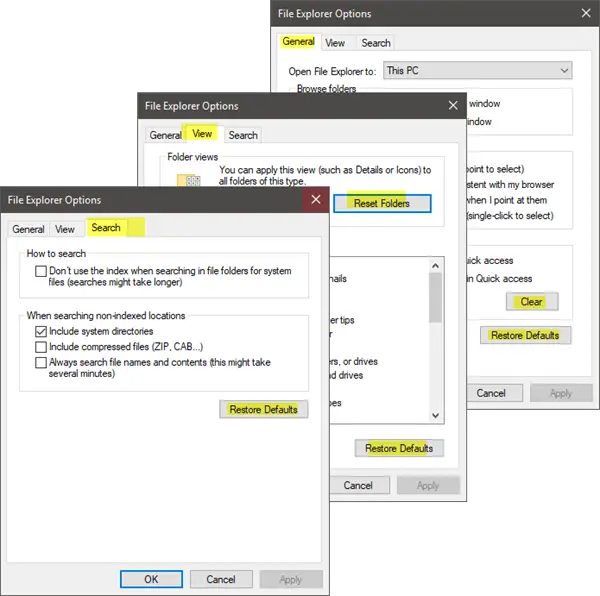 Open File Explorer Options (earlier known as Folder Options) from Start Search and do the following:
Under General tab: Clear File Explorer History and press Restore Defaults
Under View tab: Press Reset folders and Restore Defaults button.
Under Search tab: Press Restore Defaults button.
Press Apply, OK, and exit.
Now try to open Explorer and see.
3] Troubleshoot in Clean Boot State
Boot your Windows in Clean Boot State and see if the problem persists or disappears. If you can open Explorer, it means that some third-party process or addon is interfering with its opening. You will need to troubleshoot manually and try to find the offending process.
4] Change display settings
Go to the Start button, choose Settings, and go to System. The Display tab would be selected by default on the list on the left.
Try adjusting sizes on your Display panel. For instance, change the size of your text to 100%, 125%, and so on. But do not set it to 175%.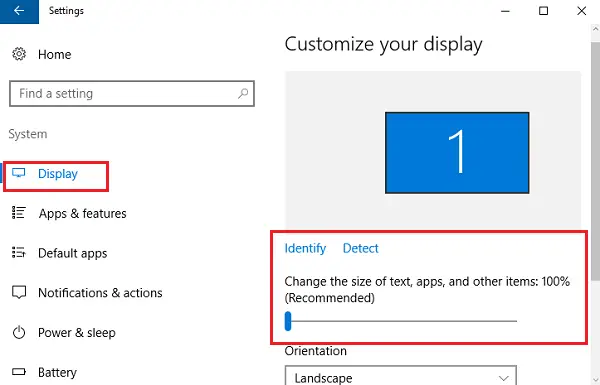 And now check if you can access the Explorer to see if it's working.
Read: Windows cannot find explorer.exe
5]  Are faulty programs a reason?
Essential applications and anti-virus program sometimes cause our system to fail. And users have agreed that more often than not, there File Explorer crashes due to malfunctioning anti-virus software. And the Explorer resumes, once it is shut down from the Task Bar. This issue could be isolated by temporarily stopping or uninstalling suspicious applications and checking if it resolves the issue.
6] Create a new path for the Explorer shortcut

Right-click on the File Explorer icon and choose Unpin from the taskbar. Then again right-click anywhere on the desktop. From the menu that appears, choose New and then go to Shortcut to create a shortcut.
Type in C:\Windows\explorer.exe in the blank space on the Create Shortcut window. Click Next. You must remember to rename the file to File Explorer. Choose Finish.
Now, right-click on the new shortcut which you created and see if Explorer opens.
How do I reset my Explorer?
You cannot reset File Explorer in Windows 11/10 because there is no such option available. Instead, you can restart File Explorer. To do so, open the Task Manager and go to the Processes tab. now, locate Windows Explorer, right-click on it, and select Restart.
Please let us know if anything here helped you or if you have any other ideas to share.
These Explorer related fixes may also interest you: