File Explorer is one of the most widely used tools on a Windows PC. We all use our computers excessively to download and manage files; it is File Explorer that helps with all of it. With such a case as the truth, it can be very cumbersome when the File Explorer is slow to open. The File Explorer slowing down is not uncommon, but lucky for you, there are some easy fixes you can implement to get its speed back on track.
Why does my File Explorer take so long to open?
There can be several reasons behind the File Explorer utility responding slowly to commands. A common occurrence is when users run too many programs simultaneously on their computer, which can slow things down with Explorer. One thing you can do directly is to stop the background apps via the Task Manager. Other potential causes behind it include corrupt system files, the presence of malware or not having updated to the latest version of Windows.
File Explorer is slow to open in Windows 11
If File Explorer opens very slow to open then you can make Explorer load faster in Windows 11/10 by following these tips. Common factors behind an issue like this include a corrupt system file, addons or a virus infection in your PC.
Restart File Explorer
Disable Quick Access
Disable Preview Pane
Change the default Explorer opening location
Run System File Checker
Scan your PC with your antivirus software
Troubleshoot in Clean Boot State
1] Restart File Explorer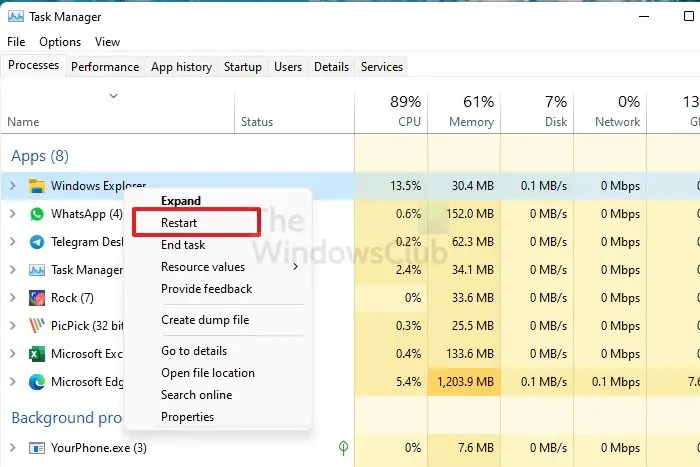 The first thing you should do when facing a slow or glitchy File Explorer is restart the Explorer. Restarting its components to a fresh set can help make File Explorer run as smoothly as before:
Click on the search pane at the Taskbar, search for the Task Manager, and open the resultant option
Ensure that you have File Explorer running in the background
In the Apps sections of the Processes tab, you'll find Windows Explorer.
Right-click on it and select Restart
Once it has restarted, reopen File Explorer and check if it is working at its normal speed or not.
Read: Windows Explorer crashes in a Video folder.
2] Disable Quick Access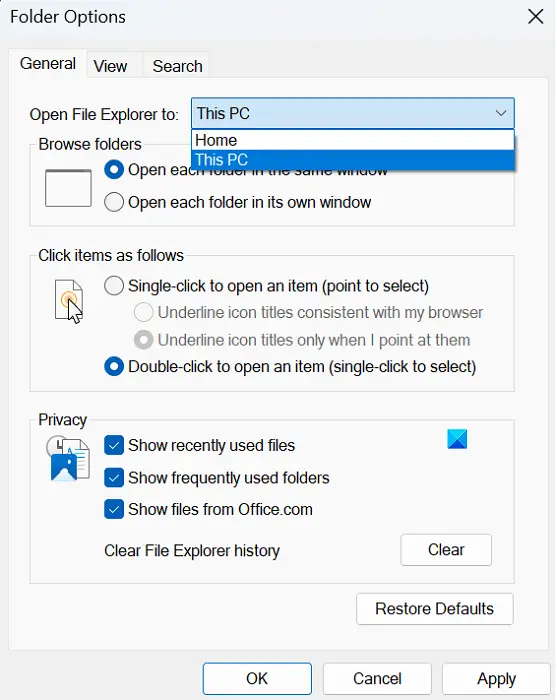 The Quick Access toolbar comprises a collection of shortcuts for the most commonly used features in File Explorer. If your system is overworked, then having Quick Access enabled just hangs the File Explorer app even more. Thus, you should disable Quick Access in case of a slow File Explorer.
Open File Explorer
Click on the Ellipses icon at the toolbar on top and select 'Options'
Uncheck the "Show recently used files" and "Show frequently used folders in Quick access" boxes
Click on Clear, select OK and Apply to save this change.
After that, open File Explorer again to see if it is still working slowly.
Read: Explorer crashes when I right-click to open Context Menu or create new folder.
3] Disable Preview Pane
The third solution to this problem is to disable the Preview Pane option from the File Explorer context menu. The Preview Pane setting helps you get a preview of a selected file type and disabling it can do the trick with a slow File Explorer. The process for the same involves making changes to the Registry Editor. Here's what you have to do:
Open the Run command and enter "regedit" to open the Registry Editor
Access the Explorer registry key using the following path
HKEY_CURRENT_USER\Software\Microsoft\Windows\CurrentVersion\Policies\Explorer
Right-click on the blank, white area to select New and create a DWORD (32-bit) value key named "NoReadingPane"
Once you've created it, modify it and change its value data to 1
Doing so will disable the Preview Pane option. Save this change and restart your computer, upon which you should recheck if the issue has been fixed or not.
Read: File Explorer will not open.
4] Change the default Explorer opening location
The default File Explorer opening location is Quick Access, and it being so might be the reason behind File Explorer's slow performance. You can very easily change the default folder by following the steps mentioned below:
Open the File Explorer app
Click on the Ellipses icon and open the Explorer options
Here, you'll find a drop-down with the option "Open File Explorer to: "
Set it to this PC and click on OK to save the change
Once you've done so, restart the File Explorer and it should now work as briskly as it was before.
Read: File Explorer crashes or freezes when creating New folder
5] Run System File Checker
If the explorer.exe file has got damaged or corrupted then running the System File Checker will help.
So run sfc /scannow and see if that helps.
Read: Explorer crashes after resizing or snapping.
6] Scan with antivirus software
Scan your PC with your antivirus software to eliminate the chance of a malware infection.
7] Troubleshoot in Clean Boot State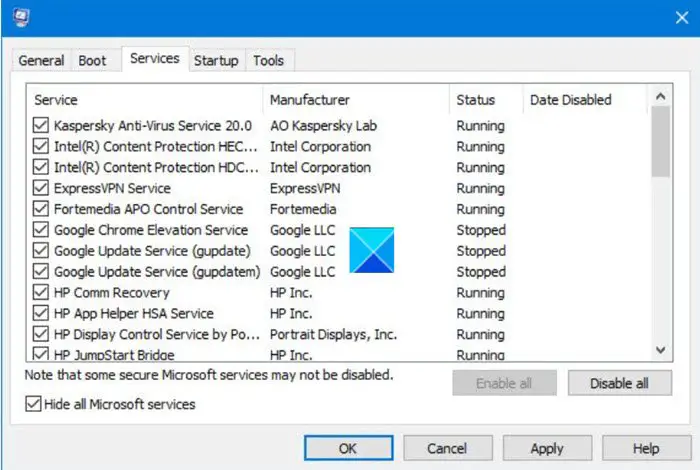 Your final resort to bring the File Explorer app's speed back on track is to troubleshoot your system in a clean boot state. Putting your system through a
Clean Boot State
helps diagnose advanced Windows problems, and will help you shell out the issue that has been causing your File Explorer to run slowly or hang.
To initiate the process of troubleshooting your computer in a Clean Boot State, open the run command using the "Win + R" key combination
Here, type "msconfig" and press enter. This will open the System Configuration dialog box
Click on the General tab and select Selective Startup
Select the "Load Startup" items checkbox, and ensure that the "Load System Services" and "Use Original boot configuration" options are also checked
Now, move to the Services tab
Select the Hide all Microsoft Services option on the bottom-left side and further select Disable all
Save these changes by clicking on Apply and then OK. Doing so would put Windows into a Clean Boot State. Once it has been booted back up, you may need to manually disable one process or item after another to try and pinpoint the one that is causing the problem. Once you have identified the offender, you can consider removing or disabling it.
Also read: Windows File Explorer crashes, freezes or has stopped working.
Why are my folders taking so long to open?
If your folders take a long time to open, then you can optimize & make folders display content faster. You need to also check for any 3rd-party addons to Explorer that may be slowing down its smooth operation.