Windows File Explorer is one of the most frequently used applications in Windows 11/10. The crashing of this application is not only frustrating but also a headache when we can't even perform some simple tasks. If Explorer keeps crashing or freezing after resizing or snapping, or is flickering when minimized in Windows 11/10, then this post may be able to help you.
Some users have reported that File Explorer crashes when a user resizes it or snaps the window as per the requirement. We will cover some of such easy and simple steps that have proven to be effective. But before we get to the solution, let's first understand what are the common factors behind such crashes. These factors include:
Improper system display settings
Incompatible third-party addons or software
Permission issues, etc.
Explorer crashes after resizing or snapping
The solutions given below are tried and tested. If you are unable to solve your problem, feel free to try all of the solutions given below. The solutions we are going to try include:
Try this workaround
Change Display Settings.
Clear File Explorer history.
Set Open File Explorer from Quick Access to This PC.
Remove Preview Pane.
Update Display Adapter drivers.
As we mentioned earlier, these methods may sound a bit weird but they work too.
1] Try this workaround
Close all Explorer windows
Re-open File Explorer.
Press WinKey+Left Key to snap it to the left side of the screen.
Click "View" and turn off the preview pane and set the view to Details list.
See if this has helped.
1] Change Display settings
Improper display settings will always lead to the immature working of any Windows device. It is always suggested to keep your device's display settings according to the screen resolution and keep the layout set to 100% or 125%. Since these are the recommended settings, one shall always follow them.
Now, it is up to a users' discretion how he/she wants to use their device. At this point, some of the users change the scaling size and resolution which causes other applications to either flicker, un-responsive, or even crashing.
To stop your device from doing such practices, follow the steps given below, and set your system to its desired and recommended settings.
Right-click on the desktop screen and click on Display settings. The Settings app will open up.
In the Display settings page, scroll down to Scale and layout section.
Set the value of Change the size of text, apps, and other items to either 100% or 125%.
Set the Display resolution to the recommended value.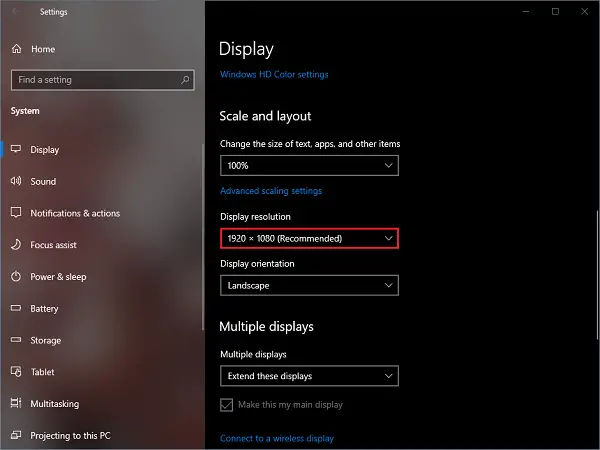 2] Clear File Explorer history
Clearing the history of file explorer is one of the most bizarre methods in this list but somehow it works too! Follow the steps given below and see if it works for you or not.
Press the Win + R keys on your keyboard. The Run window will open up.
Type control and press enter.
Click on File Explorer Options.
In the Privacy section of the General tab, check both the options and click on Clear.
Once done click on OK.
Now, check if you can snap or resize the File Explorer window. I hope it does, but if it doesn't try the next method.
Read: Explorer crashes when I right-click to open Context Menu or create new folder.
3] Set Open File Explorer from Quick Access to This PC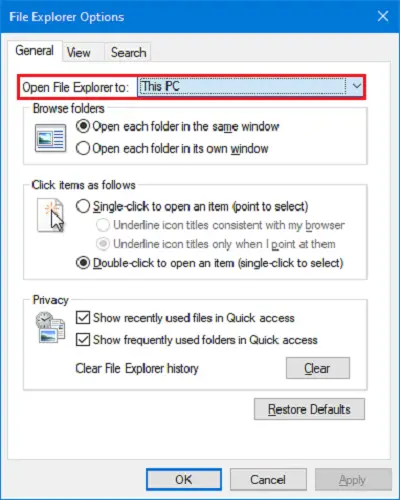 This method is almost related to the previous one. Whenever you open the Quick Access window, it shows all the recently visited files and folders. Keeping the track of paths, names, descriptions of all these files consume more memory and can result in the crashing of explorer. Disabling this feature and setting File Explorer to open This PC window does help.
Press the Win + R keys on your keyboard. The Run window will open up.
Type control and press enter.
Click on File Explorer Options.
Select This PC from the dropdown of Open File Explorer to option.
Click on Apply and then click on OK.
Read: File Explorer will not open.
4] Remove Preview Pane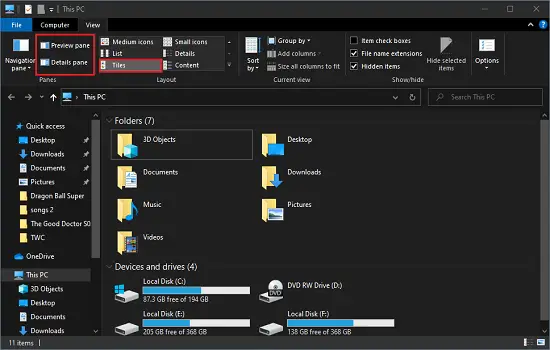 Just like the previous method, this method is too for minimizing the main memory usage of File Explorer. Some of the users like to keep the Preview Pane and Details Pane enabled to avoid opening any file. Now, this might sound useful, but if your device is running on low RAM or is working slower than it used too, then you may have to consider to disable these settings.
Open File Explorer.
Click on View in the ribbon menu.
Turn off, Preview Pane and Details Pane.
Set the icon size to Details or Tiles.
Now perform Method number 2 and close all the File Explorer windows.
Try snapping and resizing your File Explorer window, it shall work without any crash.
Read: Explorer crashes, freezes or has stopped working.
5] Update Display Adapter drivers
You may have noticed that all the above four methods are related to how our system is performing i.e., more the usage of main memory, more the chances of crashes. This method doesn't deal with such a problem but is somehow related to it.
If you are a frequent user yet you decide to not install Windows Updates, then you may have the problem of outdated or unsupported drivers. It is recommended to keep every driver updated so that our device runs smoothly. If Explorer is flickering when minimized, try this.
Press Win + X keys. In the Quick Access menu, click on Device Manager.
In the list of all the devices, look for Display adapters, and expand the tree.
Right-click on a device and click on Update driver.
In the drivers' update window, click on Search automatically for updated driver software. Make sure your system is connected to an active internet connection.
Let the drivers get installed. Once done, you are good to go.
All the methods mentioned above are the easiest methods.
Make sure you go through each step and restart your system once you follow any one of the methods.
Related: Explorer crashes or freezes when creating New folder.