If you changed the navigation pane width in File Explorer on Windows 11/10, and you want to now get it back to the default width, then you can reset the Explorer Navigation pane width to default with the help the Registry Editor.
The navigation pane in File Explorer shows Quick Access, This PC (including your drives), Library folders (such as Music, Videos, Pictures, etc.), and Network drives. By default, Windows shows a set width, which doesn't get changed even if a folder or partition name is hiding because of it. If you altered the width earlier and you now want to restore the default width, there are two ways to do it.
First, you can click the edge of the navigation panel and drag it towards the left or right side. However, this trick works if you remember the width preciously. The second way is to use the Registry Editor to delete a value citing the current width of the navigation pane.
Reset Explorer navigation pane width to default
To reset File Explorer navigation pane width to default, follow these steps-
Press Win+R to open Run prompt.
Type regedit and hit the Enter button.
Click the YES button in the UAC prompt.
Navigate to the GlobalSettings\Sizer path in Registry Editor.
Delete the PageSpaceControlSizer binary value.
Restart File Explorer.
Before going forward, you should backup Registry files and create a System Restore point first.
Now, press Win+R buttons together, type regedit and hit the Enter button. It will show you the UAC prompt where you need to click the YES button.
Following that, your PC should open Registry Editor. Next, navigate to the following path-
HKEY_CURRENT_USER\SOFTWARE\Microsoft\Windows\CurrentVersion\Explorer\Modules\GlobalSettings\Sizer
Here you can find a REG_BINARY value called PageSpaceControlSizer.
You need to delete this value. For that, right-click on it and select the Delete option.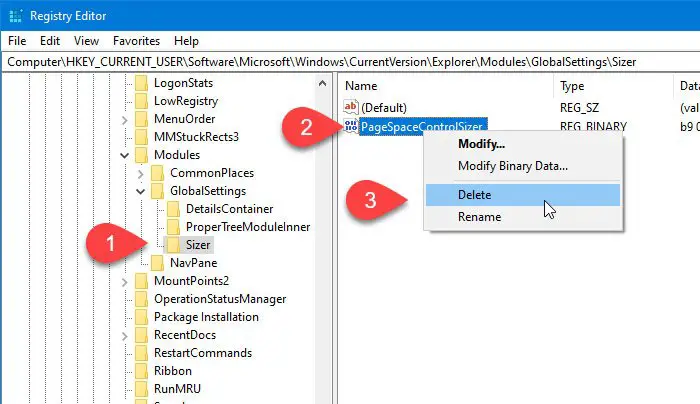 Following that, click the Yes button to confirm the removal.
Now, you need to restart Windows Explorer. You should see the default width of the navigation panel now.
For your information, the PageSpaceControlSizer value gets created automatically whenever you open the File Explorer and the data changes when users change the width manually.
That's all!