The Microsoft Product Support Reporting Tool facilitates the gathering of critical system and logging information used in troubleshooting support issues. This information helps diagnose problems in the software quicker and provide solutions.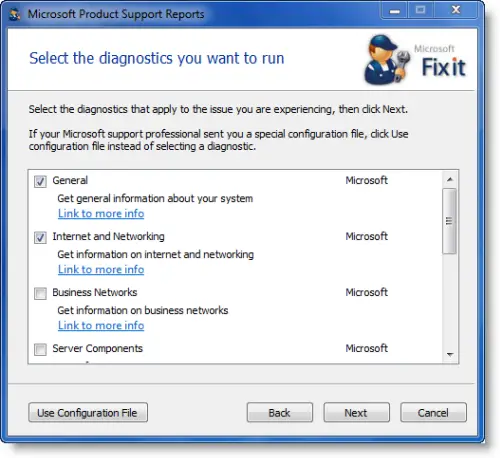 Microsoft Product Support Reports Tool
The Microsoft Product Support Reports utility offers the ability to select the particular scenarios for which system configuration data will be collected: General, Internet and Networking, Business Networks, Server Components, Windows Update Services, Exchange Servers and SQL and other Data Stores (MDAC) .
Depending on the particular system configuration and the categories selected, Microsoft Product Support Reports might take between 7 to 25 minutes or more to complete the data collection. Please read the readme.txt files for more details about the information collected by each category.
You may install and use an unlimited number of copies of MPSReports solely for the purpose of gathering system information necessary for your support professional to provide you with technical support services requested by you.
Visit Microsoft for details & download.
There are two executables, that correspond to each specific OS architecture, 32 or 64 bit. Please make sure you download the version that corresponds to your system architecture.
Microsoft Diagnostics Services

Microsoft Diagnostics Services is an automated troubleshooting service to help you identify solutions to problems with Microsoft software, services, tools and applications like Windows, Office, Visual Studio, Exchange, Internet Explorer, MSN, Server, Microsoft Azure, Security tools, .NET, Hardware including Xbox and Phone devices, Skype and so on. You can visit this link to access the Microsoft Diagnostics Services diagnostic packages.
It first applies targeted analysis to scan your system to identify and resolve specific problem areas. The analysis session will scan your system to identify solutions for specific problem areas.
Once the scans are completed, the results are uploaded to Microsoft servers. They will then be processed and issues if any will be identified and solutions recommended.
Once the troubleshooter completes its scan, the diagnostic results are usually displayed immediately. In some cases, however, especially during deep analytics, the session could take even an hour! You may if you wish, initiate the scan and visit the site later on to see the results. You will be able to view your Analysis Package under the Recent Sessions.
You will also see a message will be displayed that will explain the steps you need to take in order to resolve the issue.
If the suggested solutions do not help you, you could visit this link and ask for online assisted support. You may be charged for services rendered.
Do let us know if you find this self-help portal from Microsoft useful.
Beginners may want to have a look at this post which talks of some basic Windows Troubleshooting Tips. This article touches upon some common steps a Windows user may take in order to try to fix or repair his/her Windows computer.
Note: Microsoft Support Diagnostic Tool (MSDT) will be retired by 2025.
Microsoft Support Diagnostic Tool
Microsoft Support Diagnostic Tool or MSDT is a tool in Windows 10/8/7 and Windows Server, which is used by Microsoft Support to help diagnose Windows problems. When you contact Microsoft Support for any help, the support professional will give you a Passkey. You are required to open the Microsoft Support Diagnostic Tool and enter the Passkey.
To run the Microsoft Support Diagnostic Tool, type msdt in Start Search box and hit Enter. Once you have entered the passkey, the Tool will be activated and you have to only follow the wizard.
You may also be provided with an Incident Number to enter into the tool to identify your information. The tool may require you to download additional diagnostic tools and answer some questions. Once the tool runs its course, it will save the results. You can then send the results to Microsoft.
Microsoft Support uses the information that Microsoft Support Diagnostic Tool (MSDT) collects to analyze and then determine the correct resolution to problems that you are experiencing on the computer. The information may also be used to automatically perform common troubleshooting tasks.
You can also run MSDT if you do not have an internet connection.
This can be done so, through a package that is generated on a computer that has an Internet connection. This package is called Offline package. This Offline package will execute on the destination computer, generate a CAB file with diagnostic information that can then be sent to Microsoft support.
To know more about the Microsoft Support Diagnostic Tool visit KB973559.
Have a look at the Microsoft Support Diagnostic Tool or MSDT  in Windows. It is used by Microsoft Support to help diagnose Windows problems.