The Microsoft Product Support Reporting Tool facilitates the gathering of critical system and logging information used in troubleshooting support issues. This information helps diagnose problems in the software quicker and provide solutions.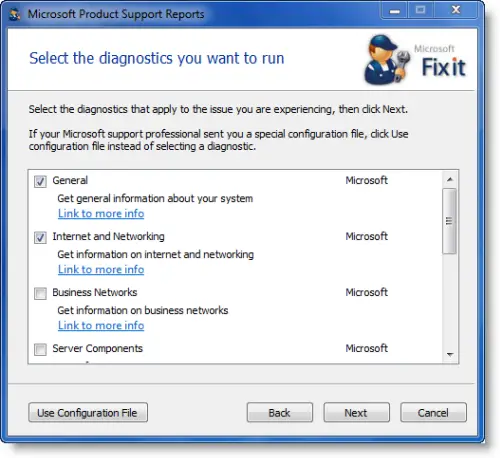 Microsoft Product Support Reports Tool
The Microsoft Product Support Reports utility offers the ability to select the particular scenarios for which system configuration data will be collected: General, Internet and Networking, Business Networks, Server Components, Windows Update Services, Exchange Servers and SQL and other Data Stores (MDAC) .
Depending on the particular system configuration and the categories selected, Microsoft Product Support Reports might take between 7 to 25 minutes or more to complete the data collection. Please read the readme.txt files for more details about the information collected by each category.
You may install and use an unlimited number of copies of MPSReports solely for the purpose of gathering system information necessary for your support professional to provide you with technical support services requested by you.
Visit Microsoft for details & download.
There are two executables, that correspond to each specific OS architecture, 32 or 64 bit. Please make sure you download the version that corresponds to your system architecture.
Have a look at the Microsoft Support Diagnostic Tool or MSDT  in Windows. It is used by Microsoft Support to help diagnose Windows problems.