There are many apps that require us to pay monthly/yearly to use on Windows 11 or Windows 10. Without paying, we can neither use their full features nor use them for a long time. Everyone cannot pay for the applications due to constraints like money, etc. As a desperate resort, people use pirated software which comes with a lot of risks.
There are some good alternatives that you can use instead of paid ones or pirated ones. They work well almost like the premium ones but lack a few features. Let's see what are those free alternatives for the premium applications.
Free alternatives to paid software for PC
Libre Office
GIMP
DaVinci Resolve
Audacity
7-Zip
Bitwarden Password Manager
Avira
Psiphon
BleachBit
Duplicati
Let's deep dive into each one of them to know what they do!
1] Libre Office
Libre Office is an open-source freeware that works almost similar to Microsoft Office. But the only difference you will find is Libre office does not look as updated as Microsoft Office in terms of its design.
For Word processing you get Writer, for spreadsheets, you get Calc and Impress for presentations. The apps offered in Libre Office do what the MS Office package does but with a different name.
2] GIMP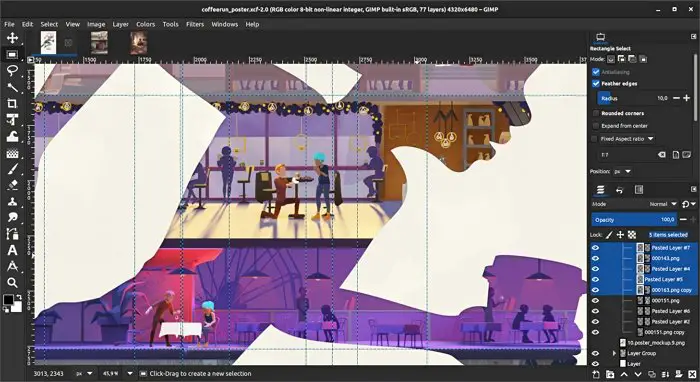 Adobe Photoshop is the most-used application for graphic design. But it is expensive with monthly bills that we need to pay to use its services. Every penny we pay for Photoshop is worth it if you know how to use it to its potential.
If you are someone who just crops images or does occasional image processing, Photoshop might be a bad idea. As a free alternative that works well as Photoshop, we have GIMP. It is a great application that works perfectly fine for beginner graphic designers.
3] DaVinci Resolve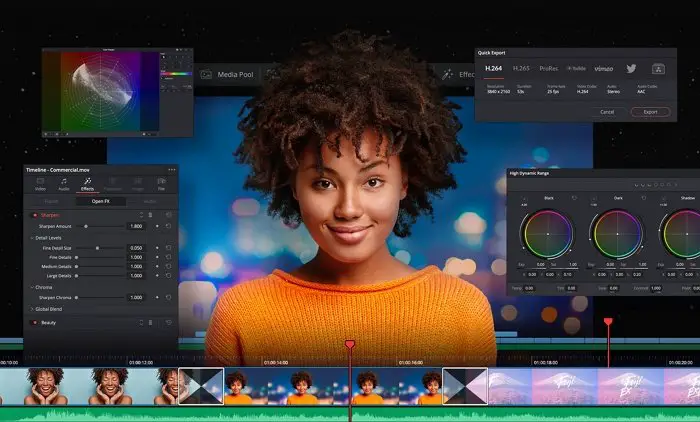 If you are a content creator who is just starting to make videos for YouTube or other social platforms. DaVinci Resolve is a good idea to begin video editing with. It is a free software application that works well in place of Adobe Premiere Pro or After Effects.
On DaVinci Resolve, you can edit videos, color correct them, add special effects, animate, make titles, etc. It has superb features to cater to your video editing needs. Even most of the professionals use DaVinci Resolve to color correct their videos.
You can download DaVinci Resolve from blackmagicdesign.com
4] Audacity
Podcasts are the new trendy content creation format. To create a podcast, you need a perfect audio editor to make the audio seem professional. Audacity is a free application that does the job. You can record audio, edit it and export the audio just as a professional editor like Adobe Audition CC, etc, does.
Audacity is an open-source application that lets you make audio perfectly apt for all mediums like social media, music streaming platforms.
5] 7-Zip
7-Zip is one of the best zip or unzipping files. You can stop using the trial versions of WinRar or WinZip. 7-Zip can compress your files into different compression formats and can unzip your files from different formats.
It is a very user-friendly app that has the best security features. Also, it is an open-source application with a guarantee for safety.
6] Bitwarden Password Manager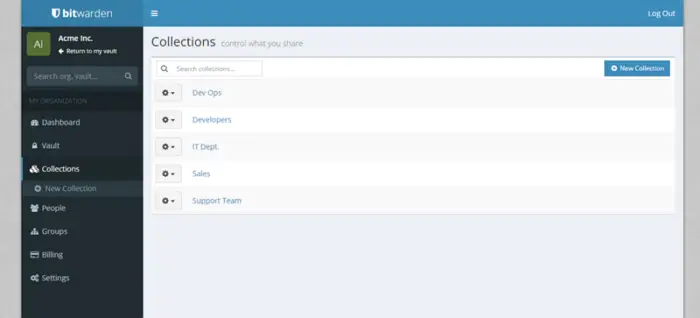 The userbase for password managers has increased over the past few years. There are a lot of paid password managers that offer trial packs for the users to test. Bitwarden Password Manager is an open-source password manager which you can use for free forever.
You can use it on multiple devices and make the most out of it and secure your passwords.
7] Avira Free Security Suite
Finding a good antivirus with maximum security features is not a simple task. Some antivirus software applications are free to use but we find it very difficult to uninstall them from our computer. Avira is the best pick for a free antivirus application for Windows.
Avira Free Security Suite does the same what some of the expensive paid Internet Security Suites do. It comes with all the necessary features to protect your PC from unwanted or malicious programs.
8] Psiphon
Psiphon is fondly called an internet circumvention tool that bypasses censorship and provides open and free access to the internet. We can simply call it a Virtual Private Network (VPN) application.
Normally, a good VPN costs us $50-60 a year. Psiphon doesn't charge a penny and guarantees safety and privacy with its open-source code monitored by internet activists and communities. Psiphon encrypts all the traffic from your device and maintains a no-log policy.
9] BleachBit
If you are searching for a free disk cleaner application that actually does its job perfectly, like CCleaner, it might end here. BleachBit is a disk cleaning utility application that can replace similar paid apps that you use to clean cache, cookies, temp files, etc.
Another important feature BleachBit has is, it shreds the files without leaving any chance to recover them. You can delete cookies – including EverCookies, temporary data, form history, and web history.
BleachBit is completely safe as it is an open-source application.
10] Duplicati
Duplicati is a free backup software for Windows 10. It is an open-source application that is used by many all over the world. It backups your data online with AES-256 encryption and saves space by checking for duplicate files automatically. It also works with standard file sharing protocols like FTP, SSH, WebDAV, Google Drive, One Drive, AWS, Mega, etc.
Duplicati offers a web-based interface that you can access anywhere with your mobile or PC.
Read: Best Free Adobe Photoshop Alternatives for Windows PC
These are some of the best free apps that can work instead of paid apps. We hope this article helps you in getting the best free Windows software available.