Until now we have featured a slew of free Password Managers on TheWindowsClub. Apps like Keep and LastPass may have been the most popular ones, but that doesn't automatically mean that the other password managers are lacking. Bitwarden is one such free open source password manager that started out as a browser extension for major web browsers and now also has mobile applications for Android and iOS.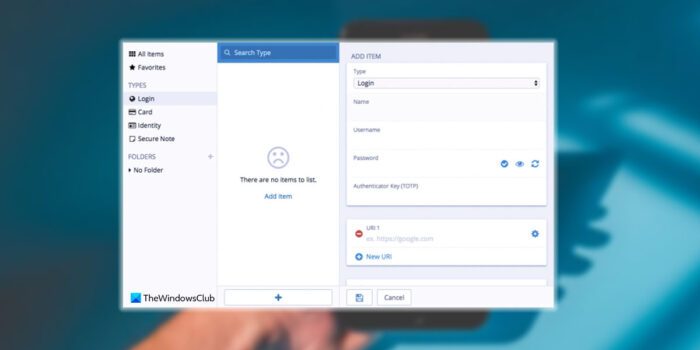 Bitwarden also offered a web version that can be used in any modern browser. All said and done the Bitwarden password manager lacked on one front, and that is a desktop app. The password manager didn't offer a desktop app, and this left its users desiring for more. Now Bitwarden offers a desktop software for Windows, MacOS, and Linux. Let us download the Bitwarden desktop software and see how well it fares in our review.
Bitwarden review
One can either download the Bitwarden from Github, or you can do so from the official site. Please be aware that you download from trusted source, especially since Bitwarden is a password protection tool. I downloaded from the official site, and the size of the installer file was about 35MB.
The welcome screen gives you an option to either log in with your existing Bitwarden account or creates a new one. If you are creating a new account, the software will ask you for a master key. Please make sure that you remember the key and if possible keep a hint that you can relate to. If you are an existing Bitwarden user, then don't worry all your data and preferences will be automatically synced with the desktop app.
Bitwarden User Interface & Functionality
Thankfully the user interface is pretty intuitive and is clutter free. The left pane lists out all the core features while the right one displays your preferences. The makers of Bitwarden have also integrated a search functionality which helps you search for the services. That apart you can also select frequently used logins as "Favorites" and this will be clubbed under a different section.
Users can also modify the user credentials including username, URL, and Passwords. The Password generator option is great if you want help in generating secure and safe passwords by specifying the length and the use of characters. Bitwarden users can also create separate folders for segregating the logins. For instance, you can create a separate folder for work and personal. Moreover, you can also access the password generation history. Bitwarden also lets you select a data set, edit it, copy the URL and launch the URL from your default browser.
Additionally, Bitwarden users can also save their credit cards and identity details, so that is safe from prying eyes. The Secure Note option is especially useful when you want to jot down super secret and important stuff. I particularly use this feature to save my banking credentials. That being said the notes and the attachment options are only available in the premium version. That being said $1 per month of a premium account with family sharing and self-hosting access is not bad at all.

Bitwarden falls short when it comes to advanced options like the one to import and export options or to deauthorize certain sessions and also the options to create multiple domain rules.
It is also worth mentioning that I personally didn't see much of a difference between the Bitwarden desktop software and the browser extension. Yes, the desktop app is certainly more user-friendly and accessible, but it fails to offer advanced features. Also on a side note, I would suggest you disable the analytics by heading over to File > Settings. You can download it from its homepage.
Can I use Bitwarden on my PC?
Yes, you can certainly use Bitwarden on your PC. Whether you use Windows 11, Windows 10, Windows 8.1, or Windows 7, you can use this password manager on your computer for free. Although it has some paid versions, you can create a free account and store your passwords. The best thing is that you can keep unlimited passwords for free.
Is Bitwarden open source safe?
Yes, Bitwarden is safe to use. As of now, we haven't found any problem using this password manager on our computers. It uses end-to-end 256-bit encryption, two-factor authentication, etc., to secure your account. Whether you use a free or paid account, they do not compromise the level of security.
That's all! Hope now you can store your passwords for free.