Many times, we encounter some problems like failing to open a particular web page, failing to access a web app due to region restrictions, and so on. Sometimes, you may encounter web pages that are blocked by government rules or by the respective ISP. At such times a free Proxy software or a VPN software can become your friend. Here is yet another simple free VPN software for Windows called Psiphon that has almost all the functionalities that a secure VPN & Proxy software should come with. Let's take a look at Psiphon and learn more.
Psiphon review
Psiphon is a circumvention tool that utilizes VPN, SSH and HTTP Proxy technology to provide you with uncensored access to Internet content. It is a free and cross-platform portable VPN app that is mainly available for Windows OS, 32-bit or 64-bit machine. Using this tool, you can get nine different servers or locations where you can connect to. By default, however, Psiphon connects to the fastest server after opening it. If you need to access a web page from being in a particular country, you can choose the location manually as well.
Apart from that, you will get the following options:
Split Tunnel: In most of the times, home country websites are easily accessible. Therefore, if you do not want to use Psiphon while opening your own region websites, you can enable this feature. By default, this feature is turned off. If you turn it on, your internet connection or browser will not go through the Psiphon server.
Timeouts for Slow Networks: By default, Psiphon disconnects a slow server and connects to a comparatively faster server automatically. However, if you want to disable this feature, this option is for you.
Apart from this, you can use Local Proxy ports, Upstream proxy and L2TP/IPSec mode.
Unblock blocked websites
To get started with this simple VPN app, download and open it on your machine. Right after opening, Psiphon will be connected to the fastest server automatically.
Like I said before, you can change the server/location as per your requirement. For that, click on the Fastest Country menu and select a location from the given list.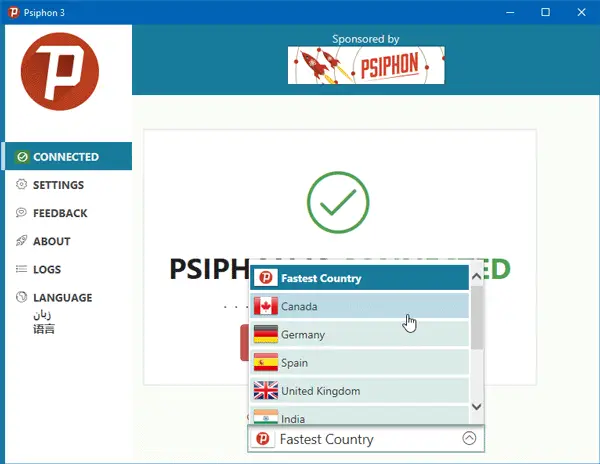 It is recommended to use the "Fastest Country" option in Psiphon since this tool will check every server automatically and connect to the fastest network. However, sometimes, you may need to check something from being in a particular country. Therefore, you can choose your country as per the given instructions.
There is another feature in this app called LOGS, which collects data from the app itself. Like any other log file, you can find all the happenings on this page. Talking about the supported language, you can find English. Spanish, Dutch and much more.
I hope this little software helps to stay anonymous. If you like, you can download it from here.