When it comes to managing emails, Outlook is the best companion a Windows user prefers. Outlook as a part of Microsoft Office has many features compared to other email programs. However, in some situations, if Outlook gets misconfigured, it won't start. Today, we'll discuss one such issue, where we came around following error message, where Outlook simply refuses to start:
Cannot start Microsoft Outlook. Cannot open the Outlook window. The set of folders cannot be opened, The information store could not be opened, The operation failed.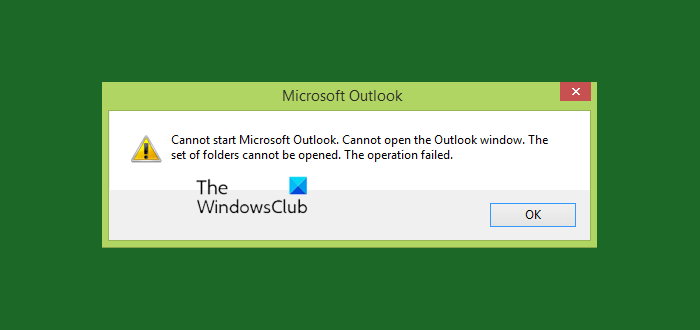 Trying to start Microsoft Outlook can be quite a task if you keep getting the following message Cannot start Microsoft Outlook. Cannot open the Outlook window. The set of folders cannot be opened.
There's no known cause as to why this problem occurs in Microsoft Outlook. However, the primary reason that can be attributed to the appearance of this error is either corrupt Outlook PST file or corrupt Navigation Pane settings file – myprofile.XML, where 'myprofile' is Outlook profile name. How do you find if your Outlook file is probably corrupt? Simple, the file in question shows 0 KB size.
Cannot start Microsoft Outlook, Cannot open the Outlook window
Upon receiving this strange error, you might try to restart your system and check if the issue fixes itself. You can also try to run Outlook in compatibility mode and see if this helps. If you are already running it in Compatibility Mode, turn it off and see. For some users, it may resolve itself, while for others, a fix is needed to be applied. Here are the ways, which could help you to get rid of this issue.
Outlook won't open
1] Start Outlook in Safe Mode
Open Run box, type outlook /safe and hit Enter to open Outlook in Safe Mode.
If it opens properly, then maybe you need to take a look at some addins or extensions that may be blocking Outlook and remove them.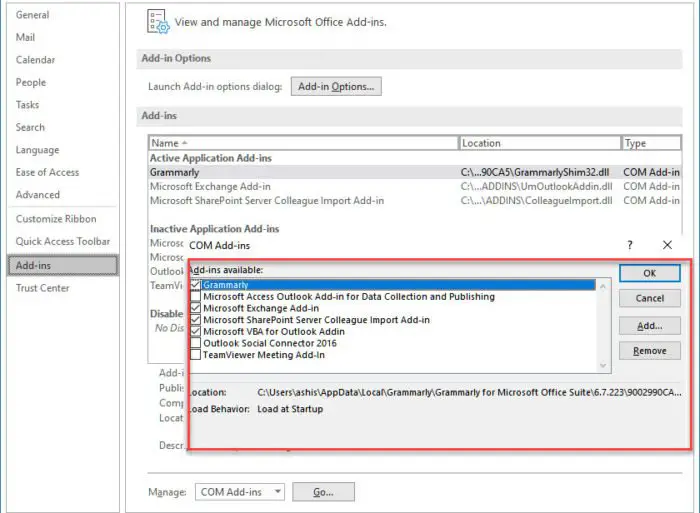 You can try this in two ways. You can either disable everything and then it on one by one or, you can disable one and relaunch Outlook to check if everything is working fine. If not, you have found the problem.
Click on File > Options to open the Outlook Options window.
Select the Add-ins section, and it will reveal the list.
At the bottom of this section.,  click on the Go button next to Manage Comm Ad-ins.
Here you can unselect the addons you want to disable and relaunch Outlook.
Similar: Cannot start Microsoft Outlook, The command line argument is not valid
2] Turn off Compatibility mode in Outlook
Check if Outlook is running in compatibility mode. Compatibility mode in Microsoft Outlook is designed to help a program run on an older operating system. If Outlook is running in compatibility mode, you can turn it off and see if it fixes the problem.
Find the Outlook.exe file on your computer.
If you are running the latest version of Office software, you will find it here
C:\Program Files\Microsoft Office\root\Office16
or at
C:\Program Files (x86)\Microsoft Office\root\Office16
When found, right-click the Outlook.exe file, select Properties option, and then choose the Compatibility tab.
If any of the boxes on the Compatibility tab are checked, uncheck them, then choose 'Apply' > OK.
Restart Outlook. The problem should get resolved.
Read: Outlook not working after Windows 11 Update
3] Reset the Outlook navigation pane
Press Windows Key + R and type following into the Run box, hit Enter key then:
Outlook.exe /resetnavpane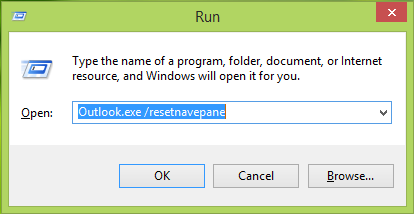 When you hit Enter key, Outlook will be started with resetting the profile settings.  Running this command will clear and regenerate the navigation pane for the current Outlook profile. This should fix for you, else try the next fix.
4] Create a new Outlook profile
Open Control Panel. Type mail in the search box and hit Enter.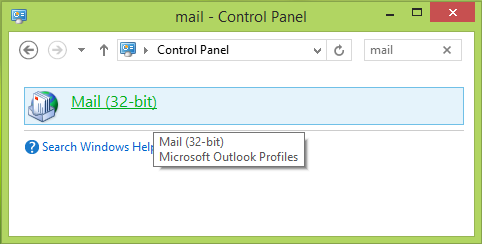 Click on the Mail icon which appears. In the Mail Setup – Outlook window, click Show Profiles option.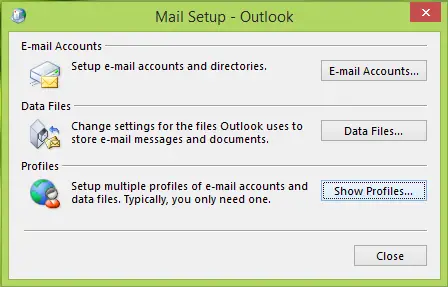 In the Mail window, Add your new profile. Then choose Always use this profile and select your newly added profile from drop down.
Click Apply followed by OK.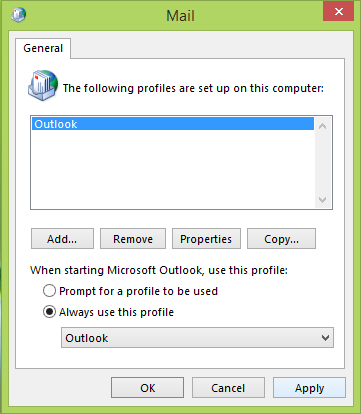 You can now restart your Windows PC and check if you can now open Outlook.
Good luck!
More on Outlook troubleshooting: