If when using Microsoft Outlook on your Windows PC, you receive a message – Cannot start Microsoft Outlook, The command line argument is not valid, Verify the switch you are using, then here are some possible solutions that may help you fix your problem.

Cannot start Microsoft Outlook, The command line argument is not valid
1] Open Outlook Safe Mode & disable add-ins

Safe Mode of Outlook can help detect the problems you have with your Microsoft Outlook. This process helps when you are facing the issue due to a corrupt add-in. To start Microsoft Outlook in Safe Mode, press Win+R to open Run prompt and run this command:
Outlook /safe
It will ask you to choose a profile that you want to use. Select a profile from the drop-down menu and click the OK button.
Once you have successfully opened Microsoft Outlook in Safe mode, it will start with add-ins disabled. This means that some add-in is creating the problem. You will have to identify the bad add-in and disable or remove it.
You will be able to enable/disable/remove them here: File > Options > Add-ins. Select COM Add-ins from the bottom drop-down menu, and click the Go button.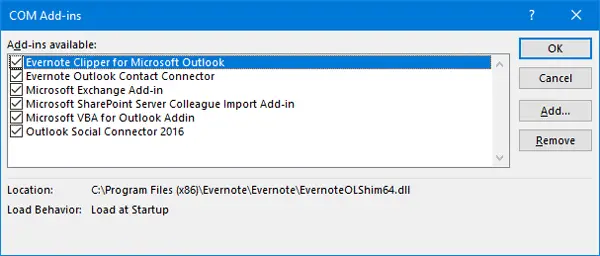 Once you have done the needful, close the Outlook window and try to open it normally.
Similar: Cannot start Microsoft Outlook, Cannot open the Outlook window
2] Use Microsoft Outlook Inbox Repair Tool
The Outlook Inbox Repair Tool can repair corrupt PST file so that you can open Outlook without getting any error. To use this tool, navigate to this path:
C:\Program Files\Microsoft Office\root\Office16
Or,
C:\Program Files (x86)\Microsoft Office\root\Office16
Here you can find an application called SCANPST.EXE. Double-click on it to open the program.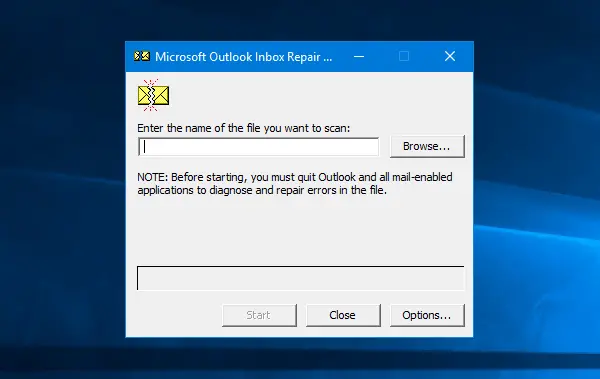 Now, click the Browse button and select the backup file and click the Start button to start repairing.
3] Re-register Outlook files
You may re-register two most important Outlook dll files and see if it helps you fix the issue. Open Run prompt by pressing Win+R and execute these command:
regsvr32 OLE32.DLL

regsvr32 INETCOMM.DLL
After that, try to open Microsoft Outlook on your computer.
4] Reinstall Outlook
If none of the solutions worked for you, the last option is to repair or reinstall Microsoft Outlook. To repair Office programs, open Control Panel > Uninstall a program.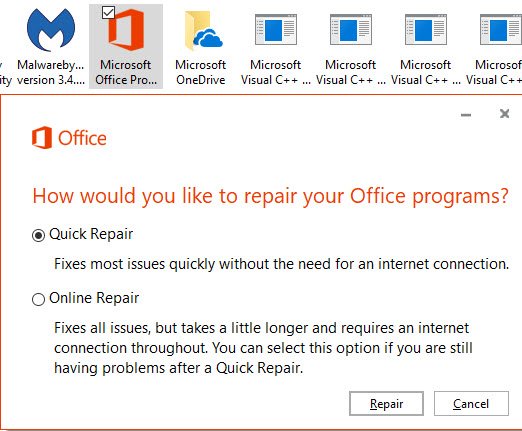 Right-click on Office > Change. Choose your options to repair Office programs.
Hope something here helps you.
Read next: Troubleshoot Microsoft Outlook problems like freezing, corrupt PST, Profile, Add-in, etc.