If your Windows 11/10 PC or Laptop won't start up or boot or the computer has power but won't turn on, here are a few possible solutions you may want to try. There are mainly two scenarios. First, your computer does not get any power at all. Or that it gets the power, but does not turn on. You need to confirm what your problem is, then go through our entire list of suggestions and see which may apply in your case.
Windows computer will not boot up, start or turn on
If your Windows PC won't boot to Desktop or start after a Reset, Windows Update, etc., here are a few troubleshooting steps you can try to fix the issue.
1] Check SMPS
SMPS or Switched-Mode Power Supply is the accessory, which is connected to the main power supply. When you switch on the power supply, the SMPS gets it first, and then it distributes the power supply among other components. If your SMPS is not healthy, your system will not boot up.
2] Check RAM and Hard Drive
RAM is another important part that you need to check. So disconnect the RAM, clean it up very gently, and put it back. Do the same with the Hard Drive. It is recommended to take the help of an experienced person if you do not know these things.
3] Unplug all external devices
Sometimes hardware can create such problems as well. Try unplugging all the external devices and check whether your system is booting up or not. You will need to disconnect the printer, external hard disk, card reader, other USB devices (except keyboard and mouse), etc.
4] Boot into Safe Mode or Advanced Startup Options

Can you boot in Safe Mode? If you can, then it makes things easier. If you have recently installed any driver or software, you can boot Windows 10 in Safe mode and troubleshoot. If you had already enabled the F8 key earlier, things are easier as you press F8 while booting, to enter Safe Mode.
If you cannot enter Safe Mode, then you may then have to boot into Windows 10 with your Windows Installation Media or Recovery Drive and select Repair your computer to enter Troubleshoot > Advanced Startup Options > Command Prompt. You can now use CMD to run commands. You may use a Windows 10 DVD or a bootable USB drive, or you can burn Windows ISO to a USB drive using another computer and then use it.
To boot you into the Advanced Startup Options screen, press Shift and click Restart. Here you see several options to troubleshoot.
Well, in either case, once you have entered Safe Mode or accessed the Advanced Options, you can use several options offered to troubleshoot further.
This post will show you Reset Windows 11 using Advanced Startup Options when the PC won't boot.
Post that may help you if your computer does not boot:
5] System Restore
If you entered Safe Mode or Advanced Startup Options you can use System Restore. In Advanced Options, you will find that option in Troubleshoot > Advanced options menu.
Related: Laptop says Locking then Shuts off and won't Turn on.
6] Uninstall Windows Updates
Apart from the third-party drivers, an official Windows update can also break your system. If you have recently installed any Windows Update and following that, your Windows 10 PC is not booting up, you can start the PC in Safe Mode and uninstall that update.
7] Automatic Startup Repair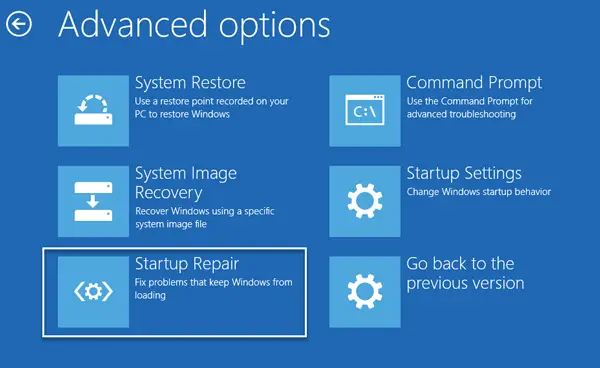 Automatic Startup Repair is a useful function for Windows 10 users that lets you fix various problems that are blocking your system from booting up. It can scan for partition-related issues, system file issues, driver problems, and many more. You will see it here – Advanced Startup Options > Troubleshoot > Advanced options > Startup Repair.
Read: It looks like Windows didn't load correctly
8] Go back to the previous version

It is quite easy to rollback & uninstall Windows 10 or rollback to the previous version of Windows or go back to an earlier build of Windows where you can access the regular Windows 11/10 desktop interface. If you are not able to do that, you can open the Advanced Startup options page > Troubleshoot > Advanced options and click on Go back to the previous version option. It will not delete any personal file, but you may not find the same app settings and all.
9] Reset BIOS to default
If you have recently made any change in BIOS and then started facing this problem, maybe this is the time when you revert the change or reset BIOS settings to default values. To open BIOS settings, you need to restart your computer and keep pressing F2 or F9 (based on the motherboard manufacturer). Once there, find out the corresponding option and reset BIOS to default settings.
10] Repair Master Boot Record (MBR)
There are many reasons why MBR can get corrupted, and malware is one of the most common causes. Enter Safe Mode or Advanced Startup Options and run the Command Prompt to repair MBR.
TIP: This post may interest IT admins – Windows Startup & Boot problems – Advanced Troubleshooting.
More suggestions that could help you fix your problem: