When you boot a computer, and all it shows is a black or blank screen with a blinking cursor (it may look like an underscore), then it means the BIOS or UEFI is attempting to boot from a source other than the hard drive. The next step of the boot will only begin when it finds the exact path from where it can boot. In this post, we will share what you can do to resolve this situation.
Computer boots to black or blank screen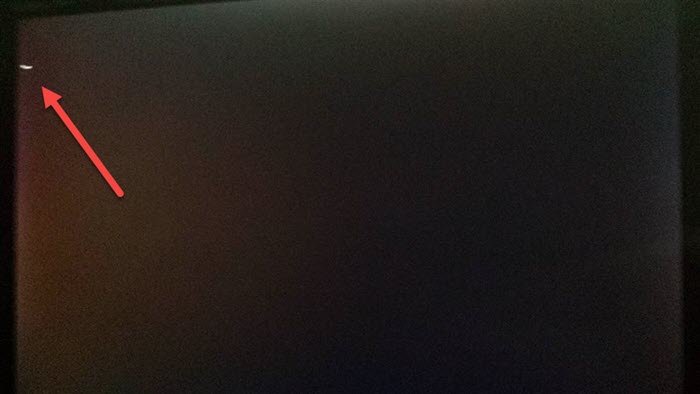 If your Windows computer restarts & boots to black/blank screen with a blinking cursor, it is usually because of conflicting boot devices. There are some easy ways to fix this problem, and the only time it will fail when the source is corrupt or not accessible.
Remove unnecessary external devices
Change the order of boot source
Change Hard Drive or Reinstall Windows.
Some of the resolution steps will need someone who understands computer BIOS and can change a few settings. If you do not know, it is best to seek help to fix it.
1] Remove unnecessary external devices
If you have a USB device that you had used to install Windows or perform a reset using a bootable device but had later formatted, then this could be a problem. The BIOS is still looking into it.
Another set of situations is where you are trying to boot from a wrong USB drive. It could be a similar-looking USB, juts not bootable. The second probability is the creation of bootable USB was not successful.
All you need to do for these scenarios is to remove the additional USB or Optical drive connection.
2] Change the order of boot source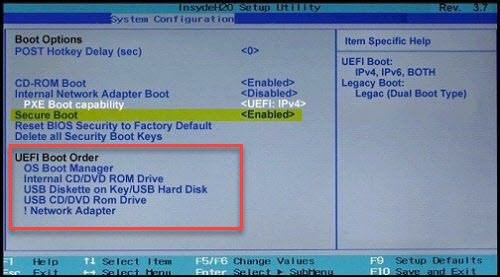 Boot into BIOS, and change the order of boot source from CD-ROM/Drive to HDD. The process of changing will differ from computer to computer, but here are the basic steps.
Press F2/F10/Del key to boot into BIOS Settings
Switch to Book section
Locate the section which defines the order of the boot
Select HDD, and use Page up or Page down to change the order.
Related: Fix Black Screen with cursor problem in Windows 11/10.
3] Change Hard Drive
If nothing else works, then its probably the Hard Drive. The BIOS is not able to find information from where it can boot, and hence it keeps displaying the black/blank screen with a blinking cursor. To double-check the HDD condition, you can connect to another computer and try to boot from it. If it still doesn't work, then you will have to reinstall Windows or fix the boot record using the recovery method.
During the fix, if the recovery is not able to find the hard drive, then it's time to buy a new one. We recommend you switch to SSD, which will make the overall experience a lot faster.
We hope the methods were able to resolve the problem of blank or blinking cursor every time you boot your computer.
Post that may help you if your computer does not boot: