A lot of NVIDIA users have reported that the DisplayPort black screen flickers from time to time. This is a matter of grave concern and even developers at NVIDIA have taken this issue into consideration and hence have released a tool called NVIDIA Graphics Firmware Update Tool.
Fix DisplayPort black screen flicker issues on Windows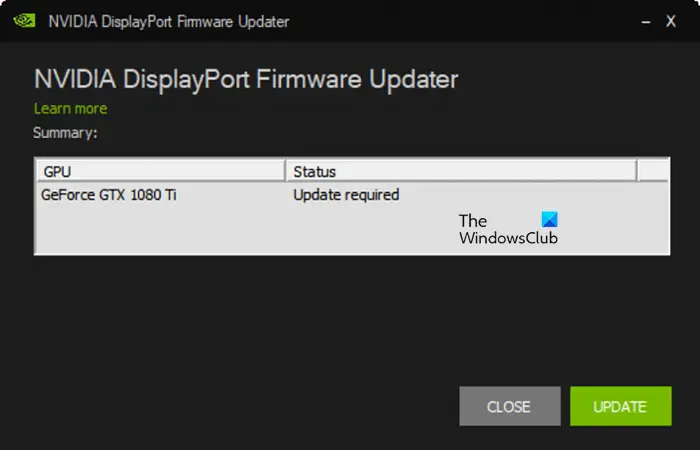 NVIDIA DisplayPort Firmware Update Tool
NVIDIA Graphics Firmware Update Tool has been released in order to fix the user's screen. It is a simple tool and all it does is update the graphics driver. It first checks if the driver is applicable to your system and if yes, then offers to update the firmware,
To use the DisplayPort 1.3/1.4, the system needs to have the latest graphics driver firmware update,and the lack of it will cause black screens when the system is booting till the time the operating system loads. Since the issue is caused due to the lack of the latest driver, this will do the trick for you.
If your computer is unable to boot and you are experiencing a black or blank screen or hang on boot with a DP 1.3 or 1.4 monitor, you can try the workarounds mentioned below to run the tool.
Plug a different monitor to boot.
Change the boot mode to Legacy if it is set to UEFI or vice-versa.
Try to boot using the integrated graphics card. For that, you need to boot into UEFI or BIOS, then go to Graphics Configuration, look for Primary Display (or something similar), select Integrated GPU or iGPU, and save and exit.
Boot using DVI or HDMI
Once you have started the system, go to nvidia.com to download the tool.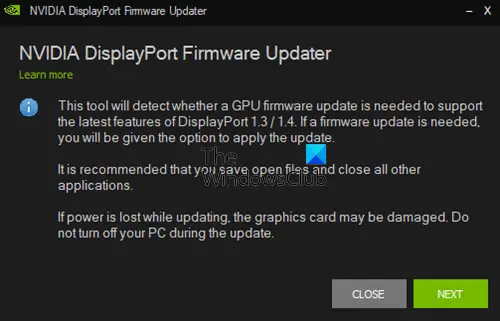 Now, run the installer and follow the on-screen instructions to complete the process.
Read: Windows computer screen brightness flickering or flashing
NVIDIA DisplayPort Firmware Supported Products
Unfortunately, you can not install this tool on every single NVIDIA driver. However, it does support a lot of drivers. Following are all the NVIDIA products on which you can install the firmware update tool.
NVIDIA Titan Series: TITAN X (Maxwell), TITAN X (Pascal), TITAN XP
GeForce 10 Series: GeForce GT 1030, GeForce GTX 1050, GTX 1050Ti, GTX 1060, GTX 1070, GTX 1070Ti, GTX 1080, GTX 1080Ti.
GeForce 900 Series: GeForce GTX 950, GTX 950Ti, GTX 960, GTX 970, GTX 980, GTX 980Ti.
GeForce 700 Series: GeForce GTX 745, GTX 750, GTX 750Ti.
Also read: Computer boots to black or blank screen with blinking cursor
Can NVIDIA graphics card cause screen flickering?
NVIDIA Graphics Card doesn't necessarily cause the screen to flicker, but if the NVIDIA drivers are not updated, the screen might flicker. That is why, keeping the driver updated should be your utmost priority. We have mentioned a tool that can assist you with this.
Why is my screen flickering when I use my GPU?
If your screen flickers when using GPU, update your Graphics Drivers. If there are no updates available or if updating doesn't work, check if the Graphics Card is placed correctly or not. Loose connections can force the screen to flicker.