If your Windows 11/10 desktop computer or laptop screen brightness is flickering randomly or when on battery power, then this post suggests methods on how to resolve this problem. I recently bought a new computer and was facing this issue. Although I have prepared this post keeping in mind a Dell laptop, this could work for HP, Lenovo, Acer, and other computers too.
Windows computer screen brightness flickering
If your computer screen flickers, pulsates or dims and brightens every once in a while, you may see if any of these troubleshooting suggestions help you. Some of them may apply to a Desktop and some of them may apply to a laptop.
First of all, try and identify when you face this issue, when on Battery power, mains AC adapter, or in both scenarios. Is it for a particular power plan or all power plans? Also, check if this happens when you enter BIOS and in Safe Mode too. Is your battery very old? Having this bit of information may help you.
You may try these steps in any order. Select the ones which you think apply to your scenario and are more likely to help you.
Update Graphics Driver
Uninstall and reinstall the Display driver
Restore default Power plan
Change the Monitor Refresh Rate
Disable Dell Intelligent Display
Disable Intel Power Saving Technology
Check third-party software issues
Run Hardware Troubleshooter
Troubleshoot in Clean Boot State
Check if it is a hardware issue
Tweak some Display settings.
1] Update Graphics Driver
Press Ctrl+Win+Shift+B to restart the graphics driver and see if it helps. If not, then all visit the manufacturer's website and update your video and graphic drivers, for your model.
2] Uninstall and reinstall the Display driver
If updating does not help, uninstall, and reinstall the Video drivers.
Right-click the Start button and select Device Manager.
Expand the Display adapters section
Right-click the listed adapter
Select Uninstall device
Select the Delete the driver software for this device check box
Then again select Uninstall
Restart your PC.
After your PC restarts, Run Windows Update and install the available driver update that may be offered.
Read: Computer screen looks washed out or Fading monitor screen.
3] Restore default Power plan
Open Control Panel\All Control Panel Items\Power Options\Edit Plan Settings and restore the default power plan settings by clicking on Restore default settings for this plan. Do this for all your Power Plans.
Fix: Screen flickering issues while playing games on PC
4] Change the Monitor Refresh Rate
Change the Monitor Refresh Rate and see if that helps.
5] Disable Dell Intelligent Display
Open My Dell and Run PC Checkup for your Monitor. If any issues are detected, follow its instructions to address the issue.
Open Power Options in Control Panel, and from the left side, select Dell Extended Battery Life Options.
The Battery Meter settings box will open. Uncheck Enable Dell Intelligent Display. Click Apply and Exit.
See if this helps.
6] Disable Intel Power Saving Technology
If your laptop used Intel processors, disable the Intel Power Saving Technology. You will get this setting in your Dell or Vaio Control Center.  From the Start Screen search, type Intel HD Graphics Control Panel and hit Enter to open it. Click on Power > On Battery.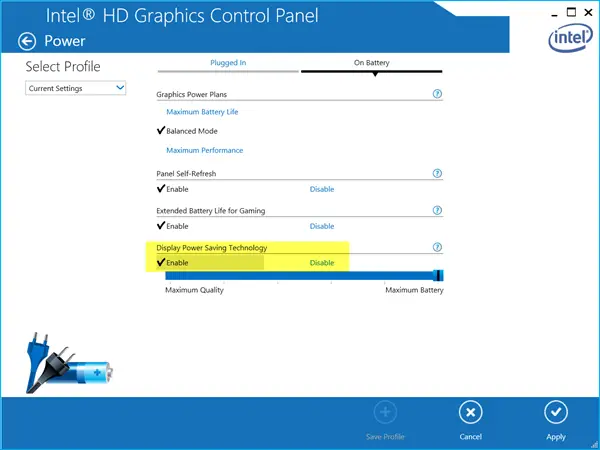 You will see Display Power Saving Technology. Disable it, click Apply and restart your computer.
7] Check third-party software issues
Norton AV, iCloud, and IDT Audio are three apps that are known to cause screen flickering in Windows. Check if you have them installed. See this post if your computer screen is flickering after upgrading Norton.
8] Run Hardware Troubleshooter
Run the Hardware Troubleshooter and see if it helps you.
9] Troubleshoot in Clean Boot State
Open the Task Manager. If the Task Manager flickers along with everything else on the screen, your display driver could be the culprit. You thus need to update or rollback the driver.
If Task Manager doesn't flicker while the rest of the screen is flickering, an incompatible app could be causing the problem.
Troubleshoot in Clean Boot State to identify the offender and uninstall the program.
10] Check if it is a hardware issue
If the whole screen flickers it is likely a driver issue, but if only a corner or a part flickers, it could be a hardware issue. You may need to take it to a hardware engineer and get it checked.
11] Tweak some Display settings
You may try the following workaround that has helped some resolve their Windows 11 screen flickering issue:
Open Windows 11 Settings
Open Personalization settings
Select Background
Set the background Solid color or Picture. Do not use Slideshow
Next, click on Colors and set Accent Color to Manual.
You may also disable Animation Effects from Accessibility settings and see if that helps.
Other resources:
Let us know if any of these helped you fix your laptop screen flickering issue, or if you have any other suggestions to make.