Screen flickering issues on Windows are common, especially while playing games. Many things can trigger them, and one must take action before things get out of hand. Today, we will be looking at possible solutions you can implement to fix the screen flickering issues while playing games on Windows 11/10.
Screen flickering issues while playing games on Windows 11/10
More often than not, these screen flickering issues when the game's video isn't in sync with the system or when your refresh rate of the screen isn't compatible. Outdated or corrupt drivers could also be a cause, so we will look at remediating all these potential causes.
Check for a Display Driver update
Use a higher Refresh Rate for your display
Check your HDMI and other cables
Disable full-screen optimization for the problematic game
Disable Hardware Acceleration
1] Check for a Display Driver update
First and foremost, you should make sure that you're not using any outdated display or graphics driver to have caused screen flickering issues in your gaming experience. Drivers that aren't compatible are bound to cause issues, so it is recommended that you keep your system updated. Here's what you're required to do:
Open your Windows Settings with the 'Win + I' key combination
Click on the final tab on the list named "Windows Update"
If any pending driver updates are pending, you'll find them here
You may also check for Optional Driver Updates and install them if any are available
This post will show you how to install or update Display Drivers.
2] Use a higher Refresh Rate for your display
Alternatively, if you find the Refresh Rate to be the problem then you can also adjust that from the Windows Settings. Here's how that can be done:
Open your Windows Settings with the 'Win + I' key combination
Click on the System tab and further select 'Display'
Scroll down a bit and you'll find the Advanced Display settings. Click on it
Under Display Information, click on 'Display Adapter settings for Display 1'. This will open a separate dialog box
Click on the Monitor tab at the top and from the Screen refresh rate dropdown, select the refresh rate configuration of your choice
Save these changes by clicking on Apply and then Ok. To make these changes take effect, however, you have to restart your PC, so do so and check if you're still facing flickering issues on your display while playing games.
3] Check your HDMI and other cables
You can't completely rule out hardware problems during this inspection. If adjusting your graphics and/or display drivers and your refresh rate is of no help, then you should make sure that all the connections between your monitor and the computer are stable; take your HDMI cable out and plug it back in. Also, make sure that the integrity of all the connected cables is maintained i.e., they aren't damaged from any part, since that can have several other consequences.
4] Disable full-screen optimization for the problematic game
If you believe running the game in full-screen mode might be causing this issue, then you can turn this setting off for the said game. Doing so is also very easy wherein you just have to follow the below steps:
Right-click on the game's shortcut (you can find it from the Start menu) and click on Properties
Select the Compatibility tab from the options available at the top
Tick-mark the box that says "Disable fullscreen optimizations" and save this change by clicking on Apply > Ok
Check if the screen continues to flicker while playing games after this change.
Read: Fix Google Chrome screen flickering issue
5] Disable Hardware Acceleration
Lastly, you can try disabling Hardware Acceleration on your PC. The purpose of this setting is to help improve the overall performance of your Windows PC, and particularly here, make gameplay smoother, but sometimes it can have hampering effects like screen flickering. Here's how you can disable Hardware Acceleration on Windows 11.
Open the Run command using the 'Win + R' key combination and enter 'regedit' to open the Registry Editor
On the address bar at the top, enter the following path
HKEY_CURRENT_USER\SOFTWARE\Microsoft\Avalon.Graphics
Right-click anywhere on the blank space, click on New > DWORD (32-bit) value
Enter this new key's name as 'DisableHWAcceleration' and set its Value Data to 1
Click on Ok to save this new key and restart your computer to let the change process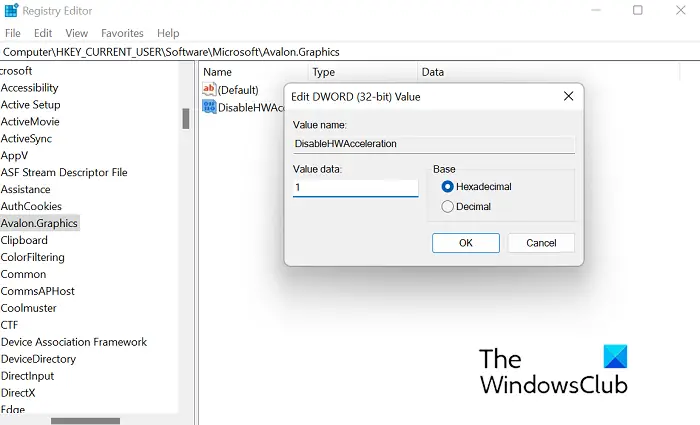 Once it has rebooted, check if the issue has been resolved. If you want to disable Hardware Acceleration on Google Chrome, it can be done via the Chrome settings following the steps mentioned below:
Click on the triple-dotted icon at the top-right corner of the Chrome window
Further, go to Settings
You'll find a search bar at the top. Type the word "Hardware" and the Hardware Acceleration setting will be brought up
Toggle the "Use Hardware Acceleration when available" option off, and click on the Relaunch icon that appears subsequently
Hopefully, one of the solutions above should do the trick and help you resolve your screen flickering issues while playing games on the PC.
Also read: Laptop screen brightness keeps flickering
How do I fix screen tearing on Windows 11?
Screen tearing is also another resembling issue to the one at hand that can be caused by faulty drivers or misconfigured System of GPU settings. This issue also has some elementary solutions to it like changing the refresh rate, enabling VSync, adjusting your GPU's FPS, and disabling Game Mode.
Does VSync reduce FPS?
VSync, short for Vertical Sync, is a graphics technology that helps people with screen tearing on their PCs while they are running a graphics-intensive game. If you're not aware of how exactly this helps cut back screen tearing, the VSync adjusts the FPS when necessary. It comes very handy when your monitor can't handle the FPS of a certain game.