Is your Google Chrome screen constantly flickering after a Windows 11/10 upgrade? Several users encountered an issue of screen flickering in Chrome when they upgraded to a recent Windows build. The strange part is that only Google Chrome gets affected and starts to flicker or flash after the updates. The problem is even more severe when users try playing videos on YouTube or other similar websites. Well, you can breathe light, you aren't alone.
As a fix to this issue many people tried using Chrome in Incognito mode, cleared their cache and cookies, reset their browser settings, and even reinstalled Chrome – But nothing really worked. Building on this, we bring a simple guide to fix this annoying flickering issue occurring exclusively on the Google Chrome browser on Windows 11/10.
Fix screen flickering in Chrome browser
Screen flickering in Chrome is often linked to Windows background and color settings and incompatible display drivers. It is recommended that the user should have their video card drivers and Chrome up to date to avoid such issues in the future.
You can try different solutions to resolve the issue of screen flickering in Chrome. Following are some of the solutions that would work for this problem.
Fix background and colors
Update Graphics Drivers
Turn Off 'Use Hardware Acceleration When Available'
Disable 'Smooth Scrolling' in Google Chrome
Disable Game DVR feature.
Let's see all these solutions in detail.
1] Fix background and colors
First, go to Settings and open the app on your Windows device by clicking Windows+I.
Now click On Personalization. This will load the Background Preferences. In case this window doesn't appear, select Background on the left side panel.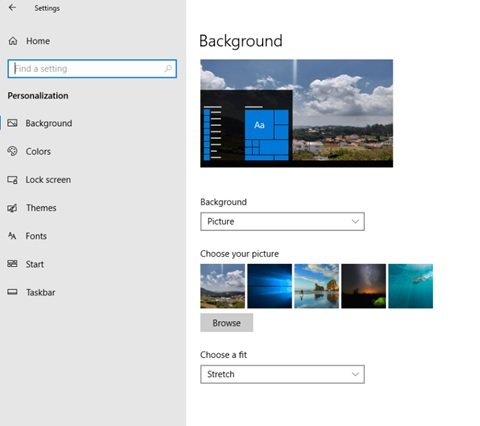 Now select a Solid Color as the new background from the drop-down menu.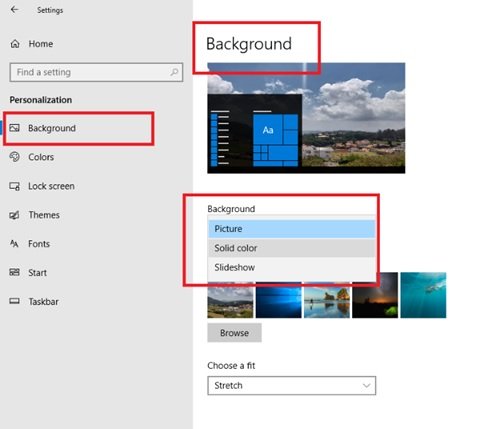 If Windows' automatic background switching is causing screen flickering issue to Chrome, this change should solve the issue.
After selecting Solid color as the background preference, switch to the Colors tab under Personalization. The following window appears.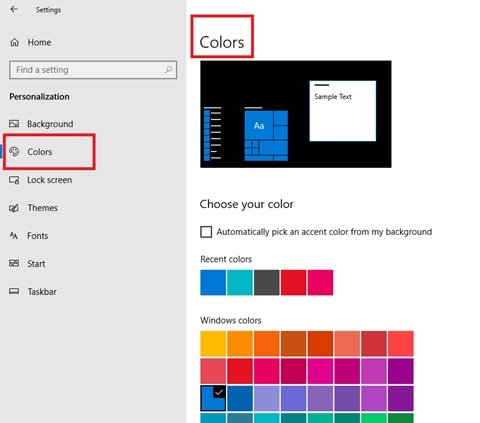 Check the box in front of Automatically pick an accent color from my background.
Close the settings panel and relaunch it to check if the issue is resolved.
In Windows 11, you will see the settings here: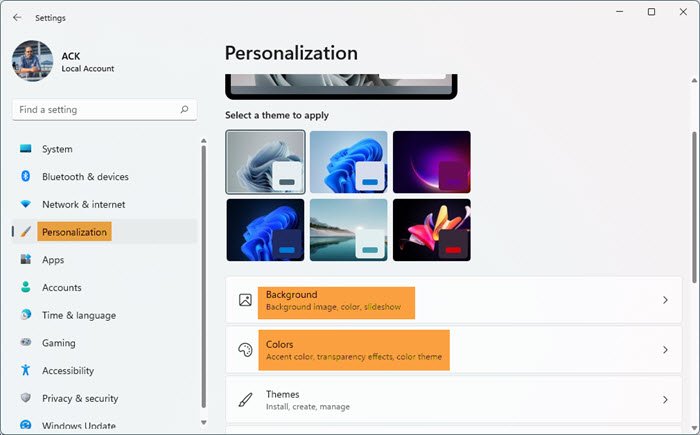 Open Windows 11 Settings > Personalization. There you will see the Background and Colors settings. The procedure to be followed is the same.
2] Update Graphics Drivers
Update Graphics Drivers and see if that helps.
Fix: White or blank Screen issue in Google Chrome
3] Turn Off 'Use Hardware Acceleration When Available'
To resolve the screen flickering in Chrome, open the Chrome Browser and click Customize and control Google Chrome. This is nothing but the three vertical dots visible on the extreme right side of the browser page.
Now, scroll down to Settings.  Now go to Advanced settings and then System.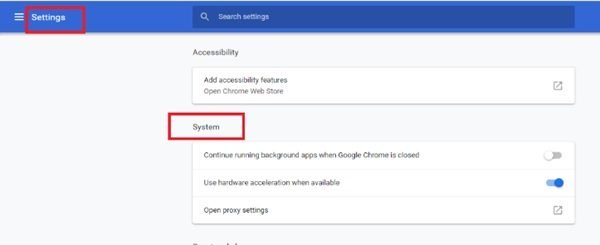 Now deactivate Use Hardware Acceleration When Available.
After this, relaunch Chrome. Check if the problem of screen flickering in Chrome is fixed after turning off the Use Hardware Acceleration When Available option.
Fix: Google Chrome black screen problems
4] Disable 'Smooth Scrolling' In Google Chrome
To resolve the screen flickering in Chrome, open Google Chrome Browser, and type chrome://flags.
Now search for flag named Smooth Scrolling. You can either scroll down until you find it or search in the Search Flag bar. In newer versions of Chrome, Smooth Scrolling is enabled by default.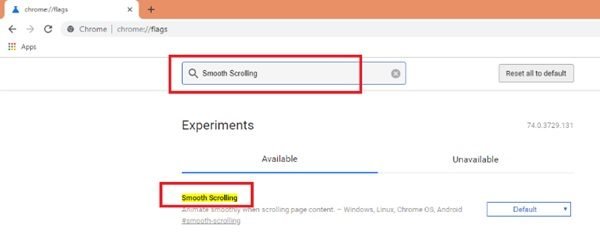 Now, select the Drop-down and select Disabled. After selecting Disabled, click on the Relaunch Now button.

This is a simple way to fix the screen flickering in Chrome.
Fix: Screen flickering issues while playing games on PC
5] Disable Game DVR feature
Angus adds below in the comments that disabling the Game DVR feature worked for him. Maybe you too could see if this helps you.
A screen that is continually flickering can be one annoying problem, it can cause eye strain, headache, and many more similar issues. More than that it's a dreaded pain to work or watch videos on a system with a screen flashing or flickering right in front of your eyes. We hope this guide and the solution listed above solve this screen flickering issue.
Related read: Laptop screen brightness flickering.