In this article, we will be discussing how you can fix the error where Google Chrome launches with a white or blank screen. Commonly known as the WSOD (White Screen of Death), it is not as concerning as issues like BSOD, and can be fixed by tweaking a few areas of your browser settings. The most common reasons behind this issue are corrupted cache files, incompatible extensions, and hardware acceleration, so our solutions are going to be directed at solving them as well.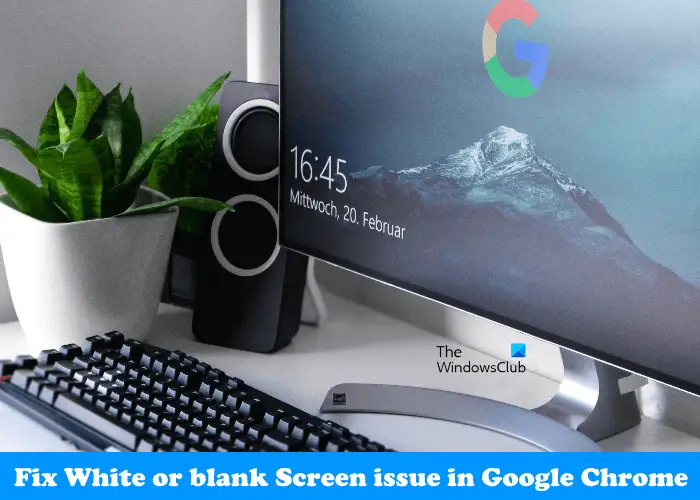 Fix Chrome blank white screen on Windows 11/10
Here are some of the primary fixes you can implement to resolve the issue of the white screen or page in Google Chrome.
Clear your browser cache
Turn off hardware acceleration on Chrome
Change your browser history folder
Disable compatibility mode
Reset browser settings
Disable Chrome extensions
The solutions provided below require opening Google Chrome. But Google Chrome shows a blank or white screen. Hence, without making its interface visible, you cannot proceed ahead. Launching Google Chrome in compatibility mode can make its interface visible. The following steps will help you with that: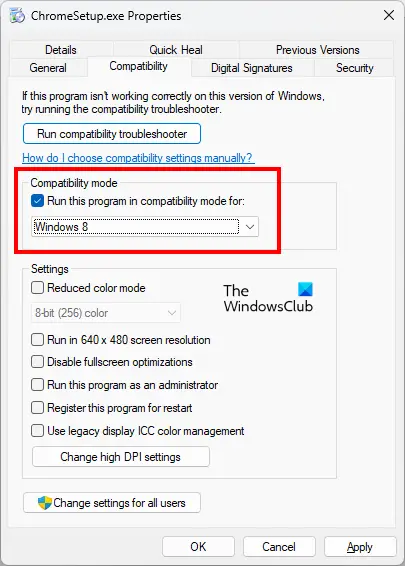 Close Google Chrome if it is already running.
Open the Task Manager, select the processes tab, and end all the running instances of Google Chrome.
Right-click on the desktop shortcut of Google Chrome and select Properties.
Select the Compatibility tab.
Enable the "Run this program in compatibility mode for" checkbox.
Click on the drop-down and select a previous version of Windows OS, say Windows 8.
Click Apply and then click OK.
Now, launch Chrome and see if its interface is visible or not. If not, select another previous version of Windows OS under the Compatibility tab and then launch Chrome.
If this does not bring its interface visible, run the compatibility troubleshooter. For this, open Chrome Properties and go to the Compatibility tab. Now, click on the Run compatibility troubleshooter button.
1] Clear your browser cache
Cache is a software component that stores data in order to make future requests faster. Sometimes, the data stored in the cache gets corrupted due to which users experience issues. The corrupted cache could be one of the reasons for a white or blank screen in Google Chrome. We suggest you clear the cache of Chrome and see if it helps. The steps to clear Google Chrome cache are written below:
Open your browser window and from the Options icon on the top-right, click on Settings.
You can directly open the sub-section that deals with clearing cache and cookies by pressing the Ctrl + Shift + Delete buttons.
Select the time horizon that you want to clear your cached files for and click on Clear data.
Relaunch Google Chrome and check if the issue has been resolved.
2] Turn off hardware acceleration on Chrome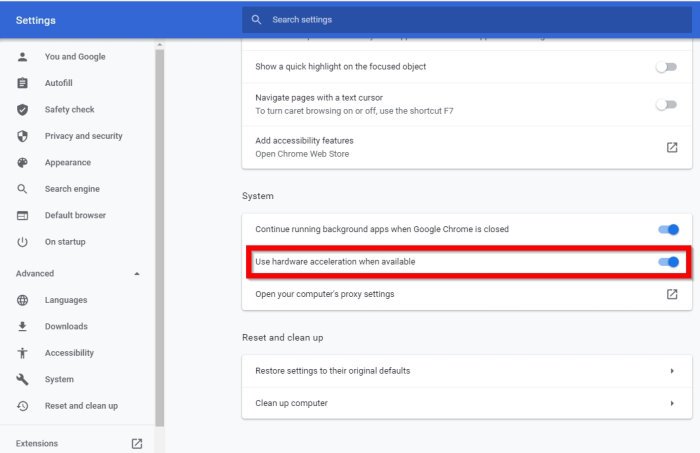 Hardware acceleration helps speed up the process on your browser by lending help from your computer's GPU. A prospective cause behind this issue can be that this setting is interrupting the normal functioning of Chrome on your PC, in which case you should disable it.
Open Google Chrome and from the Options icon, open settings. Further, move to advanced settings from the option on the bottom
Scroll down a bit and under the System head, you'll see an option that says "Use hardware acceleration when available"
Toggle the setting off if it is enabled and relaunch the browser.
Fix: Google Chrome black screen problems
3] Change your browser history folder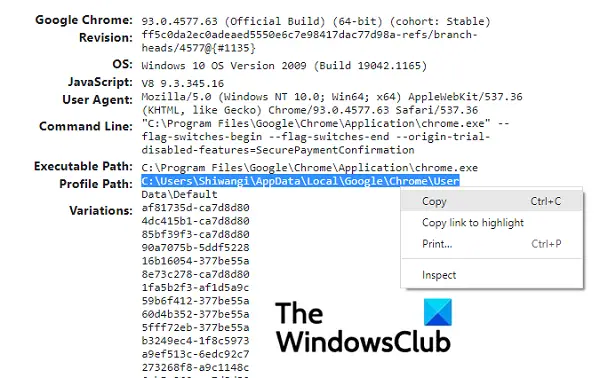 This issue may arise in cases where your history folder gets corrupted as well. If you rename this folder, this issue can be fixed. Here's how it can be done:
Open Google Chrome and in the address bar, enter 'chrome://version'
From this page, locate the head that says Profile Path.
Select the path prescribed here and copy it
Now, open File Explorer, and in its address bar, paste the path you've just copied
From the list of files and folders here, locate the one named History. Right-click on it and select Rename
Put a new name on the folder and upon saving it, relaunch to see if the issue persists
4] Disable compatibility mode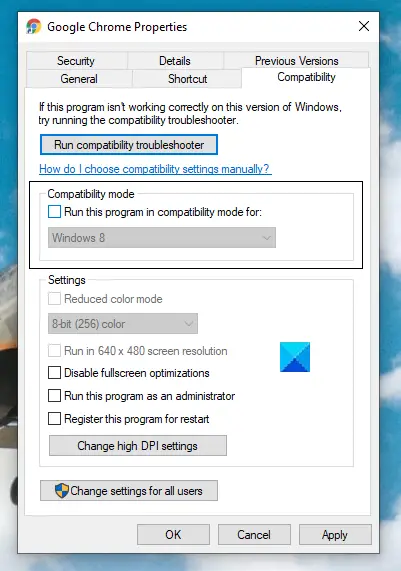 Right-click on the Google Chrome icon from your desktop and select Properties
Here, click on the Compatibility tab
In the box named Compatibility mode, un-check the setting if you see Chrome running in Compatibility mode
Click on Apply and save the change by clicking on Ok. Check if Chrome is working properly now
5] Reset browser settings
Go to Chrome settings and further move to Advanced settings
Under the Reset and Clean up head, you'll see an option to move back to the original settings on your browser
Click on it and further confirm that you want to reset your settings
6] Disable Chrome extensions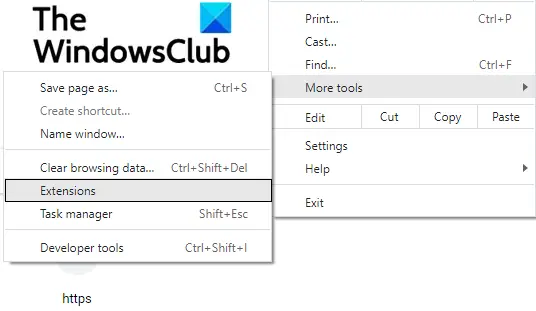 We use extensions on Chrome for all kinds of purposes, but sometimes, if an extension goes corrupt, certain issues may arise. Here's how you can disable browser extensions:
Click on the Options icon on the top-right and hover your mouse over more tools
From the resulting sub-menu, select Extensions
This will open the Extensions window.
Disable each extension you currently have running and relaunch your browser
Check if the issue has been removed
Once you have identified the offender you may remove that extension.
If none of the aforementioned solutions can rid you of this issue, your best bet is to reinstall a fresh version of Chrome on your PC.
Fix: Google Chrome screen flickering issue
What does the blank white screen mean?
If you're inquisitive about what this issue means, let me discuss it briefly as well. A WSOD can be found in both Windows and Mac OS PCs/phones and is the issue where your computer stops working, only displaying a blank, white screen. This issue can be caused by all kinds of accidents on your devices. Dropping your phone or having a hardware component go awry can cause you the trouble of this sort. Even a failed/interrupted OS update can cause your device to show a WSOD.
Hope this article was able to help you remediate the white screen issue you're facing with Chrome!