This post explains what is Refresh Rate for computer monitors and how you can change the Monitor Refresh Rate in Windows 11/10. You can change it for the best gaming experience or flickering screen issues via NVIDIA or AMD graphics card Advanced Display Settings. For instance, if you see a flickering screen, Artifacts or Distortion, or 'stop-motion' effect while playing heavy games, there is a  chance that it is happening because of the monitor refresh rate. If you have an old graphics card and a modern monitor with a high refresh rate, you could still face such issues.
What is Refresh Rate of a Monitor
Refresh Rate is a unit that measures how many times your computer monitor updates you with new information every second. The unit of refresh rate is Hertz. In other words, if your monitor's refresh rate is 30Hz (which is very rare, nowadays), it implies that your monitor can update maximum 30 times in every second. It may not update the screen 30 times all the time, but the maximum number will be 30.
There are plenty of monitors which come with a 240Hz refresh rate. But you will need an equally advanced graphics card to make it work correctly while gaming. Otherwise, if you have an old GPU, you might see stop-motion effects while playing games.
Change Monitor Refresh Rate in Windows 11
Not all monitors allow you to change the Refresh Rate some monitors do If your computer allows you to,
To change the Refresh rate in Windows 11:
Press Win+I to open Settings
Click on System
On the left side select Display > Advanced Display
Next, locate Choose a refresh rate setting and select the one of your choice from the drop-down menu.
In Windows 10, you can press Win+I to open Windows Settings. Having done this, go to System > Display. On your right-hand side, you will find an option called Display adaptor properties.
Click on it and switch to Monitor tab after opening the Properties window. In this window, you will see a drop-down menu where you can select other given refresh rates.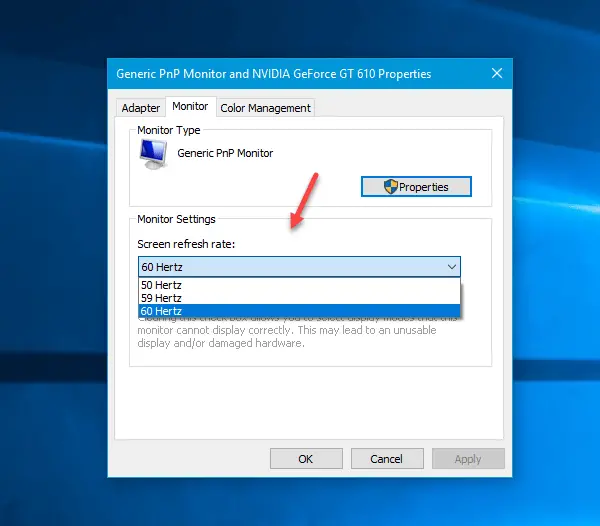 Select the appropriate one and save your change.
If you have more than one monitor, you need to select the monitor before clicking on Display adaptor properties button on the Display page.
Read next: Gaming Lag & Low FPS in games explained.