Sometimes when you install or upgrade to Windows 10 on an old device, the screen aspect ratio goes for a toss. The problem occurs because the new version of Windows doesn't support the GPU or rather the driver doesn't work with Windows 10. In that case, Windows uses a generic driver which doesn't support all the resolution and the correct aspect ratio. In this post, we are looking on how to fix Windows 10 Screen Aspect Ratio issues.
It may so happen that you had a screen aspect ratio as 16:9, but post-upgrade you changed the screen resolution, and now its set to 16:10. Later you found that you cannot go back to the old ratio. Everything might be looking as if everything is stretched.
Windows 10 Screen Aspect Ratio issues
So, the real question is if it is possible to change the screen aspect ratio directly in Windows if the GPU doesn't have the compatible driver. Short answer, No. But then there is way out to resolve this issue.
1] To fix this, we will have to use, Compatibility Mode. However, you will need the driver that worked with your Windows 7 or anything which is latest.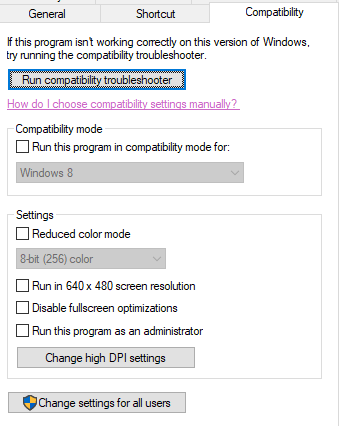 Download the driver, and place it on your desktop.
Next right click on it, and select properties.
Switch to Compatibility Tab. Here you have two options:

Compatibility troubleshooter, and let Windows figure out what works best for you. If it fails, follow the next.
Manually choose the version of Windows it was correctly working.

You can also choose to change the DPI settings if that helps. Click Apply and then Ok.
Right Click the file and select the Run As Administrator option to install.
Post this, you should be able to change your aspect ratio to what you were using earlier.
If you have any program which doesn't work on the existing version of Windows, you can make sure to run it every time with this special Program Compatibility shortcut.
2] Run Program Compatibility Troubleshooter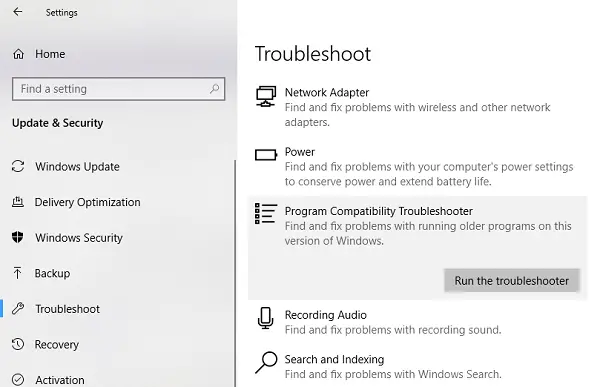 You can also run this inbuilt troubleshooter available in Windows Update & Security > Troubleshoot. It will find a list of programs for you.  Since we already have the driver files downloaded, click on Not Listed which is available on top of the program list. Browse, and then select the driver files, and let the program do its job.
3] Rollback the Driver 
If this issue occurred after a recent driver update through Windows, then its best to rollback to the older version of the driver. You will have to Devic Manager to achieve this.
One of the above solutions should fix your problem with aspect ratio on old devices upgraded to the new version.
However, I would always suggest you get in touch with the support guys of your OEM and ask for update drivers which can offer you a better solution.