Some Windows 11/10 users are complaining that the mouse pointer started flickering while some others are pointing out that the computer hangs simultaneously with the flickering of the pointer. In this post, we will show you how to resolve the issue.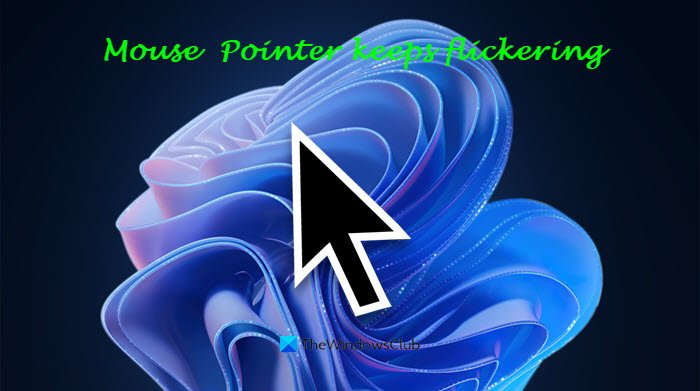 Why does Mouse keep flickering on Windows 11?
Two of the most obvious reasons for this issue are errors in the Display driver and Mouse driver. They can either be outdated or corrupted, we are going to look into it in this post. Sometimes, this issue can also persist if there is some error in Windows File Explorer, this can be easily by closing all instances of the program. Hereinafter, we are going to see how to fix the same and more.
Fix Mouse Pointer or Cursor keeps flickering on Windows 11/10
These are the things you can do to stop the flickering of the Mouse Pointer or Cursor in Windows 11/10.
Restart File Explorer
Check your Drivers
Run Hardware and Device Troubleshooter
Reconnect Monitor
Troubleshoot in Clean Boot
Let us talk about them in detail.
1] Restart File Explorer
Let us start with the easiest solution and the most common reason for this error. You should restart File Explorer and see if the issue persists.
To do that, open Task Manager by Ctrl + Alt + Del, then right-click on File Explorer and select End Task or Restart.
After reopening the Explorer, check if the issue persists.
2] Check your Drivers
As mentioned earlier, you may face the issue because of some issue in Graphics and/or Pointer driver. So, roll back, update, and/or reinstall the driver and see if the issue is fixed. It is recommended to do the same in the given order to get the desired result as effectively as possible.
3] Run Hardware and Device Troubleshooter
Next up, if the issue persists, you should run Hardware and Device Troubleshooter and let Windows do the job for you.
So, open Command Prompt as an administrator and execute the following command.
msdt.exe -id DeviceDiagnostic
Now, follow on-screen instructions to fix the pointer flickering issue with Hardware and Device troubleshooter.
4] Reconnect Monitor (for Desktop only)
If you are on a Desktop, then disconnect all the  HDMI cables, reconnect and then see if the pointer stops flickering.
You should also consider replacing the HDMI cables, as faulty HDMI cables could cause this error.
Read: Mouse Pointer lags, freezes or stutters.
5] Troubleshoot in Clean Boot
Last but least, we should consider that the issue can be because of the intervention of a third-party application. Hence, try troubleshooting in Clean Boot to find the culprit and then remove it to fix the issue.
How do I fix Mouse cursor jumping?
If your Mouse cursor jumps automatically check Mouse drivers, and change the Touchpad sensitivity. select don't Hide pointer while typing, disable Touchpad and see if that helps.