Have problems with your Windows or Surface laptop where the mouse cursor keeps jumping as if it's trying to evade a cat, when when you do not touch the touchpad? That's an issue that could make the device difficult to use, and no doubt, it's rather frustrating. Cursor jumping isn't unique, we should point out, so for those with different computers, we recommend following the guide we're about to lay out and hopefully it'll help.
Mouse cursor jumping around even when not touching anything
If you are facing mouse cursor jumping problems, where the cursor is jumping around or moves on its own or jumps erratically or disappears at times, this post shows how to get the cursor back and make it behave properly.
1] Check your mouse
Check your mouse physically and clean it if required. You may also try another mouse on this PC or this mouse on another PC to confirm if the issue is with the mouse hardware.
2] Make sure your palm isn't resting on the touchpad
Usually, we're so busy doing work that we fail to realize some of the simple issues are caused by our own doing. The laptop's touchpad isn't small, so depending on your typing posture, there's a good chance your palms may rest on the touchpad, causing the cursor to jump.
With current technology, laptops should have sensors that can tell when a palm is resting on the touchpad to prevent unintentional issues, but unfortunately, such is not the case.
If you have a secondary USB or wireless mouse, you could use it and turn off the touchpad altogether, so let's talk about how to do that.
3] Turn off the touchpad
Press Windows Key + I to fire up the Settings app, then click on the section that says Devices. From here, you should see the option to disable the touchpad.
Simply locate the touchpad software that comes with your computer and disable it from there. Or better yet, look for the touchpad icon on one of your F keys, then press Fn and that particular F Key to disable the touchpad.
4] The Touchscreen driver might be at fault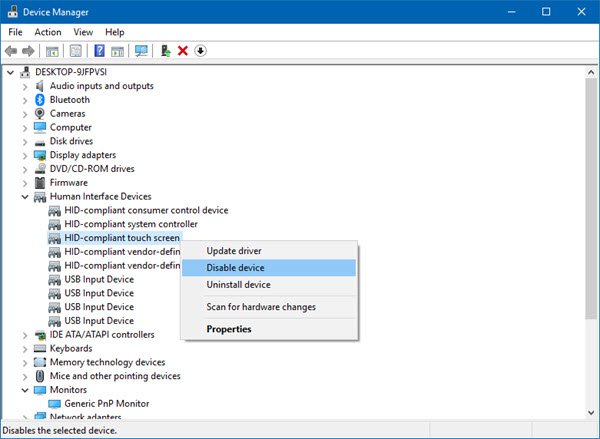 Several users have claimed that this mouse cursor problem can be solved by disabling the touchscreen driver. Hey, this is probably not the ideal fix you're looking for if you prefer to use the touchscreen for various tasks.
Launch Device Manager by pressing the Windows Key + X to fire up the Power User Menu, then select Device Manager from the list. The next step, then, is to find the touchscreen driver, right-click on it, then select the option that says Disable device.
5] Install the latest Windows Updates
You can make Windows Update download Drivers automatically from the Microsoft website, using Windows Update. Look for Optional & Driver Updates there.
Hope something here helps you!
Related reads: