Does it drive you crazy when you are typing something on your laptop, and the cursor changes its position, most importantly breaking your concentration? Well, this occurs when you are in the full flow of typing on the keyboard, and you accidentally brush your palm or fingers across the touchpad, which causes the cursor to stray. This was bothering me for a long time, until recently when I decided to get rid of this issue which was hampering my productivity.
Enable or Disable Touchpad in Windows 11/10
Windows 11/10/8/7 by default, automatically detects your touchpad and for disabling your touchpad completely, you will need a 3rd party software. Most major and renowned laptop manufacturers like Lenovo, Asus, Dell, Acer, HP, etc., get the touchpads for laptops from a 3rd-party OEM provider. These providers have some official drivers on their website that you can use for disabling your touchpad in Windows. These drivers are available here.
There is also a list of supported Operating Systems at the above-mentioned link. You make your selection and then download it.
OK – when I'm working, instead of using the touchpad, I prefer a mouse with my laptop, so it's nearly of no use to me, especially when I'm typing. Therefore, it is best to disable the touchpad of your laptop.
Here are a few ways how you can disable laptop touchpad in Windows:
Disable laptop touchpad via Control Panel
Disable laptop touchpad via Device Manager
Disable laptop touchpad via Freeware
Disable laptop touchpad via Windows Settings
To learn more about these ways, continue reading.
1] Disable Laptop Touchpad via Control Panel
This option applies to users not using the touchpad at all, as this way they can disable it once and for all. For users who are just looking to disable it while typing, can use the freeware discussed below.
Go to Mouse Properties via Control Panel. 
As seen in the screenshot, there is an option of Touchpad, from where you can simply turn off the touchpad and Save.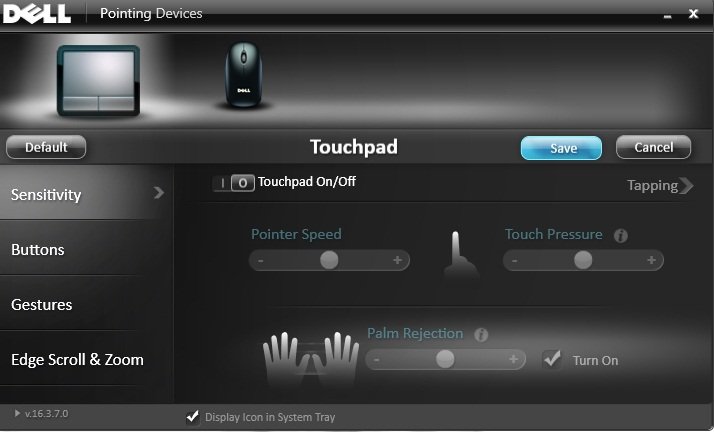 If you do not see this option in the Mouse Properties menu, it could only mean that you do not have the touchpad driver installed on your laptop.
At first, I did not see it either and downloaded the Synaptics Touchpad Driver from Dell.com. (I'm using Dell Inspiron 15), which totally solved my purpose. After installing the driver, I could access the option of disabling the touchpad from the tray icon and also through the shortcut from my keyboard – Fn + F3 (which was not working until I installed the driver). Therefore, I would suggest you visit your respective vendor's website and download the touchpad driver for a permanent solution.
Read: How to disable Touchpad when external mouse is attached.
2] Disable Laptop Touchpad via Device Manager
In case you do not find the driver, there is yet another option to disable your touchpad is through the Device Manager, but FYI, it only gives you the option to uninstall the driver, so make sure you keep a backup first and then go for it.
Read: Touchpad getting disabled automatically.
3] Disable Laptop Touchpad via Freeware
This solution applies to those of you, who do not use a mouse and just need a temporary solution to disable the touchpad only while typing.
Touchpad Pal: It is a useful tool for Windows users. Touchpad Pal will detect any keyboard activity and immediately disable the touchpad.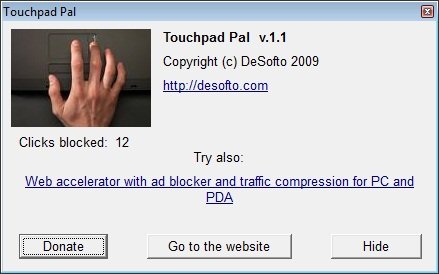 Go get Touchpad here on tpp.desofto.com..
TouchFreeze: It is a simple tool which will automatically disable your laptop's touchpad as soon as you start typing.
You can download TouchFreeze here at touchfreeze.net.
4] Disable laptop touchpad via Windows Settings
It is probably the easiest method to disable the touchpad in Windows 11/10 when an external mouse is connected. To do that, follow these steps:
Press Win+I to open Windows Settings.
Go to Bluetooth & devices if you are using Windows 11.
Go to Devices if you are using Windows 10.
Click on the Touchpad menu.
Tick the Leave touchpad on when a mouse is connected checkbox.
That's it! From now onwards, your computer will disable the touchpad when the external mouse is connected.
How do I turn off my touchpad completely?
There are two ways to turn off your touchpad completely in Windows 11/10. You can do that using an in-built option in Windows Settings, or you can detach the touchpad from your mouse. The former solution is for those who do not have much hardware knowledge. However, if the touchpad is causing various issues, you can take the help of a professional to detach the touchpad hardware.
Can I disable my laptop touchpad?
Yes, you can disable your laptop touchpad. Whether you are using Windows 11 or Windows 10, you can completely disable your laptop touchpad with the help of this aforementioned guide. There are multiple ways to get the job done, but you can use Windows Settings to do it quickly.
I hope the suggestions are useful. Do share your feedback with us.
This post will show you how to reset Touchpad settings to default. See this if your cursor jumps or moves randomly while typing – and this one if Touchpad is locked on your laptop.
Read next: Enable, configure & use Precision Touchpad settings.