Many users who own a laptop or a tablet with a trackpad prefer using an external mouse. The use of this external mouse is undertaken because it boosts productivity. Users are more comfortable and used to this external, standard-sized mouse. It is just robust and helps these users to do more. So, in older versions of Windows 10, there used to be an option in Touchpad settings inside of the Settings app where a user could check or uncheck the checkbox that says Leave touchpad on when a mouse is connected. But, as noted in Windows 10, this option is no longer available. The option is not available in Windows 11 too! So, if you are on Windows 11/10 or Windows 8/7, we are going to discuss some methods by which you can disable the touchpad when an external mouse is attached.
Why would you want to disable the touchpad?
Someone would want to disable the touchpad to enhance their user experience. Many users are more comfortable using an external mouse than a trackpad. Usually, when you type on a laptop's keyboard, it is common to touch the trackpad and accidentally move the cursor unwontedly. To prevent that, one can disable the touchpad when using a mouse. So it doesn't interfere with the user experience. And once the external mouse is removed, the trackpad will work as it should.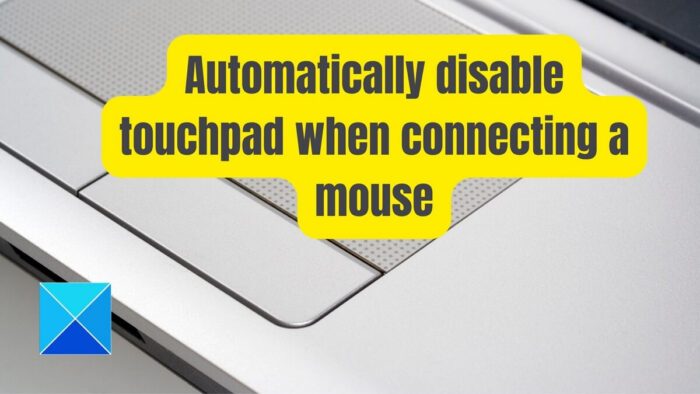 Disable Touchpad when the external mouse is attached
Synaptics mostly offers touchpad drivers for laptops globally. Most OEMs customize it during the driver installation and remove or add features on top of it. Follow these suggested methods to disable the touchpad when you connect an external mouse.
Control Panel method
Directly install Synaptics touchpad drivers.
Registry Method
Make sure you have admin permission to execute these suggestions.
1] Using Mouse properties in Control Panel
If you do not have the Synaptic driver offered by the OEM, you should check for the driver download page for your laptop's manufacturer. For instance, if you have a Dell laptop, head to their driver downloads page and see if they have any driver related to Synaptics. Once you are sure that you have it, follow the steps:
Open Windows Setting using Win + I
Navigate to Bluetooth & device > Touchpad
Under Touchpad, locate More touchpad settings. Click to open it.
This will now open a new small window. In its menu tabs, select the one with an entry for ELAN or Synaptics.
Now, in the whole list of options, uncheck the option that says Disable internal pointing device when the external USB pointing device is attached.
Click on Apply and then OK for the changes to take effect.
2] Directly install Synaptics touchpad drivers.
If you cannot find this setting, you must install the generic Synaptics touchpad device driver on your laptop. As manufacturers customize the Synaptics touchpad driver as per their needs, they may not have the option to disable the touchpad in the settings.
To get started, follow the below steps:
2] Disable Touchpad when Mouse is connected using the Registry
Press WINKEY + R to run the Run window. Inside that, type regedit and hit Enter.
This will now open the Registry Editor on your device. Now, navigate to the following registry key:
HKEY_LOCAL_MACHINE\SOFTWARE\Synaptics\SynTPEnh
After this, right-click on SynTPEnh, hover over New, and click on DWORD (32-bit) Value.
Name this new DWORD as DisableIntPDFeature and double-click on it to change its value.
Select the Base as Hexadecimal and set the Value Data as 33.
Hit OK to save the changes and reboot the computer for your changes to take effect.
Conclusion
So that was all about methods to automatically disable touchpads when connecting a mouse. It is a pretty straightforward process, and there are many ways to do it. However, the above two methods are the most effective, so go ahead and try them.
What can you do if nothing else works?
If nothing else works, the touchpad is problematic or always gets active as you move your hands around the keyboard, then it's best to disable it. Windows itself comes with an option that lets you disable the Touchpad when you connect an external mouse. For this, follow the below steps:
Go to Windows Settings.
Navigate to Bluetooth & Devices > Touchpad.
Over here, you can toggle off the Touchpad completely.
Disable the touchpad when an external mouse or pointing device is connected to Windows 8.1
Press the WINKEY + C button combinations to open the Settings Charm and select Change PC settings, or press WINKEY + I to open the settings app.
Then click on the menu that is labeled as PC and devices.
Now, click on Mouse and Touchpad menu in the left slide menu.
On the right side menu panel, look out for an option that says Leave touchpad on when a mouse is connected. 
Turn that option Off.
Reboot your PC for the changes to take effect.
How to Turn off the Touchpad Permanently?
First, go to the Control Panel, click on Mouse, then click on the Touchpad tab and the Stop Device button > Yes. That's it, and your touchpad is now disabled permanently. To re-enable it, you will need to use an external mouse.
Touchpad Won't Re-Enable When USB Mouse Is Disconnected
After disabling the touchpad, you can try enabling it manually if it doesn't get enabled after you disconnect the mouse. Even if that doesn't work, you can uninstall the existing touchpad driver and reinstall it.
Read next: How to Reset Touchpad settings to default in Windows 11/10.