A device driver is software that allows your Operating System to interact with the hardware. If you don't have the appropriate driver, that piece of hardware won't work on your computer. Similarly, if you don't have a Synaptics Touchpad driver, it won't work. That is why, in this article, we are going to see how to download & install Synaptics Touchpad driver on Windows 11/10.
Download Synaptics Touchpad driver on Windows 11
To download & install Synaptics Touchpad driver on Windows 11/10, you can pick any of the following methods.
Download Synaptics Touchpad driver from OEM websites
Use Device Manager
Use a driver updater software
Let us talk about them in detail.
1] Download Synaptics Touchpad driver from OEM websites
Synaptics' TouchPad device drivers are customized and supported by notebook manufacturers to meet specific driver requirements for their individual products. To ensure the appropriate driver for your device, always use the driver your specific notebook OEM supports. Installing a generic driver from the Synaptics.com website may result in the loss of OEM-customized functionality and other issues.
Synaptics used to host generic touchpad drivers, but now it seems that they don't. So, what we would recommend you is try and go to your laptop manufacturer's website and they will the driver for your touchpad. You can visit any of the following links to download Synaptics touchpad drivers for your laptop:
2] Use Device Manager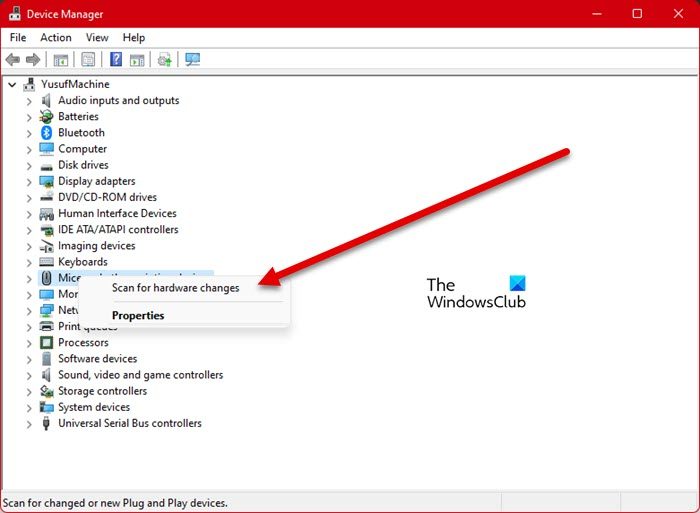 Device Manager is a Windows utility that helps you manage devices and their drivers. You can use it to download or update the Synaptics Touchpad driver.
First of all, open Device Manager either from the Start Menu or by Win + X > Device Manager.
To update the driver, expand Mice and other pointing devices, right-click on the driver in question and click Update driver. Then, follow the on-screen instructions to update drivers.
If there is no driver available for the touchpad, just right-click on Mice and other pointing devices and select Scan for hardware changes.
3] Use a driver updater software
There are many free driver update software available for Windows. These apps will scan your computer and fetch compatible drivers either from their database or the Internet. You may use it to keep your Synaptics Touchpad Driver updated.
Where is Touchpad Settings for Windows 11?
You can easily configure your touchpad settings using the Settings app of Windows 11 computer. Just hit Win + I to launch Settings, then go to Bluetooth & devices > Touchpad. Now, you can configure touchpad settings like gestures, zooming, taps, and scrolling as per your needs.
This post will show you where to download Touchpad drivers for Lenovo, HP, Dell, Asus, Acer, Microsoft Surface, etc. Windows 11/10 laptops.
Touchpad Settings Missings in Windows 11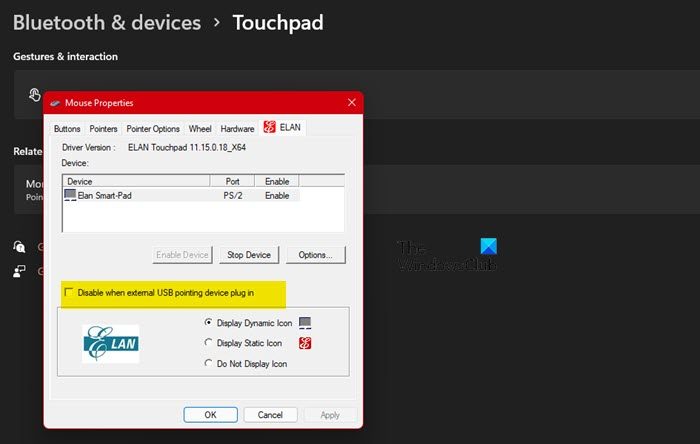 According to some users, there are some Touchpad Settings missing from Windows 11. According to them, there were way too many options in Windows 10 and when they updated to the latest and greatest Windows 11, those options are nowhere to be found. Whereas, according to some users, Touchpad is not working. Well! We are going to solve that for you.
Make sure the Touchpad is enabled: First up, we need to check if Touchpad is enabled on your computer. A lot of times, when you connect to an external mouse, the touchpad automatically gets disabled. For different manufacturers, the settings will be different, but generally, what you need to do is go to Settings > Bluetooth & devices > Touchpad > More touchpad settings. Then, you will see a tab of your Touchpad manufacturer, in my case it is Elan, click on it and untick Disable when external USB pointing device plug in.
Check your driver: What you need to do is open the Device Manager and see if there is some yellow caution mark. If there is a mark in one of the options, expand the option and right-click on the driver showing the mark, then select Update driver. Select Browse for drivers on my computers > Let me pick from a list of available drivers on my computer. Choose a different driver and click Next.
As per the reports, users were seeing the yellow mark on the Keyboard option and they had to install i2c HID device.
Run Hardware Troubleshooter:  Hardware Troubleshooter is another solution that can work for you. Just open Command Prompt as an administrator and run the following command – msdt.exe -id DeviceDiagnostic. Then, follow the on-screen instructions to run Hardware Troubleshooter. Hopefully, this will do the job for you.
Where to download DisplayLink driver for Windows?
You can download the Synaptics DisplayLink driver for Windows 11/10 by visiting this link on synaptics.com. Or you can use the DisplayLink Manager app from the Microsoft Store to do the needful.
Also Read: Touchpad getting disabled automatically in Windows 11/10.