The TouchPad comes on all laptops. It is a pointing device that helps the user to use their pointer just like they did with a mouse. It is embedded directly in the body of the laptop. However, it becomes painful to use the computer when this TouchPad stops working. This can be caused by many factors like a hardware fault, driver issues and more. This issue can arise at different points in time. It can occur after the installation of an operating system or during driver update, after waking up from sleep, or at any other random moment.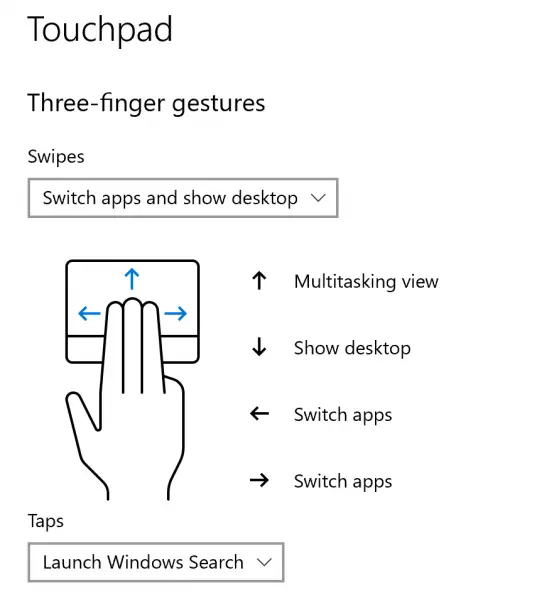 TouchPad not working on Windows 11/10
If Synaptics or any other TouchPad is not working after Sleep, BIOS Update, Connecting Mouse or Windows or Drive Update., and the gestures are not working on your Windows 11/10 laptop, then you can try the following suggestions in order to fix the issue:
Update, Rollback or reinstall drivers.
Enable TouchPad from the configuration utility.
Enable TouchPad from the hardware key.
Run Hardware and Devices troubleshooter.
Other fixes.
1] Update, Rollback or reinstall the Touchpad driver
The basic fix that you can apply is to fix the respective drivers. There can be instances where the installed driver might have becomes incompatible with the operating system or corrupt. If you have just updated your driver, the new version might not be stable enough for your machine.
From the WinX Menu, open Device Manager and expand Mice and other pointing devices. Here you should be able to see your Touchpad driver.
2] Enable TouchPad from the configuration utility
If the Touchpad driver on your computer installed a TouchPad configuration utility, there may be chances that its configuration might have got modified. You can open that utility and have the Touchpad settings reset to default in order to normally get the TouchPad working.
Read: Touchpad getting disabled automatically.
3] Enable TouchPad from the hardware key
If your computer comes with a dedicated hardware key, it may have got pressed accidentally and disabled the TouchPad. You can look for that key as it is denoted by an icon of a TouchPad and press it again to enable the TouchPad. This method is applicable to selected laptops only.
4] Run Hardware and Devices troubleshooter
You can fix Windows Hardware and Devices problems with the Hardware Troubleshooter, This will automatically detect and fix any issues caused by hardware or peripherals attached to your computer.
Related: Touchpad gestures are not working on Windows
5] Other fixes
There are some minor fixes that sometimes help in fixing the issue which a user encounters on their computer. Some of them are as follows:
There are chances that your hardware is physically damaged. You can visit a qualified technician to have it fixed.
There might be some moisture or dirt settlements on the hardware. You can try to clean it with a rough cotton swab and then try using it.
If you want to get some work done at the earliest, you can try to connect a USB Mouse to your computer and use it until you get the TouchPad fixed.
This post will help you if your Laptop Touchpad is locked, disabled, gets stuck, or scroll not working.
How do I enable my Touchpad on Windows 11/10?
To enable or disable Touchpad on Windows 11/10, you need to open Windows Settings by pressing Win+I. Then, go to Bluetooth & devices section, and select the Touchpad menu. Here you need to toggle the corresponding button to turn on or off Touch on your computer.
Related: List of Touch Screen and Touchpad Gestures in Windows 11
Why has my Touchpad suddenly stopped working?
If the Touch setting gets disabled by any malware or anything else, your Touchpad may stop working. Apart from that, there could be some hardware issues in your laptop, which causes similar problems. On the other hand, if you have a software that automatically turns off the touchpad when a mouse is connected, you might face the same problem.
How do I fix an unresponsive touchpad?
The first thing you need to check is the adware or malware on your computer. For that, you can use reliable antivirus software to scan your computer. The next is the hardware, which plays the vital role in making your touchpad responsive or unresponsive. On the other hand, if you are using an Insider preview build of Windows 11/10, you might get the same issues at times.
How do I Reset my Touchpad driver in Windows 11/10?
You can reset your touchpad driver in Windows 11/10 using the Device Manager and Windows Settings. You can continue following this article to know how to reset your Touchpad driver/settings in your PC.
Why is my touchpad not working after Windows Update?
If you use an Insider Preview build of Windows 11/10, your touchpad may be unresponsive or stop working after an update. In that case, you need to use your external mouse to navigate to everything as long as Microsoft doesn't release a new patch. However, if you are using a stable version, you might need to search for the driver update or install a new version of the touchpad driver from the official website of your laptop manufacturer.
I hope this guide helped you get your TouchPad working.