If you are a Windows Tablet user you can the Virtual Touchpad. This feature is available in Windows 11/10. By selecting the Show Touchpad button option, Windows 11/10 tablet users can display a Virtual Touchpad on their computer screen & easily manage their device when connected to another screen. It does not require a mouse.
The feature is primarily designed to replace the mouse when necessary and make the life of Windows 11 and Windows 10 tablet users much easier. When enabled, a virtual touchpad is displayed on your tablet screen, so that you can connect your device to a larger display.
Hide or Show Virtual Touchpad in Windows 10
To show the Touchpad button in the Windows 10 system tray or notification area, right-click on the Taskbar, and from the menu options, choose Show touchpad button.
Windows will display a Touchpad icon on the bottom right of the Taskbar, near the notification area on the far right of the taskbar. This is the same area where the Action Center icon resides, alongside the Pen Workspace icon.
All you need to do is tap the virtual touchpad icon to make the virtual touchpad appears on your tablet screen and you are good to go.
You can move the on-screen touchpad around by simply dragging it around. Once you've placed the touchpad at the desired location, you can drag your finger on the touchpad for pointing and tapping and use Windows 10 gestures for scrolling.
Also, like the settings of the physical touchpad on your laptop, you can configure the Virtual Touchpad settings. For instance, you can adjust the sensitivity of the virtual touchpad by simply navigating to the Settings section, selecting 'Devices' and then choosing the sensitivity.
Please note that Virtual Touchpad can be activated on a touch-enabled device only. One shortfall of the feature is that it not semi-transparent. So, when in the Landscape orientation mode, the touchpad may take quite a bit of your screen on a small tablet.
Show or Hide or Virtual Touchpad icon from taskbar in Windows 11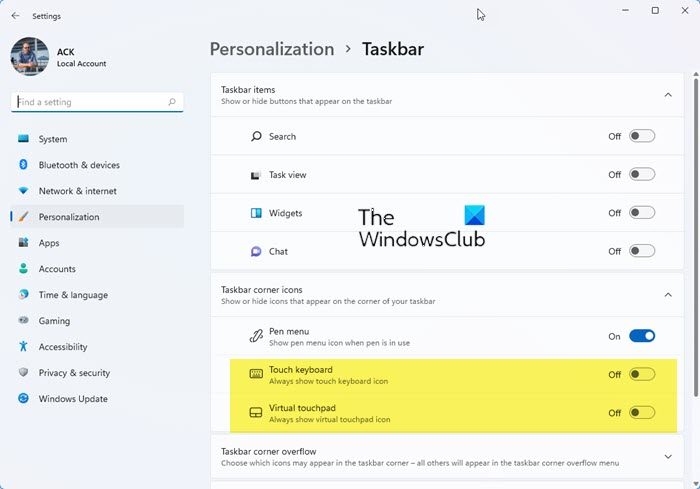 To Show or Hide or Virtual Touchpad icon from taskbar in Windows 11:
Right click on Windows 11 Taskbar
Select Taskbar settings
Toggle the button against Touch keypad to show or hide it
Toggle the button against Virtual touchpad to show or hide it
Thats it!