So you have upgraded to Windows 10. That is great! There are a few things you may want to do now. This post will tell you the some important settings you need to take a look at & things you need to do after installing or upgrading to Windows 10.
Things to do after you install or upgrade to Windows 10
1] Check for Updates and its settings

Once the upgrade process is completed, I suggest you open the Start Menu and click on Settings to open the Settings app. Next click on Update and Security. Here, under Windows Update, click on Check for updates button. There may be more updates – especially some new features device drivers that your system may want to download.

Let the download and installation complete and then restart your computer. Wait for a while and let all the system processes complete their job and settle down. Again open Windows Update settings. Ensure that you are not set to get Insider Builds. Under Advanced settings, you may want to change the default Automatic Restart to Notify to schedule restart. Also, decide if you want to Defer Updates.
Next, click on the Choose how upgrades are delivered and then move the slider to Off position, to turn off Windows Update Delivery Optimization or WUDO.
2] Take additional actions
Check the Notifications and Action Center. Check if your Windows 10 is activated. See if there are pending things you need to complete. Click on them for more details.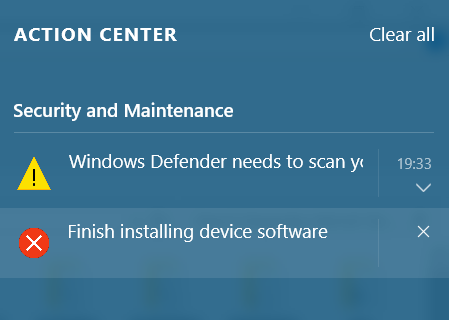 3] Is your antivirus software running?
Check if your security software is activated and working. My third-party security suite, along with a few other software, was deactivated. I had to reinstall them. If you use the built-in Windows Defender, you may need to configure Windows Defender settings, update it manually the first time and run a full scan. You may also want to check if all your other programs are working – like some have reported that AutoCAD was not working after Windows 10 upgrade.
4] Manage Wi-Fi Sense
You need to check your Wi-Fi Sense settings. Wi-Fi Sense is a feature in Windows 10 that allows you to connect to your friend's shared Wi-Fi connections. You can manage your Wi-Fi settings and decide whom the Wi-Fi details should be shared with, or you may turn off Wi-Fi Sense completely. I have turned it off, as I have no interest in sharing my Wi-Fi network details with my Facebook, Outlook.com or Skype contacts.
5] Personalize Windows 10
Personalize your Windows 10 experience. Especially set the Colors settings via Settings app > Personalization > Colors. Customize the Windows 10 Start menu to suit your requirements. You may want to personalize a few more things too.
Make File Explorer open to This PC instead of Quick Access, if you wish to. Install or move Windows 10 Apps to another Drive. As of date, this feature has been deferred for a later time, so it may not be available currently. Set Sign-in options. Sign in securely using a PIN. Set up a PIN. Set the quick links you want to appear in the Start Menu using the Personalization app.
Unpin programs from the taskbar or Start Menu that you don't need, and add your favorite ones there.
Change Windows 10 Privacy settings. Our Ultimate Windows Tweaker 4 will let you easily tweak Windows 10 Privacy settings and more!
6] Set default programs and browser
Don't like using the built-in default apps or programs? Change default programs. You may want to set your default browser, change the default media player or any other program.
Read: What to install after a fresh Windows installation?
7] Tweak Microsoft Edge
Take a look at Microsoft Edge. Import your browser bookmarks and favorites into the Edge browser. Change your home page, Change your default search engine if you wish. These Edge browser tips and tricks will help you get the best out of Microsoft Edge.
8] Set your Search bar settings
Do you want to make the Search Bar smaller and create more space on the taskbar? Right-click on the taskbar > Search > Show icon only. Do you want to taskbar search to search locally the computer only and not the web? Turn off web search in that case.
9] Use the Battery Saver Mode
Make Windows 10 battery last longer. Use the new Battery Saver mode. When activated, the feature conserves battery life by limiting the background activity and adjusting the hardware settings.
Anything I missed?
Now take a look at these Windows 10 tips and tricks to get the best out of this new operating system.
Related reads: