The Notifications and Action Center in Windows 10 lists all the notifications from all different apps, and even the system. You can even directly reply to a message from Action Center. To access it, just click on a small icon found in the system tray, that opens a notifications sidebar. This post will show you how to use the new Notifications and Actions Center in Windows 10 effectively to manage your system settings based on the notifications given to you.
Notifications and Actions Center in Windows 10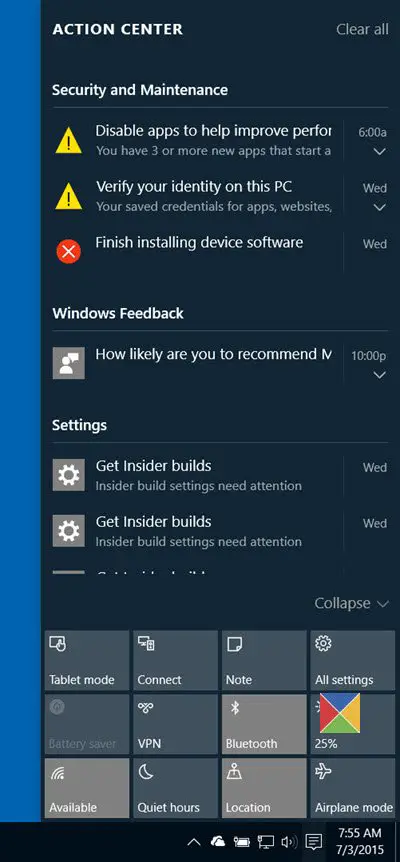 As a normal tradition followed by Windows, the OS notifies you about any new thing that takes place on your device. The operating system first displays a notification briefly displayed in the bottom right corner of your screen. In case you miss reading it, you can still access them as all the notifications are stored for easy access in the Notifications section of the Action Center. To access the center, click on the Action Center icon found in your system tray, near the clock.
The new Notifications and Action Center in Windows 10 collects alerts from traditional Windows applications and system notifications, along with those generated from Windows 8-style apps. All alerts and notifications are then grouped in the Action Center by app and time.
On launching it, you will notice that the Action Center is split into two major sections: Notifications and Quick Actions. In the Notifications section, you receive messages about all kinds of updates made to your Windows 10 device, as well as Feedback notifications, Mail, security, maintenance, and settings notifications
In the Security and Maintenance section, you are notified, if there's any security setting or maintenance task that requires your attention in Windows 10. In the 'Settings' section, whenever an important change is being rolled out for your device considered important and crucial from a settings viewpoint, you will see a notification here. Besides these, you will also get notifications for other kinds of Windows 10 events, like choosing what happens when you insert a DVD and so on.
All said, at times, you could find that a notification is too long to fit in a single line space provided. Then, you'll see a small downwards pointing arrow adjacent to the incomplete description. Simply click the arrow to read the entire content. After reading it, you could clear a single notification by dismissing it. Just click the small 'X' icon on the notification's top right corner.
To turn off notifications for the app, right-click on the particular notification. You will see two options:

Turn off notifications for this app
Go to Notifications Center
But if you need more options to control the notifications you want to see via Settings app > System > Notifications & actions. Here you can:
Choose whether to see notification banners when a notification arrives.
Choose the quick actions you'll see in action center.
You will also find a "Clear all" button that indicates the center is populated and requires some cleaning action. Just click the button to have all the notifications cleared.
If you wish, you can also disable Notification and Action Center.