Microsoft has included a lot of new features in Windows 11/10. Among all the new inclusions, the Action Center is one of the best things that Windows 11/10 users can utilize to become more productive. Action Center has mainly two parts i.e. Quick Action icons which let you take quick actions and the Notifications which are displayed. If you receive a lot of notifications every day, it might be a good idea to set a priority for the different kinds of notifications that you receive.
If you receive hardly two or three notifications per day, then there is no need to prioritize app notifications. However, if you receive say 10+  notifications every day, then you may want to prioritize them.
Set priority of Notifications in Action Center in Windows 11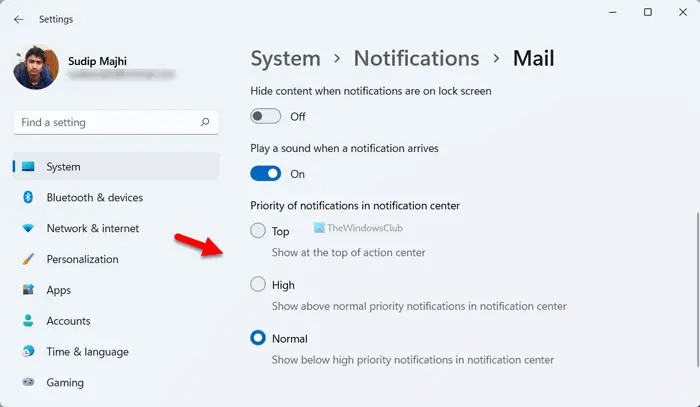 To set the priority of notifications in Action Center in Windows 11, follow these steps:
Press Win+I to open Windows Settings.
Go to System > Notifications.
Click on the app you want to set priority for.
Choose a priority as Top, High, and Normal.
However, if you are using Windows 10, you can follow the below steps.
Set priority of Notifications in Windows 10 Action Center
To prioritize notifications, open the Settings panel on your Windows 10 machine. To do so, you can press the Win+I keys together. Next, click on System. Here, you will see Notifications & actions on the left-hand side. Select it and then scroll down a bit to get all the apps those are currently showing notifications in Action Center.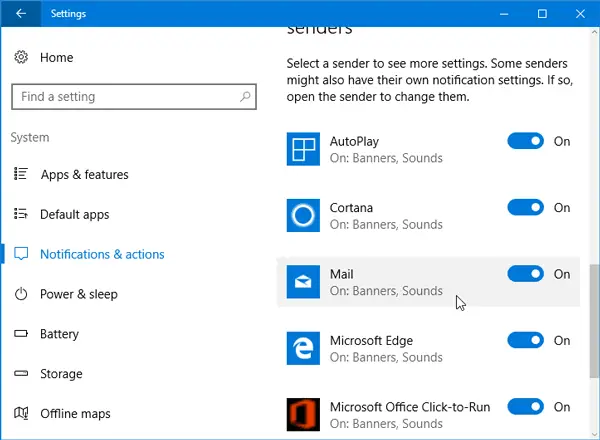 Select an app that you want to change the priority of. There are three options available:
Top
High
Normal.
The "Normal" is the general priority and if all the apps are set to "Normal", Action Center will show notifications according to the receive time. "High" preferred apps will show notifications above "Normal." That means if your Mail app is set to "High" and others are set to "Normal," you will get Mail notifications above all the others – no matter when you received the new email. "Top" labeled apps will show notifications above all the other two labels. However, if you have set "High" priority for two apps or so, you will get the notifications according to the notification received times.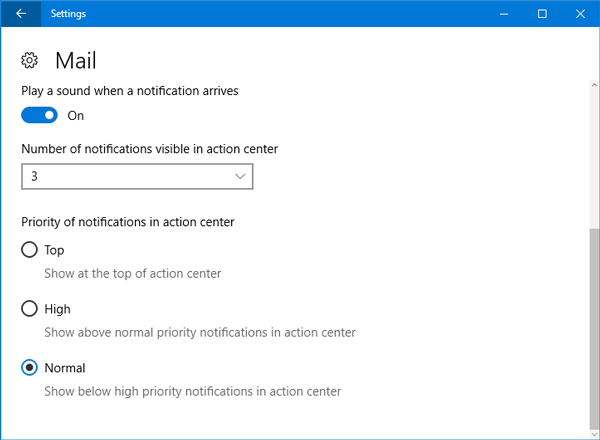 Select the desired priority and confirm the action if you are asked.
That is all you need to do.
How do I make certain notifications priority?
There are two ways to prioritize certain notifications in Windows 11 or Windows 10. However, the Windows Settings method is more flexible than setting up priority from the Action Center itself. In Windows 11, you can open Windows Settings and go to System > Notifications. Then, select the app and choose a notifications level as per your requirements. For your information, you have three options – Top, High, and Normal.
How do I change Windows 11/10 Notification settings?
To change Windows 11 or Windows 10 Notifications settings, you need to open the Windows Settings panel. Then, go to System and click on the Notifications settings. Following that, you can manage your notifications as you wish. It is possible to turn on or off notifications from a specific app, set the priority level, etc.
If you do not want to get any notification, you can disable Action Center.