Notification sounds are an essential part of an operating system. Whenever there is an important action performed, Windows by default provides feedback to the user through notification sounds. We hear notification sounds for most common actions like connecting or disconnecting a USB device, battery low alert, calendar reminders and so on. We have already seen how to change the sound in Windows. This tutorial shows you how to disable or turn off Notification & System Sounds in Windows 11/10.
Windows 11/10 comes shipped with a new set of sound notifications, some are borrowed from Windows 8.1. Windows 11/10 has a new set of sound alerts for events like Calendar reminders, Messaging, Emails, Volume changes, etc. There is a way to customize the system tones according to your preferences. You can even turn off sound for all system alerts in Windows by changing a few sound settings on your PC.
Click on the Speaker icon in the taskbar and move the slider to change the volume of the sound.
Turn off System Sound in Windows 11/10
In order to be able to turn off system sounds in Windows 11/10, you will have to open the Sound settings. Right-click on the Speakers icon which is present at the right side of the taskbar.
You will see "Sounds" or "Sound settings" option in the popup. Click on it.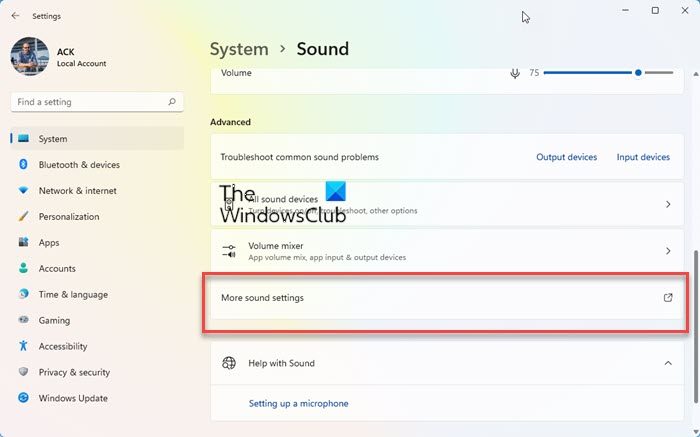 In Windows 11, Sound Settings will open. Here you will have to click on the More sound settings link to open Sound Properties box.
In Windows 10 the Sound Properties box will directly open.
This box provides a variety of options to customize sounds according to your needs. Browse through the list of available program events and choose the one which you intend to change or test. After choosing a particular sound for an event in the "Sounds" section, click on the "Test" button to playback the same.
This way you can modify the sound for any of the events. Following are the list of a few events, to which you can set the sound:
Asterisk
Calendar Reminder
Critical Battery Alarm
Desktop Mail Notification
Device Connect
Device Disconnect
Instant Message Notification
Low Battery Alarm
New Fax Notification
New Text Message Notification
System Notification
Incoming calls and more.
Read: Random Notification Sound keeps playing.
Saving Sound Schemes in Windows 11/10
The modified sound settings can be saved as a scheme and can be switched according to your needs. In order to save changes, you made to events, click on "Save as" button and assign a name, so that you can use it for now or for future use. You can always go back to the default sound settings by choosing the "Windows Default" option in the sound schemes section.
In order to turn off, all system sounds in Windows 11/10, select the "No Sound" schema and save the sound settings as shown in the image. This should completely disable all system notification sounds.
TIP: You can set custom notification sound in Windows.
Turn off Notification Sounds in Windows 11/10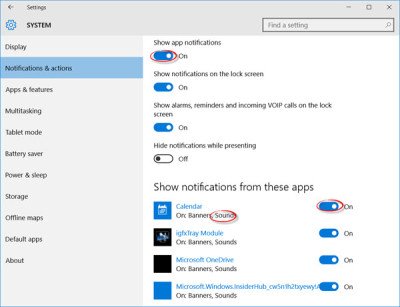 Apart from system notifications in Windows 10, there are apps that send sound notifications with banners that land in Action Center. For example, breaking news applications sends toast notifications  (banners) along with sound whenever there is a piece of breaking news.
You can turn off notifications from these apps by heading to Settings app > System > Notifications. Just use the toggle under "Show app notifications" and turn it off. This should disable all notifications including Sounds from installed Windows Store apps.
You can also restrict a specific app from sending notifications by individually turning off app notifications using the same settings panel. You can either block complete notifications from the app or block particularly "sound" by turning off "Play a sound when a notification arrives" option – this results in silent app notifications which in turn pile up on your action center.
To completely disable all notification sounds for all the apps, move the slider for Show app notifications to the Off position.
In Windows 11, you will see these settings here:
Turn off the slider against Notifications.
Now read how you can adjust the volume for individual programs in Windows 11/10.