After you have upgraded your Windows 8.1 or Windows 7 PC to Windows 10, or from Windows 10 to Windows 11, you might want to check if your copy has been activated. In this post, we will see how to check the activation status of Windows OS, activate Windows, change product key in Windows, and fix error code or is not working issues.
Activation is the initial process by which a Windows running on a PC is determined to be properly licensed and genuine, and it's really quick and easy. It is different from Registration, in the sense that,  Activation is the process of ensuring that your copy of Windows is used according to the Microsoft Software License Terms, whereas registration is the process of entering information to sign up for product support, tools, and tips, and other product benefits.
Read: Digital Entitlement and Product Key Activation methods in Windows 10.
If you upgrade to Windows 11/10, the new OS will take the product key and activation details from your earlier OS. These are then saved on Microsoft servers, along with your PC details. If you clean install Windows the first time, you may face activation problems. If you performed an upgrade the first time, activated Windows 11/10, and then clean installed Windows 11/10 on the same PC, then there will be no activation issues, as the OS will pull activation details from Microsoft servers.
Check Windows 11/10 Activation status\Windows 11
Windows 11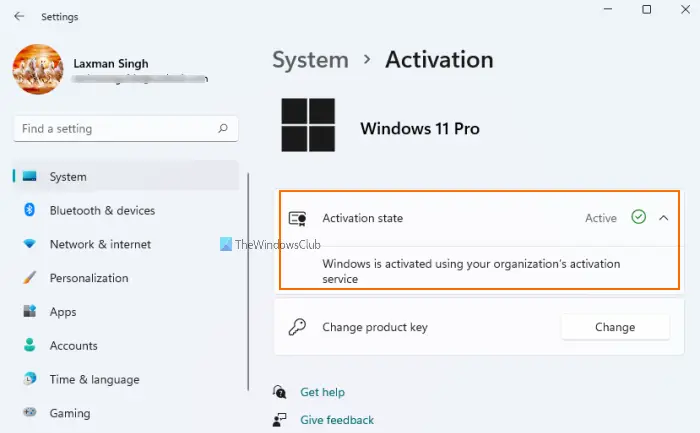 You can use the Settings app to check the activation status of your Windows 11 computer. The Settings app will also help you find out whether your Windows copy is activated by your organization's activation service, through a digital license, or some other way. Here are the steps:
Use Win+I hotkey to open the Settings app
Click on the System category
Access the Activation Settings page from the right section.
Under that page, you will see the Activation state of your Windows copy. If the product key is added successfully, then the activation state will visible as Active with a green tick mark.
If you want to check if your Windows copy is activated through a digital license or by your organization's activation service, then click on the Activation state section to expand it, and then it shows you how your Windows copy is activated.
Windows 10
To check Windows 10 activation status, do the following:
Open Start > Settings app > Update and Security.
Select Activation, in the left panel. Here you will see the activation status.
If all has gone smoothly, Windows 10 should have taken your Windows 7 or Windows 8.1 product key and activated itself automatically.
Activate Windows 11/10
But, if your Windows 10 is not activated, then this post will show you how to activate Windows. Also important are additional links at the end of this post. You can activate Windows online or by phone.
Change Windows 11/10 product key
You can change your Windows 11/10 product key using different options. For example, you can use an elevated Command Prompt window and execute a simple command to change it. Or else, you can also use the Settings app or Control Panel to change the product key. In this article, we have covered the steps to change Windows 11/10 product key via the Settings app. Let's check how it can be done in Windows 11 first.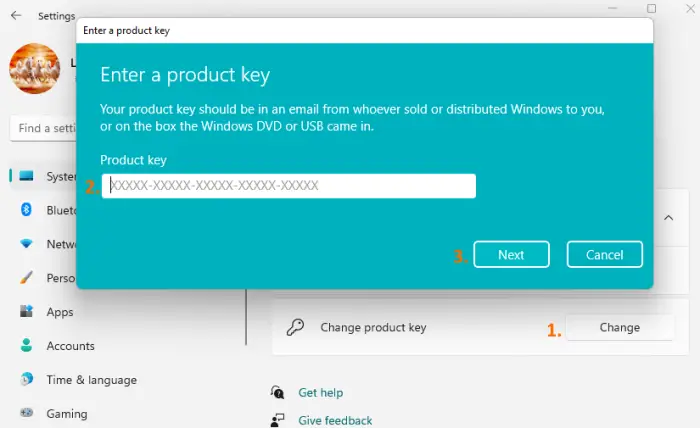 For Windows 11 users, the steps to change the Windows product key are as follows:
Open the Settings app using Win+I hotkey
Access the System category
Open the Activation Settings page
Click on the Change button available for the Change product key It will open an Enter a product key box
In the product key field, enter the 25-character code of your product key
Press the Next button.
If your product key is legit or genuine, then Windows 11 will automatically register it and activate your Windows copy.
If you wish to change the product key of your activated Windows 10, click on the Change product key button. In the panel which opens, enter a product key.
If the license is genuine, Windows will register it and attempt to activate it online automatically.
How do I find my Windows 11/10 product key after activation?
There are multiple ways using which you can find your Windows 11/10 product key or digital license key after the activation. For example, you can:
Check the label or card of your product key box if you have purchased a physical copy of Windows from an authorized retailer.
If you want, you can also use a third-party and free Windows key finder tool for the same purpose.
And, once you find your product key, you should also save your product key to some secure place so that you can use it later whenever needed.
Is the product key the same as the activation key?
Yes, the product key is the same as the activation key. A product key is also known as a license key, registration key, activation code, product ID, software key, etc. But product key is the most usable name when it comes to activating Windows or registering a copy of software like MS Office.
For Windows, MS Office, and some other tools, a product key is a 25-character code that contains a series of letters and/or numbers. An activation/product key is needed to verify that your copy of Windows or software is legit or genuine. Also, you should purchase only the genuine license or product key from the authorized seller.
If you face receive This copy of Windows is not genuine or Windows Activation Fails message, or face some issues, see this post which will show you how to troubleshoot Windows Activation errors.
TIP: Become a ninja with these Windows 11 tips and tricks.