After a new Windows installation, all of us have that list of 'must install' software which we install first! Which Windows software do you install first after you have installed a fresh copy of Windows 11 or Windows 10? And do you install it in any particular order?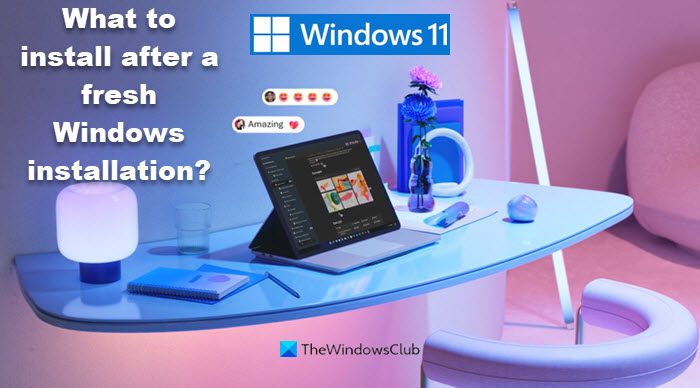 What to install after a fresh Windows installation?
Well, speaking for myself, after completing a fresh Windows installation, I first update it. Then I install the following software:
Kaspersky Total Security
Revo Uninstaller Pro. This can then monitor all subsequent installations.
Microsoft Office
SnagIt
Firefox, Opera and Chrome browsers
ExpressVPN
SmartFTP
Ultimate Windows Tweaker (Portable) – It helps me make Windows behave as I want it to.
FixWin – This helps me fix Windows issues at times.
Do share your list of must-install software. Sure, there could be more; but let's try and restrict the list to 10 or 15.
I'd love to see your list!
Go here if you want to look at some great free software for Windows, and here to check out our TWC Windows freeware.
What to install after a fresh Windows install?
After a fresh Windows install, you must install Office software, antivirus software if you do not want to use the default Windows Defender, your favorite web browser and VPN software to begin with. After that, you should identify and install the software that you personally need.
What drivers do I need to install after installing Windows 11/10?
After installing Windows 11/10, open Windows Settings and manually check for available Windows Updates. You should also check for and install the Optional Driver Updates that may be offered. That is all you need to do as far as installing drivers on a new Windows installation is concerned.
Related: