If you are thinking of upgrading your PC to Windows 10, you should know some essential things before doing so. One useful feature Windows 10 has, is that it lets users move the installed Windows Store apps to any other drive. You can also change the path of the default installation directory, for new apps. This post shows how to move installed Windows Store Apps to another Drive in Windows 10.
Move Windows 10 Apps to other Drive
There was a not-so-easy way to change the default installation location for apps in Windows 8.1, but it worked for some and not for others. Windows 10 has made it easy to get things done. The new Settings window has all the options to move the Windows 10 apps to any other drive.
Press Win + I to open the Settings panel. Then, click on the System button.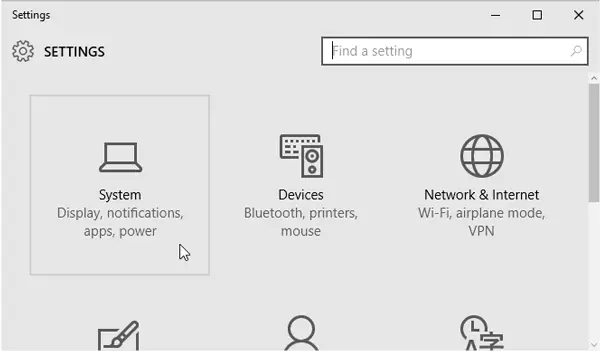 Next, go to Apps & Features section and wait for Windows to determine the app size. Now, find the app that you want to move to another drive. Then, click on the app and select Move.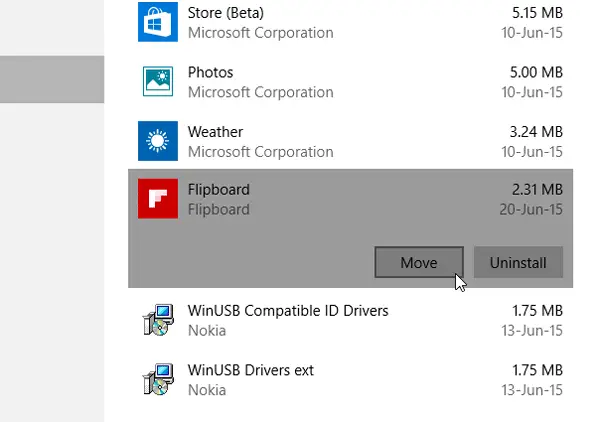 Next, select a drive and click on Move.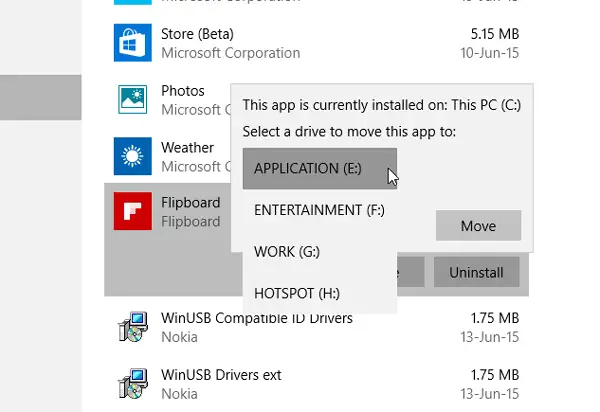 It will take a few moments to complete since this depends on the app size.
Once the process is completed, the Windows Store app will be moved to a new location.
If you are suffering from the low space issues after upgrading, you can use this technique to move apps from the default system drive to another drive, and even direct new installs to another location.
UPDATE: Move installed apps setting appears to be grayed out for many, including me, in the final version of Windows 10. Caleb adds in comments that Microsoft has decided to postpone offering this setting for the moment.
Related reads:
PS: Also, see how you can change the default Program Files installation directory location or Pick a Drive for installation in Windows Store before downloading the app.