Did you know that the Windows Store offers you an option to pick a drive for installation when you chose to download large games or apps from it? Sure, most of us are aware that we can install all Windows Apps to another Partition, External Drive, USB, or SD Card by default or even Move Windows Apps to another Drive, but the Windows Store offering this option before the download is a relatively new option that not many of us may be aware of.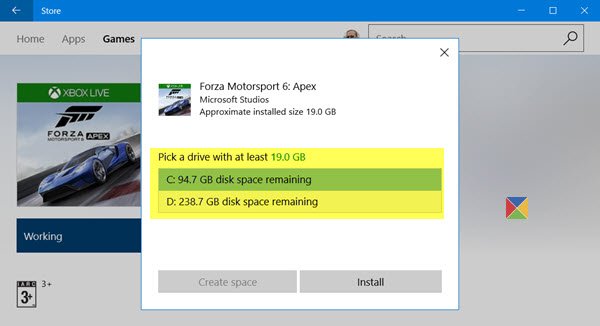 Pick a Drive before downloading the app in Microsoft Store
When you open the Windows Store and search for an app or game to download to your Windows 11/10 computer, you click on the Install button to download and install the app on your computer.
The button changes to Working and you will soon see a popup that asks you to Pick a drive with enough space for installing it. From the drop-down, you can select the drive you want to install the app and click on the Install button.
If none of your drives has sufficient disk space, it will offer you a button to Create space – which otherwise will stay grayed out.
Windows Store does this before downloading the game or app so that you can select the drive where you want to install it.
You may not see this feature being offered for all the apps. It is available only for apps with a large download size.
I hope this helps.
TIP: You can also change the default Program Files installation directory location in Windows 11/10.