Some Windows 11 or Windows 10 PC users have reported that on occasion, they do get the WFP_INVALID_OPERATION Blue Screen error at random but especially when playing certain games on their computer. In this post, we provide the most suitable solutions affected PC users can apply to easily resolve the issue.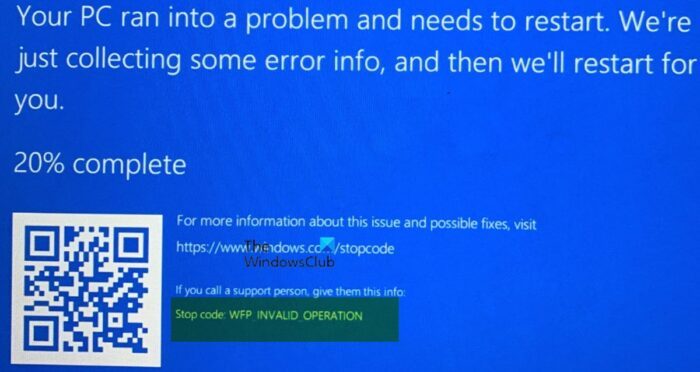 This bug check has a value of 0x000001D3. When this Blue Screen of Death error is triggered on your device, it simply indicates that a Windows Filtering Platform callout performed an invalid operation.
What is Windows Filtering Platform?
Windows Filtering Platform (WFP) is a set of API and system services that provide a platform for creating network filtering applications. WFP consists of a set of hooks into the network stack and a filtering engine that coordinates network stack interactions with the packet processing that takes place at several layers in the networking stack of the operating system. Network data can be filtered and also modified before it reaches its destination.
Fix WFP_INVALID_OPERATION Blue Screen error
If you have encountered the WFP_INVALID_OPERATION Blue Screen error while normally using your device for basic regular tasks or while playing your favorite games on your Windows 11/10 gaming rig, then our recommended fixes presented below in no particular order should easily and quickly help you resolve the issue and get your system back to a normal working state.
Initial checklist
Run the Blue Screen Online Troubleshooter
Run Driver Verifier
Update drivers
Uninstall third-party software
Reinstall the game
Reset Windows 11/10.
Let's take a look at the process described as it relates to each of the listed solutions. If you can log in normally, that's great; otherwise, you'll need to boot into Safe Mode, access the Advanced Startup options screen, or use the Installation Media to carry out these instructions.
1] Initial checklist
Before proceeding with the solutions listed below, check for updates and install any available bits on your Windows 11/10 device to see if the BSOD error occurs again. If the error occurred as a result of a recent Windows update, you can either use System Restore to revert your system to an earlier point before the update installation or uninstall the update altogether. If you're unable to boot the computer to the desktop to carry out either of the mentioned tasks, you can follow the instructions in the guide on how to uninstall Quality or Feature Update when Windows 11/10 won't boot or the guide on how to perform System Restore when Windows won't boot to desktop.
2] Run the Blue Screen Online Troubleshooter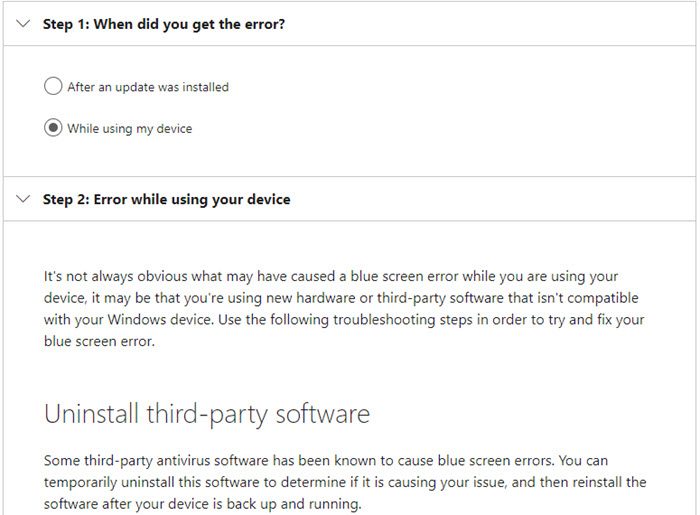 The Blue Screen Online Troubleshooter from Microsoft is an indispensable automated wizard that is pretty handy, especially for novice or non-technical PC users in resolving BSOD errors like the WFP_INVALID_OPERATION that has occurred on your Windows 11/10 computer. The automated wizard works by presenting you with questions as to when you encountered the error, which depending on your responses will then make recommendations on possible solutions you can apply to resolve the issue.
3] Run Driver Verifier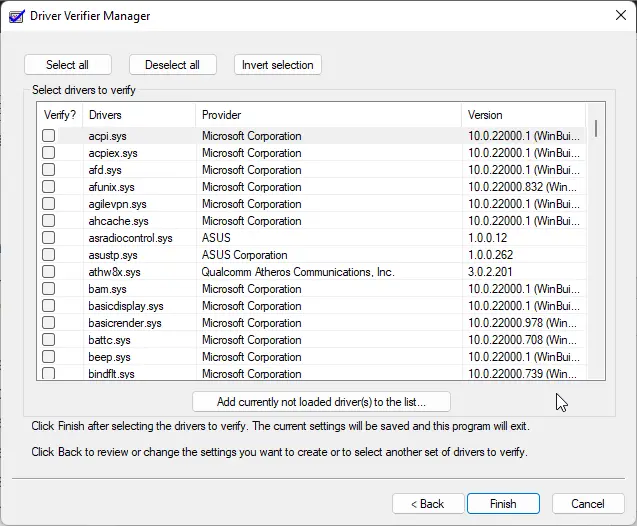 In most cases, it's usually a driver that's triggering a BSOD error on your Windows 11/10 device. Since the error page, unlike some, there's no driver identified as the driver that failed and is responsible for the issue at hand, you can run Driver Verifier to see if it can indicate the cause by checking all drivers and see if any faulty drivers are present.
Read: How to find which Driver is causing the Blue Screen on Windows?
4] Update drivers
From indications of the BSOD error in focus, it should be noted that WFP is designed to replace previous packet filtering technologies such as Transport Driver Interface (TDI) filters, Network Driver Interface Specification (NDIS) filters, and Winsock Layered Service Providers (LSP). In Windows 11/10, the firewall hook and the filter hook drivers are no longer available; applications that were using these drivers should use WFP instead.
So, similar to Driver Verifier mentioned above, the DriverView utility displays the list of all device drivers currently loaded on your system. For each driver in the list, additional useful information is displayed: load address of the driver, description, version, product name, company that created the driver, and more. So, you can run DriverView – set VIEW to Hide Microsoft drivers, and then make sure to update all drivers listed without Dump in their names by visiting the device manufacturer's website or via the Optional Updates page in Windows Update. You can also update BIOS and update chipset drivers on your computer.
Read: Bluescreen after installing Drivers in Windows 11/10
5] Uninstall third-party software
As we have already mentioned, the Windows Filtering Platform (WFP) is a subsystem for firewalls (including the Windows Firewall), and related networking software like QoS tools, anti-malware software, etc. So, isupposeyou have any third-party security software, networking, or QoS software installed on your Windows 11/10 computer,. In that case,you can uninstall the software via the Windows Settings app or use Uninstaller Software and see if the error you have encountered is fixed.
6] Reinstall the game
Some affected users that encountered this error while playing a certain game, reported they were able to resolve the issue by uninstalling and reinstalling the game on their gaming rig. If this applies to you, you can give it a try and see if that works for you too. If not, you can proceed with the next solution.
7] Reset Windows 11/10
Reset PC and see if that helps. If you're unable to reset the PC because the computer won't boot to the desktop, you can follow the instructions in the guide on how to reset Windows via Advanced Startup Options when the PC won't boot.
I hope you find this post helpful!
Read next:
What is WFP INVALID OPERATION?
Most reported cases of this error on Windows 11/10 PC are usually driver related. This can range from your Wi-Fi drivers as well given that WFP is network-related. So, as a general troubleshooting step, make sure to have your network drivers updated. You can also uninstall your graphics driver using DDU while in Safe Mode. And if applicable, uninstall the games that you are playing when the error is triggered and reinstall them.
What is the most common cause of Blue Screen errors?
BSODs are typically caused by driver software or hardware issues. When apps crash, they can cause blue screens of death if they are broken or flawed. When a BSOD occurs, Windows creates a file known as a minidump which experts can analyze to troubleshoot the problem.