The SESSION1 INITIALIZATION FAILED bug check has a value of 0x0000006D. This bug check indicates that the initialization of the Microsoft Windows operating system failed. You may encounter this error when booting or shutting down your Windows 11/10 computer due to hardware malfunction or device driver issue. . In this post, we will provide the most suitable solutions you can try to successfully resolve this issue.
Fix SESSION1 INITIALIZATION FAILED BSOD
If you get the SESSION1 INITIALIZATION FAILED BSOD error when you boot your Windows 11/10 system, you can try our recommended solutions below in no particular order and see if that helps to resolve the issue.
Run the Blue Screen Online Troubleshooter
Run SFC and DISM scan
Restore or Replace the smss.exe file
Update outdated drivers
Run CHKDSK
Reset or In-place Upgrade Repair or Reinstall Windows 11/10
Let's take a look at the description of the process involved concerning each of the listed solutions.
Before you try the solutions below, check for updates and install any available bits on your Windows 11/10 device and see if the error reappears. If you can log in normally, good; else you will have to boot into Safe Mode, enter the Advanced Startup options screen, or use the Installation Media to boot to be able to carry out these instructions.
1] Run the Blue Screen Online Troubleshooter
A BSOD would appear when a Windows system comes across a serious problem. Once this occurs, the Windows system will stop responding and fail to boot, and all hard drives become inaccessible. The Blue Screen Online Troubleshooter from Microsoft more often than not will fix BSOD errors. The wizard helps beginners & novice PC users troubleshoot their Blue Screens and fix the stop error automatically.
Read: Black Screen Troubleshooter will fix Blank screen errors on Windows 11/10
2] Run SFC and DISM scan
The System File Checker is a command-line utility that checks all of the system files for problems. If a corrupt system file is triggering this error, the SFC scan will most likely fix it. Otherwise, you will have to follow up with the DISM (Deployment Image Servicing and Management) scan which is similar but slightly different in function and will fix corrupt or damaged system images on your Windows 11/10 computer.
3] Restore or Replace the smss.exe file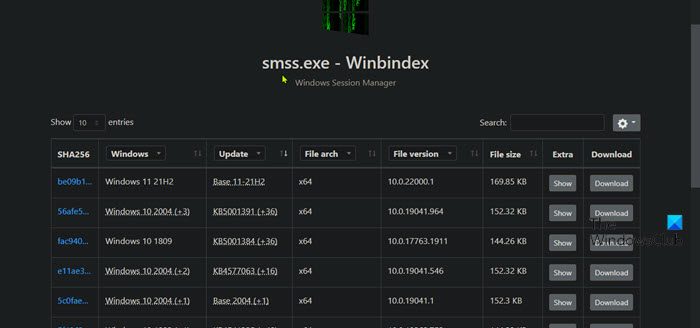 The smss.exe is the executable file responsible for running the Session Manager Subsystem (or Windows Session Manager). It's an important component of the Windows operating system that starts running immediately when you click the power button. It's responsible for creating user sessions and monitoring other crucial system processes to make sure they're working correctly. The legitimate smss.exe file is located in the C:\Windows\System32 directory.
This process will crash your computer if csrss.exe (Client Server Runtime) or winlogon.exe (Windows Logon Application) malfunction or unexpectedly stop working, hence the BSOD error in view. Also, if the smss.exe file gets damaged, corrupted, or missing your system may freeze or stop responding.
This solution requires you to restore or replace the smss.exe file on your PC with a healthy copy from Winbindex by simply downloading the file and copying it to the system32 folder. To restore or replace the file locally, do the following:
Enter the Advanced Startup Options screen.
Access Command Prompt.
In CMD prompt window, enter the following lines and hit Enter after each line:
C:
cd windows/system32/ 
copy c:windowssystem32dllcachesmss.exe
Alternatively, instead of the last line, you can use:
copy c:windowsServicePackFilesi386smss.exe
Once done, type exit and hit Enter to close Command Prompt and restart your computer.
Read: What is SMSS.exe Process in Windows 11/10? Displaying High CPU usage?
4] Update outdated drivers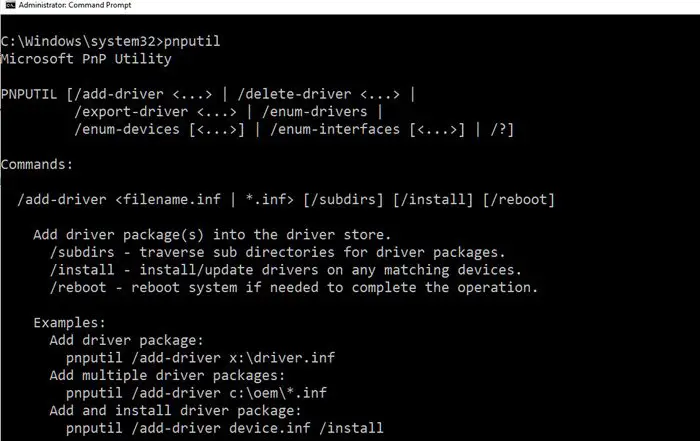 Drivers are an essential component of every operating system because they enable Windows to recognize and use your hardware. If you encounter a BSOD error, chances are one or more device drivers are faulty or incompatible with your Windows operating system. In this case, you can:
Read: How to remove old and useless Drivers in Windows
5] Run CHKDSK
A problem with your hard disk typically causes BSODs. So, you can run the CHKDSK command to see if this is the case. This command will examine your hard disk for problems and fix them (if possible).
To run CHKDSK, do the following:
Press Windows key + R to invoke the Run dialog.
In the Run dialog box, type cmd and then press CTRL + SHIFT + ENTER to open Command Prompt in admin/elevated mode.
In the command prompt window, type the command below and hit Enter.
chkdsk /x /f /r
You will receive the following message:
CHKDSK cannot run because the volume is in use by another process. Would you like to schedule this volume to be checked the next time the system restarts? (Y/N).
Press the Y key on the keyboard and then reboot your computer.
After CHKDSK completes, check to see if the issue is resolved. Otherwise, try the next solution.
Read: ChkDsk will not run at startup in Windows
6] Reset or In-place Upgrade Repair or Reinstall Windows 11/10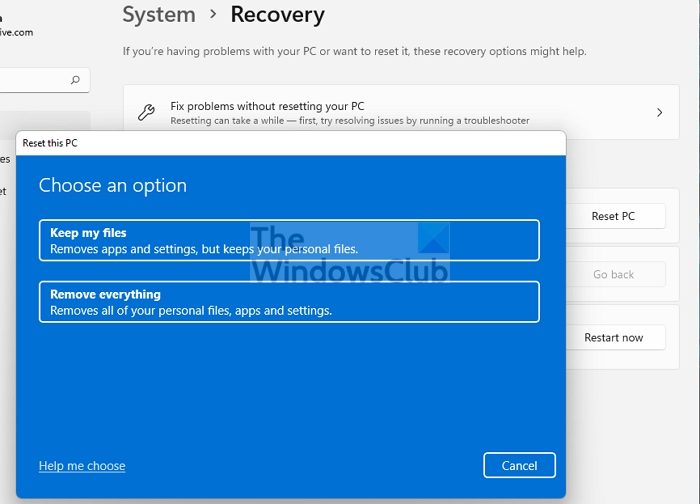 If you have exhausted all possible options and yet nothing has worked so far up to this point, you can try Reset This PC, or Cloud Reinstall to reset every Windows component. You may also try In-place Upgrade Repair and see if that helps. In the unlikely event that this procedure didn't help with the issue at hand, you will have to clean and install Windows 11/10.
Hope this helps!
These posts might interest you:
How do I fix the initialization failed?
Generally, to fix the initialization failed error on your Windows 11/10 depends on the instance or how the error occurred. You may try the following suggestions:
Update your drivers and Windows
Run the BSOD Troubleshooter
Run the SFC scan
Run DISM
Check the hard drive
Disable or remove the problematic software
Use Command Prompt
Change Disk Controller mode from RAID or AHCI to SATA/ATA
What is initialization failed?
Hal Initialization Failed Error generally occurs due to corrupt or outdated drivers, incompatible hardware, damaged system files, faulty hard drive, or virus attack. If not fixed immediately, the BSOD error may lead to permanent data loss situations.
How do I fix PHASE1 INITIALIZATION FAILED?
To fix PHASE1 INITIALIZATION FAILED BSoD on your Windows 11/10 system, you can try the following suggestions:
Make sure your Windows is up to date
Update your drivers
Run the BSOD Troubleshooter
Run the SFC scan
Run DISM
Check the hard drive
Copy Catroot, Catroot2, and CodeIntegrity folders from a working PC
Temporarily uninstall your antivirus software
What is interactive logon?
Interactive login is authentication to a computer through the usage of their local user account or by their domain account, usually by pressing the CTRL+ALT+DEL keyboard shortcut. When the user is logged in, Windows will run applications on behalf of the user and the user can interact with those applications.
Read: How to enable or disable CTRL+ALT+DEL Secure Logon in Windows
What is logon process initialization failure?
This issue occurs because a system-wide event is used during the logon process before the event object is created. This behavior causes the logon process to fail.