If you find that some of your newly installed devices are not working correctly or in fact, your Windows computer freezes frequently, you might want to consider removing old, unused, unwanted or unused device drivers in Windows 11/10.
How to remove Old and Useless Drivers in Windows 11/10
To remove old, useless, unwanted, or unused drivers from your Windows 11/10 computer, first open the Start Menu, right-click on Computer and select Properties. From the left side panel, click on Advanced system settings and click on Environment Variables. Alternatively, simply open the Control Panel and type Environment Variables.
Now, under the User variables box, click on New and type-
devmgr_show_nonpresent_devices
in the Variable Name text box & 1 in the Variable Value box. This will set a flag to allow you to view unused devices.
You can also use this method to show Non-present drivers.
Now type devmgmt.msc in start search and hit Enter to open the Device Manager.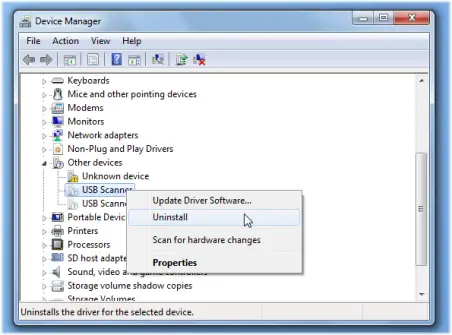 Click View tab and select Show hidden devices. Expand the branches in the device tree & look for the faded icons.
These indicate unused device drivers. Right-click on it and select Uninstall.
TIP: Some of you might want to have a look at Device Remover or Device Cleanup Tool too.
Use freeware GhostBuster to remove unwanted or ghosted drivers
GhostBuster is an application that lists all the devices, detects ghosted devices, and removes these if they match selectable device types and/or device classes with a single mouse click.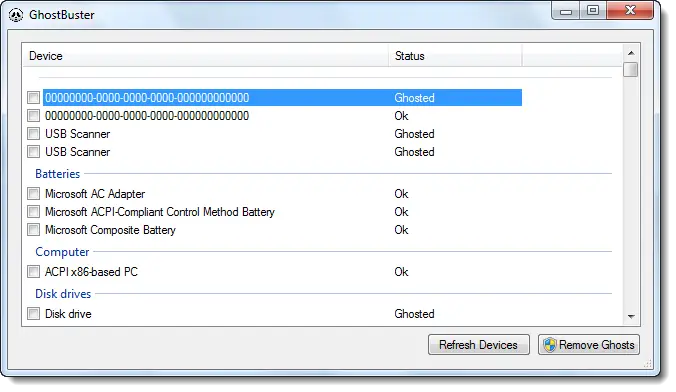 By default, Windows does not show ghosted devices. Windows will show Ghosted devices only if two criteria are met:
An environment variable DEVMGR_SHOW_NONPRESENT_DEVICES with a value of 1 is added.
In Device Manager (Start Menu & Run 'compmgmt.msc') – if you select the View > Hidden Devices menu item.
Because Windows has to detect if a device is ghosted by trying to start it, many ghosted devices will add to the startup time of Windows. The 'regular' way of removing these devices is right-clicking each of them, selecting the uninstall menu item, and wait for the Device Manager to uninstall the device and rebuild its tree of devices.
Ghostbuster does this all in one click and removes all the ghosted devices matching your own selection criteria with a single click!
You can select and deselect classes or devices through the right-click context menu of the devices list-view. Only ghosted devices (grayed text) AND devices that match the selection criteria (light yellow background) will be uninstalled when the 'Remove Ghosts' button is pressed. All other devices remain untouched.
Beware that Windows has a fair number of devices that are ghosted but should not be uninstalled (like devices in the sound, video, and game controller class or system and non-plug-n-play devices). GhostBuster marks most of these as services. Please note that these "Ghosted Devices" can also be useful and is one reason why Windows never looks for drivers every time you connect the device. You can visit the GhostBuster home page on Code Plex for more.
Read: How to safely cleanup DriverStore folder in Windows
Please exercise the utmost caution before removing any unused or ghosted drivers.
TIP: How to identify Unknown Devices and USBOblivion may also interest you!
Is it OK to delete old drivers?
Drivers are the piece of software that tells Windows OS about the device connected to the computer so that the connected device can work properly. Failing a device driver results in the malfunctioning of that particular device. You can delete old drivers only if that driver has become useless on your system. If Windows is still using that old driver, uninstalling it can cause problems. Hence, instead of deleting the old driver, consider updating it to the latest version, provided that the driver is still in use.
That's it!
BONUS TIP: Display Driver Uninstaller will help uninstall AMD, INTEL, NVIDIA Drivers
Additional resources: